This is the sixth installment in our series examining players who are prime candidates for contract extensions. This series will explore the player's strengths and weaknesses, and will evaluate what a fair deal between the player and his team might look like. We're continuing today with a look at a power forward who had a breakout third season as a two-way contributor.
---
Rundown:
The No. 22 overall pick of the 2019 draft after three seasons at Tennessee, Grant Williams had a minor role as a rookie for a Celtics team that nearly reached the NBA Finals, ultimately falling to Miami in the Eastern Conference Finals in six games. In 69 games (15.1 MPG), Williams averaged 3.4 PPG and 2.6 RPG on .412/.250/.722 shooting (.505 true shooting percentage).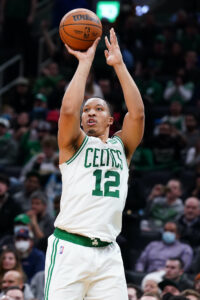 In 2020/21, Williams' second season, he made progress as a shooter, a very important aspect of his role for Boston. His averages – 4.7 PPG and 2.8 RPG on .437/.372/.588 shooting (.546 true) in 63 games (18.1 MPG) – were still fairly modest, but the 12.2% increase in three-point percentage was encouraging.
In year three, Williams emerged as a solid member of Boston's rotation, averaging 7.8 PPG and 3.6 RPG on a sparkling .475/.411/.905 shooting slash line (.635 true) in 77 games (21 starts, 24.4 MPG).
He had an even bigger playoff role during the Celtics' run to the Finals, averaging 8.6 PPG and 3.8 RPG on .433/.393/.808 shooting (.599 true) in 24 games (27.3 MPG).
Strengths:
At 6'6" and a listed weight of 236 pounds, Williams has a low center of gravity and is physically very strong (Michael Scotto of HoopsHype was told that Williams was 280 pounds in the playoffs and had dropped to 265 as of October 6). Anyone who watched him (mostly) hold his ground while defending Giannis Antetokounmpo in the post during their second-round series last season can attest to Williams' strength.
Williams is a solid defender at power forward and can switch at times onto bigger wings and smaller centers. Opponents shot 1.2% worse than their expected field goal percentage in the '21/22 regular season with Williams as the closest defender and 4.5% worse than expected in the playoffs, per NBA.com – both above-average marks.
The 23-year-old has improved tremendously as an outside shooter over his three professional seasons, both in terms of volume and efficiency. Nearly 60% of Williams' shots last season came from behind the arc, up from 45% as a rookie and 51% in year two. He doesn't exactly look "natural" when he's shooting, but the fact that he's become so efficient is a testament to his work ethic and willingness to improve – those are more important factors than natural talent in my opinion, especially for a role player.
Since the Celtics rely so much on stars Jayson Tatum and Jaylen Brown for offense, with ball movement the key to finding open looks when they're inevitably faced with a help defender, the grand majority of Williams' three-point looks came via catch-and-shoot last season. He converted 1.3 of those 3.1 attempts per game, good for 41.7%, per NBA.com. He also converted an impressive 46.8% of his corner threes in '21/22 – an important shot for floor spacing.
Williams isn't known for his athleticism, but he has good timing for blocking shots — his 2.7% block percentage ranked in the 78th percentile last season, per DunksAndThrees.com. He can also do damage down low on the offensive end, though it was very low volume – he shot 68% at the rim in '21/22, which was 84th percentile.
Interestingly, Williams has shown a face-up game and the ability to attack defenders off the dribble a little bit via shot fakes during the preseason. We'll see if that carries over to the regular season, but it's an encouraging sign that he's been working on his game and is self-aware enough to know that he needs to be a little more well-rounded offensively.
Improvement Areas:
While Williams generally does pretty well defending bigger players, he sometimes struggles to stay in front of shiftier guards due to his lack of length and quickness. He also can be susceptible to blow-bys when closing out on shooters due to his lack of foot speed.
Neither of those things are unusual for a power forward, but improving on them would help him stay on the court in more difficult matchups (the Warriors exploited both of those weaknesses rather mercilessly in the Finals, which is one reason why his minutes were reduced to 17.0 per game in that series after averaging 29.7 or more in the three previous rounds).
For a big man, Williams is a below-average rebounder, pulling down just 5.3 boards per 36 minutes last season. His relative lack of size and athleticism hurts in that aspect as well, even though he's a willing contributor on the boards who chases after loose balls.
His three-point improvement definitely seems legitimate, but a lot of his value on offense is tied to converting his open looks to keep opposing defenses honest, and if he's off that day he hasn't provided much else on that end. And as good as his outside shooting was last season, his shot is pretty slow and deliberate, so he needs space to get it off. Adding a reliable pump fake and relocation dribble would help.
I was surprised to learn that Williams' assist rate was an alarmingly low 6% last season, and his turnover rate was 12%, per DunksAndThrees. His overall assist-to-turnover ratio was only 1.25-to-1, which isn't awful for a big man, but it's certainly not good.
The reason those findings were surprising is because Williams has displayed soft touch as a passer and can make plays for others in the limited opportunities he's given. His handle is a little loose sometimes, but I still expected both figures to be better than they were in '21/22.
Conclusion:
Three-and-D players always have value, especially when they can guard multiple positions. In Williams' case, that's the three frontcourt spots. As long as he can keep making 40% of his three-pointers, there's no doubt that he's going to get paid, it's just a matter of how much.
It's difficult to find players to compare Williams to because of his unique build and skill set. Perhaps the closest comps you can find for Williams currently are Jae Crowder and P.J. Tucker, a couple of short, stocky power forwards who provide versatile defense, energy, toughness, and some outside shooting. Both of those players received three-year deals at the non-taxpayer mid-level exception in recent years – for '22/23, that would max out at four years and $45,107,000.
Williams is worth more than that, even if he wasn't a starter on a very good team like those two veterans were last season. For one, he won't turn 24 years old until November 30, while Crowder is 32 and Tucker is 37. If they were Williams' age, they would've landed bigger paydays.
Secondly, Williams has shown more potential as a finisher and a shooter than his elder counterparts. His .635 true shooting percentage in '21/22 was a higher mark than Crowder (.613 in '16/17) or Tucker (.593 last season) has ever posted.
Multiple reports have indicated Williams is seeking a deal in the $14-16MM range annually, and Boston has thus far been reluctant to go that high. It seems like the reason for that is more because the Celtics are a taxpaying team that already has multiple players signed to lucrative long-term contracts rather than not valuing Williams.
I can see both sides of the argument here. Paying a bench player who only averaged 7.8 points and 3.6 rebounds in '21/22 at least $14MM per season seems like a lot. On the other hand, the skill set he provides is coveted around the league, and replacing him would be very difficult due to financial constraints.
If the two sides are unable to reach an extension, Williams would become a restricted free agent next summer. Boston would have the leverage in that scenario because they can match any offer, and it's rare for rival teams to sign role players to offer sheets since it ties up cap room for multiple days.
If a theoretical new deal still isn't signed at that point, Williams could accept his qualifying offer and hit unrestricted free agency in 2024, but he'd potentially lose money in the short-term because the QO would almost certainly be less than the first year of an extension. That might be his best bet for landing a big payday from an opposing team.
Having said that, there's no indication Williams wants to leave the Celtics, nor that they want to lose him. With Robert Williams injured to start the season, and Danilo Gallinari out for the year with a torn ACL, Grant Williams should have an opportunity for a larger role, and if he puts up big numbers on a title contender, he could substantially increase his value.
Ultimately, I think the low end of his rumored asking price (four years, $56MM) is pretty fair for an extension. It's a little more than I'd prefer to pay him if I were running the Celtics, but it's not unreasonable since the salary cap is expected to continually rise over the duration of the deal. If the two sides don't reach a deal today, it will be interesting to monitor Williams' performance during the '22/23 season to see if he can increase his value even further.