The NBA's 2022 free agent period will tip off in less than two weeks, with teams and players permitted to agree to tentative deals as soon as June 30.
Listed below are our top 50 free agents for the 2022/23 NBA season.
While most of these players are on track to become unrestricted or restricted free agents, some have player or team options for '22/23. Our list only includes the players we view as realistic bets to become free agents, which means a vet like Russell Westbrook, who is extremely unlikely to decline his $47MM+ player option, isn't included. A player like Trey Lyles, who will almost certainly have his team option exercised, also doesn't show up on this list.

Players who have contracts for next season aren't listed here either, even if they're candidates to be released. That group includes players like Danilo Gallinari, whose $21.45MM salary for 2022/23 is only partially guaranteed for $5MM.
We'll update this list periodically leading up to June 30 to reflect the latest option decisions. For example, if James Harden picks up his player option for 2022/23, he'll be removed from this list, with everyone below him moving up a spot and a new player entering the mix at No. 50. If Gallinari is waived, he'd be a good candidate to move into the top 50, bumping the 50th-ranked player off the list.
Our rankings take into account both a player's short-term and long-term value. If we were to consider solely a player's worth for the 2022/23 season, veterans like P.J. Tucker and Thaddeus Young would likely place higher, while younger free agents with upside, such as Donte DiVincenzo or Nic Claxton, might be ranked lower.
In addition to the players listed below, there are plenty of other notable free agents available this summer. You can check out our breakdowns of free agents by position/type and by team for the full picture.
Here are our top 50 free agents of 2022:
---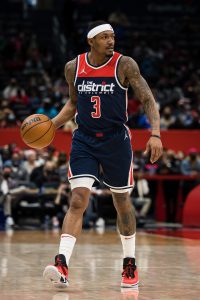 1. Bradley Beal, G, Wizards
Four or five players have a legitimate case to be considered this summer's top free agent. I'm giving the nod to Beal despite a disappointing 2021/22 season in which he was limited to 40 games and made just 30.0% of his three-pointers. Even in his down year, Beal continued to expand his ability as a play-maker, posting a career high 6.6 APG. And in each of the two prior seasons, he averaged more than 30 points per game. He's entering his age-29 season, so there's no reason not to believe a bounce-back year is in the cards, along with a potential $200MM+ contract this summer.
2. Zach LaVine, G, Bulls
Despite being affected by a knee issue in 2021/22, LaVine has averaged 25.8 PPG, 4.8 RPG, and 4.7 APG on .491/.404/.851 shooting in his last two seasons in Chicago, earning his first two All-Star nods. By all accounts, his knee injury – which he addressed surgically in May – shouldn't be a long-term concern, so the 27-year-old is in line for a massive payday this offseason, likely from the Bulls.
3. James Harden, G, Sixers
Harden appeared to be on track for the biggest contract of any of this year's free agents, but an underwhelming 2021/22 season by his standards (22.0 PPG, 10.3 APG, .410/.330/.877 shooting) has raised some new concerns — and forcing a trade for a second consecutive year didn't exactly burnish his image. Harden will turn 33 years old in August, so it's conceivable that this season represented the start of his decline rather than a blip on the radar. Of course, even if Harden doesn't recapture his MVP form, he's still one of the NBA's most talented play-makers and a dangerous scorer. He and the Sixers appear likely to compromise on a lucrative shorter-term deal.
4. Deandre Ayton, C, Suns (RFA)
The Suns didn't give Ayton the five-year, maximum-salary contract extension he wanted a year ago and seem unlikely to put that offer on the table now that he's a restricted free agent. That has opened the door for a possible Ayton exit, especially if another team is willing to offer him a four-year max deal (worth a projected $131MM). The Suns will do their best to create the impression they'll match any offer sheet so that any rival suitor serious about landing the former No. 1 overall pick will have to negotiate a sign-and-trade.
5. Jalen Brunson, G, Mavericks
After locking up their first-round pick from the 2018 draft last year when they extended Luka Doncic, the Mavericks will face a more complicated negotiation this year with 2018's second-rounder. Brunson has steadily improved in each of his four NBA seasons, putting up 16.3 PPG and 4.8 APG with a .502/.373/.840 shooting line in 2021/22. Perhaps most impressively, he thrived in the playoffs both with and without Doncic available, averaging 21.6 PPG overall as the Mavs got to within three games of the NBA Finals. Dallas faces serious competition from the Knicks and will likely have to give Brunson a fifth year and an annual salary of $25MM-ish to retain him.
6. Miles Bridges, F, Hornets (RFA)
Bridges reportedly passed on a four-year extension offer worth approximately $60MM last fall, which was the right call at the time and only looked smarter as the season progressed. As a restricted free agent this summer, it's not out of the question that Bridges could double that figure. The 24-year-old forward saw his three-point percentage dip a little in 2021/22, from 40.0% to 33.1%, but otherwise improved across the board, establishing new career highs in PPG (20.2), RPG (7.0), and APG (3.8) while playing solid defense and exhibiting first-rate durability — his 2,837 minutes ranked second in the NBA.
Note: Bridges was arrested on felony domestic violence charges on the eve of free agency.
7. Anfernee Simons, G, Trail Blazers (RFA)
After generating buzz for years as a prospect, Simons began seriously delivering on that promise in his fourth season, averaging 17.3 PPG and 3.9 APG with a .405 3PT%. He boosted those numbers to 23.4 PPG and 5.8 APG with a .423 3PT% following Damian Lillard's abdominal injury. The Trail Blazers cleared space for him both on their cap and in their lineup by trading CJ McCollum in February, so it would be a surprise if he doesn't remain in Portland.