The NBA's 2022 free agent period will tip off in less than two weeks, with teams and players permitted to agree to tentative deals as soon as June 30.
Listed below are our top 50 free agents for the 2022/23 NBA season.
While most of these players are on track to become unrestricted or restricted free agents, some have player or team options for '22/23. Our list only includes the players we view as realistic bets to become free agents, which means a vet like Russell Westbrook, who is extremely unlikely to decline his $47MM+ player option, isn't included. A player like Trey Lyles, who will almost certainly have his team option exercised, also doesn't show up on this list.

Players who have contracts for next season aren't listed here either, even if they're candidates to be released. That group includes players like Danilo Gallinari, whose $21.45MM salary for 2022/23 is only partially guaranteed for $5MM.
We'll update this list periodically leading up to June 30 to reflect the latest option decisions. For example, if James Harden picks up his player option for 2022/23, he'll be removed from this list, with everyone below him moving up a spot and a new player entering the mix at No. 50. If Gallinari is waived, he'd be a good candidate to move into the top 50, bumping the 50th-ranked player off the list.
Our rankings take into account both a player's short-term and long-term value. If we were to consider solely a player's worth for the 2022/23 season, veterans like P.J. Tucker and Thaddeus Young would likely place higher, while younger free agents with upside, such as Donte DiVincenzo or Nic Claxton, might be ranked lower.
In addition to the players listed below, there are plenty of other notable free agents available this summer. You can check out our breakdowns of free agents by position/type and by team for the full picture.
Here are our top 50 free agents of 2022:
---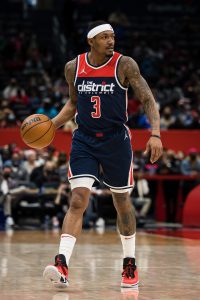 1. Bradley Beal, G, Wizards
Four or five players have a legitimate case to be considered this summer's top free agent. I'm giving the nod to Beal despite a disappointing 2021/22 season in which he was limited to 40 games and made just 30.0% of his three-pointers. Even in his down year, Beal continued to expand his ability as a play-maker, posting a career high 6.6 APG. And in each of the two prior seasons, he averaged more than 30 points per game. He's entering his age-29 season, so there's no reason not to believe a bounce-back year is in the cards, along with a potential $200MM+ contract this summer.
2. Zach LaVine, G, Bulls
Despite being affected by a knee issue in 2021/22, LaVine has averaged 25.8 PPG, 4.8 RPG, and 4.7 APG on .491/.404/.851 shooting in his last two seasons in Chicago, earning his first two All-Star nods. By all accounts, his knee injury – which he addressed surgically in May – shouldn't be a long-term concern, so the 27-year-old is in line for a massive payday this offseason, likely from the Bulls.
3. James Harden, G, Sixers
Harden appeared to be on track for the biggest contract of any of this year's free agents, but an underwhelming 2021/22 season by his standards (22.0 PPG, 10.3 APG, .410/.330/.877 shooting) has raised some new concerns — and forcing a trade for a second consecutive year didn't exactly burnish his image. Harden will turn 33 years old in August, so it's conceivable that this season represented the start of his decline rather than a blip on the radar. Of course, even if Harden doesn't recapture his MVP form, he's still one of the NBA's most talented play-makers and a dangerous scorer. He and the Sixers appear likely to compromise on a lucrative shorter-term deal.
4. Deandre Ayton, C, Suns (RFA)
The Suns didn't give Ayton the five-year, maximum-salary contract extension he wanted a year ago and seem unlikely to put that offer on the table now that he's a restricted free agent. That has opened the door for a possible Ayton exit, especially if another team is willing to offer him a four-year max deal (worth a projected $131MM). The Suns will do their best to create the impression they'll match any offer sheet so that any rival suitor serious about landing the former No. 1 overall pick will have to negotiate a sign-and-trade.
5. Jalen Brunson, G, Mavericks
After locking up their first-round pick from the 2018 draft last year when they extended Luka Doncic, the Mavericks will face a more complicated negotiation this year with 2018's second-rounder. Brunson has steadily improved in each of his four NBA seasons, putting up 16.3 PPG and 4.8 APG with a .502/.373/.840 shooting line in 2021/22. Perhaps most impressively, he thrived in the playoffs both with and without Doncic available, averaging 21.6 PPG overall as the Mavs got to within three games of the NBA Finals. Dallas faces serious competition from the Knicks and will likely have to give Brunson a fifth year and an annual salary of $25MM-ish to retain him.
6. Miles Bridges, F, Hornets (RFA)
Bridges reportedly passed on a four-year extension offer worth approximately $60MM last fall, which was the right call at the time and only looked smarter as the season progressed. As a restricted free agent this summer, it's not out of the question that Bridges could double that figure. The 24-year-old forward saw his three-point percentage dip a little in 2021/22, from 40.0% to 33.1%, but otherwise improved across the board, establishing new career highs in PPG (20.2), RPG (7.0), and APG (3.8) while playing solid defense and exhibiting first-rate durability — his 2,837 minutes ranked second in the NBA.
Note: Bridges was arrested on felony domestic violence charges on the eve of free agency.
7. Anfernee Simons, G, Trail Blazers (RFA)
After generating buzz for years as a prospect, Simons began seriously delivering on that promise in his fourth season, averaging 17.3 PPG and 3.9 APG with a .405 3PT%. He boosted those numbers to 23.4 PPG and 5.8 APG with a .423 3PT% following Damian Lillard's abdominal injury. The Trail Blazers cleared space for him both on their cap and in their lineup by trading CJ McCollum in February, so it would be a surprise if he doesn't remain in Portland.
8. Luguentz Dort, G/F, Thunder (RFA)
Players with team options rarely show up in this list, since a player on a team-friendly option typically doesn't become a free agent at all — his club simply picks up the option. However, since declining his option made him a restricted free agent, whereas exercising it would have put him on track for unrestricted free agency in 2023, Dort had his option turned down by the Thunder. He should generate significant interest, since he's one of the NBA's best perimeter defenders and makes enough three-pointers (33.8% in the last two years) to keep defenses honest. But the Thunder would be able to match any rival offer he receives.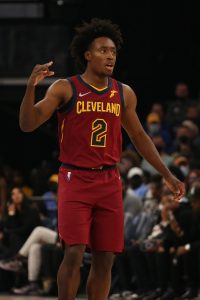 9. Collin Sexton, G, Cavaliers (RFA)
Sexton was one of the NBA's most underrated scorers from 2019-21, averaging 22.5 PPG and doing so efficiently (.474/.376/.828 shooting). A torn meniscus ended his 2021/22 season after just 11 games and his defensive shortcomings will make some suitors nervous, but his scoring ability alone should warrant a $15MM+ annual salary. The Cavaliers will be in the driver's seat in negotiations and should be comfortable retaining Sexton as long as the bidding doesn't get too high.
10. Jusuf Nurkic, C, Trail Blazers
Nurkic was playing some of the best basketball of his career in February before being shut down due to plantar fasciitis. After the Blazers pivoted to a tank by trading away several key players at the deadline, the 27-year-old led the team to four consecutive wins entering the All-Star break, posting 21.5 PPG, 14.0 RPG, and 4.3 APG. The club lost 21 of its last 23 games once he headed to the sidelines for good. Nurkic earned $12MM this past season and there's little reason to expect his next contract to start below that figure.
11. Mitchell Robinson, C, Knicks
A promising lob threat and rim protector, Robinson is just 24 years old, making him one of the summer's youngest unrestricted free agents. He has averaged 11.3 rebounds and 3.0 blocks per 36 minutes during his first four NBA seasons, but expressed some dissatisfaction with his offensive role in New York, opening the door for a possible exit this summer. The Bulls and Pistons are among the teams that have been most frequently linked to him.
12. Bobby Portis, F/C, Bucks
After winning a championship with the Bucks in 2021, Portis accepted a below-market deal to return to the team for at least one more year. Coming off a strong season in which he set new career highs in PPG (14.6) and RPG (9.1) while playing significant minutes at center, he'll likely turn down his player option and seek a raise, either in Milwaukee or elsewhere. The Bucks would be limited to offering Portis an Early Bird contract, which would start in the range of $11MM.
13. Tyus Jones, G, Grizzlies
The NBA's leader in assist-to-turnover ratio for four straight seasons, Jones has turned the ball over just 326 times in 8,377 career NBA minutes. By comparison, Russell Westbrook turned it over 295 times in 2,678 minutes this season. Besides taking care of the ball and distributing it, Jones also set career highs in PPG (8.7) and 3PT% (.390) in 2021/22. It will be interesting to see whether he's happy playing a backup/secondary role behind Ja Morant in Memphis or if he seeks out a team willing to offer him a bigger role.
14. Malik Monk, G, Lakers
Not much went right for the Lakers in 2021/22, but their minimum-salary signing of Monk was a big win. The former lottery pick, who never found his niche in Charlotte, was a fixture in Los Angeles' rotation, averaging a career-high 28.1 minutes per game and knocking down 2.3 threes per contest at a 39.1% rate. The team had a positive net rating (+0.3) when he was on the court, compared to a -6.5 mark when he wasn't. With no shortage of teams seeking shooting, Monk could get a deal worth the full mid-level exception ($10MM+).
15. Victor Oladipo, G, Heat
When we listed our top 50 free agents of 2021, I called Oladipo one of the toughest players to rank, placing him 50th. This time around, I once again find Oladipo's stock tricky to assess, but I'm far more bullish on his prospects going forward. He was still working to regain his offensive form down the stretch and during the playoffs in Miami, but his defensive tenacity was back, and his comments to reporters suggested he was finally starting to feel fully healthy after losing a couple years to a brutal quad injury. Oladipo may not ever make another All-Star team, but he should have some impactful seasons left in him.
16. Donte DiVincenzo, G, Kings
A full-time starter for the eventual champion Bucks in 2020/21, DiVincenzo tore a ligament in his ankle during the team's title run and never regained his old form before being traded to Sacramento at this year's deadline. Appearing in 25 games down the stretch for the Kings, however, DiVincenzo showed some encouraging signs, averaging 10.3 PPG and 3.6 APG with a .368 3PT%. The 25-year-old is a solid three-and-D option with room to continue improving, and won't be tied to a qualifying offer, opening up his market.
17. Bruce Brown, G/F, Nets
Brown does a little bit of everything on the court, playing and guarding multiple positions while providing some scoring (9.0 PPG), play-making (2.1 APG), rebounding (4.8 RPG), and even three-point shooting (40.4%) this season. Brown is the type of player who doesn't need the ball on offense and can switch onto virtually anyone on defense, making him an ideal fit for any contending team. After accepting his $4.7MM qualifying offer a year ago, he's now an unrestricted free agent and should get a raise, along with a multiyear commitment.
18. Kyle Anderson, G/F, Grizzlies
After enjoying a career year in 2020/21, Anderson failed to match those numbers in '21/22, but he remains a solid defensive wing who rebounds well for his size and can act as a secondary play-maker. You'd ideally like to see him shooting and making a few more three-pointers, but he has shown some progress on that front in his last two seasons (35.1% on 2.7 attempts per game) and he's still in his prime at age 28.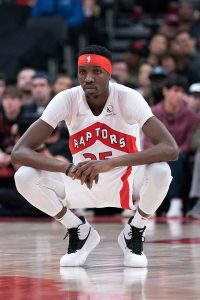 19. Chris Boucher, F/C, Raptors
Boucher was 25 when he made his NBA debut, so even though it doesn't feel as if he's been around that long, he's already entering his age-30 season. As a result, teams may feel as if he doesn't have more room to grow, and it's probably safe to assume they'll be nervous about his .297 3PT% in 2021/22. Still, Boucher is an athletic, energetic big man who can block shots and who limited opponents to 43.9% shooting this past season. He also made 35.8% of his three-pointers prior to 2021/22, so if teams count on him getting back to that level, he's a candidate to earn an eight-figure salary.
20. P.J. Tucker, F, Heat
Tucker is a somewhat risky investment due to his age (37). He got pretty banged up by the end of the season and it's unclear how much he has left in the tank. But he certainly continued to prove his value during his first year in Miami, starting 70 games and making 41.5% of his three-pointers (45.1% in the playoffs) for the Eastern Conference's top seed. Tucker's defensive versatility and playoff experience are his calling cards and will make him a popular target for teams with title aspirations until he shows signs of slowing down.
21. Nicolas Batum, F, Clippers
Now two years removed from being waived from the $120MM contract that earned him an "overrated" label, Batum is firmly back in the "underrated" camp, having excelled as a Swiss Army knife for the Clippers in the last two seasons on a pair of bargain contracts. Across two seasons and 126 games in Los Angeles, Batum – who has the size to match up with bigger scoring forwards – has recorded 8.2 PPG, 4.5 RPG, 2.0 APG, and 1.0 SPG with a .402 3PT% in 26.2 minutes per contest. He has talked about wanting to stick with the Clippers and may be willing to take a team-friendly deal to do so, but he has earned a raise on his $3.3MM player option.
22. Kevon Looney, C, Warriors
Few players have improved their stock this season as much as Looney, whose previous two years were marred by injuries and a reduced role. In 2021/22, he has started 80 of Golden State's 82 regular season games and 13 of the team's 22 playoff contests, serving as the sort of switchable big man every team covets. The 26-year-old put a stamp on a sterling contract year with his play in the NBA Finals — in six games, the Warriors outscored the Celtics by 48 points when he was on the court and were outscored by 24 points when he sat.
23. Mohamed Bamba, C, Magic (RFA)
It's perhaps shortsighted to place Looney ahead of a former lottery pick like Bamba, who blocks shots (1.7 BPG), rebounds (8.1 RPG), shoots three-pointers (38.1%), and is only 24 years old. However, it remains unclear how eager contending teams will be to invest in Bamba, who was inconsistent and often injured in his first three NBA seasons before breaking out in 2021/22. While Looney has proven his bona fides in the Finals, Bamba will still have to show he can produce when the expectations and the stakes are higher than they were in Orlando this year.
24. Gary Harris, G, Magic
Harris has flown under the radar during the last season-and-a-half playing for a non-contending Magic team, but he had a solid bounce-back year in 2021/22, registering his best three-point rate (38.4%) since '17/18 — and appearing in 60+ games for the first time since that season. Harris is in his prime at 27 years old, has multiple years of experience as a playoff starter under his belt, and should receive interest from teams looking for help on the wing.
25. Nic Claxton, C, Nets (RFA)
Injuries have played a part in limiting Claxton to just 94 regular season appearances in his first three NBA seasons, but he has flashed intriguing potential as a rim runner and interior defender when healthy. His age (23) and athleticism could make him a popular target for teams looking for an upside play at the center position. The Nets will have the ability to match any offer he receives, but already project to be a taxpaying team and may be reluctant to go too high.
26. Otto Porter Jr., F, Warriors
A former No. 3 overall pick whose previous contract was worth the max, Porter accepted a minimum-salary deal in 2021/22 and has outperformed it, playing a regular rotation role on a championship team. Having established himself as a reliable three-and-D wing during his early years in D.C., Porter battled injuries and never made the leap from role player to star, but the role he plays is a valuable one — he's still just 29 and shouldn't be pigeonholed as a minimum-salary player going forward.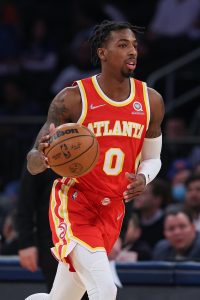 27. Delon Wright, G, Hawks
Wright's scoring rate fell off a cliff this past year in Atlanta, where he averaged just 8.5 points per 36 minutes, easily the lowest mark of his career. It's not quite as worrisome as it sounds though. His .454 FG% and .379 3PT% were above his career marks — he just wasn't looking for his shot very often. Wright was still a useful contributor as a ball-handler, play-maker, and defender, and his 6'5″ frame makes him a logical option this offseason for teams seeking a backcourt partner for an undersized guard.
28. Cody Martin, F, Hornets (RFA)
A key reserve for the Hornets, Martin averaged an extra 10 minutes per game in his third NBA season and improved his numbers across the board, setting new career highs in PPG (7.7), RPG (4.0), APG (2.5), SPG (1.2), FG% (.482), and 3PT% (.384). Martin probably shouldn't expect a huge payday, but after proving his value on both ends of the court, he shouldn't have to settle for another minimum-salary contract either.
29. Caleb Martin, F, Heat (RFA)
It feels a little lazy to list one Martin twin after another, but their breakout seasons were remarkably similar. Emerging as an important piece off the bench in Miami, Caleb averaged 9.2 PPG and 3.8 RPG on .507/.413/.763 shooting in 60 games (22.9 MPG), earning a promotion from his two-way contract. The Heat forward opted to just have his two-way deal converted into a rest-of-season contract rather than negotiating a multiyear deal, perhaps recognizing that he'll have a better chance of securing a raise in the offseason than he would have in February.
30. John Wall, G, UFA
After a year in exile in Houston, Wall finally reached an agreement with the Rockets, paving the way for him to become an unrestricted free agent. He last played in 2020/21, averaging an impressive 20.6 PPG and 6.9 APG in 40 games (32.2 MPG), though his shooting percentages (.404 FG%, .317 3PT%) left something to be desired. The five-time All-Star is no longer in his prime at age 31, but he should be fully healthy after a season spent on the sidelines, and he'll be eager to prove he has something left in the tank. He's reportedly expected to join the Clippers.
31. Gary Payton II, G, Warriors
Payton has never signed a contract worth more than the minimum, but he looks like a good bet to do so this summer. After earning the final spot on the Warriors' 15-man roster, he secured a regular spot in the rotation, carving out a niche as a defensive stopper. And while most of Payton's value stems from his ability to slow down perimeter scorers, he had his best offensive season in 2021/22 too, chipping in 7.1 PPG in just 17.6 MPG and shooting an impressive 61.6% from the floor.
32. Marvin Bagley III, F, Pistons (RFA)
A former second overall pick, Bagley won't be making the kind of money on his second contract that the players drafted around him in 2018 will be. Still, the Pistons gave up multiple second-round picks to acquire him at the 2022 trade deadline and, by all accounts, want to re-sign him to a multiyear contract. A deal in the Khem Birch range (three years, $20MM) seems within reach.
33. Isaiah Hartenstein, C, Clippers
With Serge Ibaka still rounding into form following offseason back surgery, Hartenstein emerged early in the year as the Clippers' primary backup center and thrived in the role, making 62.6% of his shots from the field and handing out 2.4 APG in just 17.9 minutes per contest. He even flashed the ability to hit the occasional three-pointer (14-of-30) and played solid defense. Hartenstein has played for four teams in four NBA seasons and has never earned more than the minimum, but his performance this past season put him in a good position to land a multiyear deal and a raise.
34. Jae'Sean Tate, F, Rockets (RFA)
The Rockets declined Tate's team option for 2022/23 even though they could have exercised it and still put him on track for restricted free agency a year from now. That's a strong signal that they believe they'll be able to lock him up on a multiyear deal to terms they like. Tate's three-point shot (31.0%) could use some work, but he has showed an impressive ability to score (11.6 PPG on 50.1% shooting), rebound (5.4 RPG), set up teammates (2.8 APG), and defend during his two years in Houston.
35. Dennis Schröder, G, Rockets
It's hard to believe we're only a year-and-a-half removed from Schröder reportedly turning down an extension worth $80MM+. He had to settle for a one-year, $5.9MM deal in free agency a year ago and then had an up-and-down season that included a midseason trade from Boston to Houston. As a 28-year-old point guard who can score and set up his teammates, Schröder should get another deal at least in the range of the taxpayer mid-level exception, but his inconsistent outside shot and his defensive limitations mean the door is probably closed on the possibility of a huge payday.
36. Montrezl Harrell, C, Hornets
Harrell is only two years removed from winning the NBA's Sixth Man of the Year award with the Clippers, but he has had a hard time replicating that success in brief subsequent stints with the Lakers, Wizards, and Hornets. Although Harrell remains a talented interior scorer and an aggressive rebounder, he's not a stout defender and gets played off the floor in certain matchups. That puts a ceiling on his earning potential, even if he should continue to draw interest as an offensive weapon off the bench.
37. Patty Mills, G, Nets
The Nets didn't end up being the title-contending team Mills thought he was joining as a free agent last summer, but he can't be blamed for the team's disappointing year. The veteran guard was as good as ever in his age-33 season, averaging 11.4 PPG and making a career-high 227 three-pointers at a 40.0% rate. He even started a career-high 48 games due to Kyrie Irving's frequent unavailability. Whether or not he wants to remain in Brooklyn, Mills can probably do better as a free agent than he would simply picking up his $6.2MM option.
38. Jalen Smith, C, Pacers
After barely seeing any action as a rookie in 2020/21, Smith found himself out of the Suns' plans — they turned down his third-year option for 2022/23 and eventually traded him to Indiana. With the lottery-bound Pacers, Smith began to flash the upside that made him a top-10 pick two years ago, averaging 13.4 PPG, 7.6 RPG, and 1.0 BPG on .531/.373/.760 shooting in a part-time role (24.7 MPG). Considering Smith is still just 22 years old, there will likely be at least one team willing to bet that his end-of-season run was legitimate, rather then the equivalent of garbage-time production. Although the Pacers hold Smith's Bird rights, they won't be able to offer him a starting salary higher than $4.67MM, the amount of his declined option.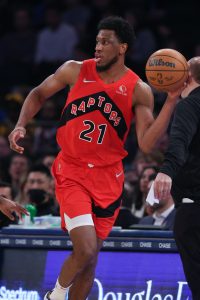 39. Thaddeus Young, F, Raptors
Young had a strong season as a role player in Chicago in 2020/21, but his sizable expiring contract meant he had to be used as a salary-matching piece when the team acquired DeMar DeRozan via sign-and-trade. After falling out of the rebuilding Spurs' rotation, Young was dealt in February to Toronto, where he had a chance to play regular minutes for a playoff team. While his days of averaging 15-plus points per game are behind him as he enters his age-34 season, Young is still a versatile on-court contributor and valuable locker room leader who will likely receive offers from multiple contenders.
40. Lonnie Walker, G/F, Spurs
Walker's value is challenging to pin down. He averaged a career-high 12.1 PPG and 2.2 APG in 2021/22, but his three-point percentage dipped to 31.4% and the Spurs were much better with him off the court (+2.1 net rating) than on it (-3.0). Walker is still only 23 years old and has tantalizing two-way potential if he can put it all together, but his inconsistency is a concern.
41. Andre Drummond, C, Nets
Drummond will never be a maximum-salary player again, but his performance in 2021/22 showed he probably shouldn't be a minimum-salary player either. He was particularly effective after being traded from Philadelphia to Brooklyn, where he started all 24 games he played for the Nets and averaged a double-double (11.8 PPG, 10.3 RPG). Even if Drummond has never been as strong a defensive player as his blocked-shot totals suggested, he's one of the NBA's best rebounders and a talented finisher around the rim.
42. Amir Coffey, G/F, Clippers (RFA)
Having spent two-and-a-half seasons on a two-way contract with the Clippers, Coffey finally received a well-earned promotion in March during a breakout season in which he recorded 9.0 PPG, 2.9 RPG, and 1.8 APG on .453/.378/.863 shooting in 69 contests (22.7 MPG). The 6'7″ Coffey, who turns 25 on Friday, has good length for a shooting guard and showed he's capable of handling a larger role. Still, he only had 553 NBA minutes under his belt prior to 2021/22, so his lack of track record may make some suitors wary.
43. Jordan Nwora, F, Bucks (RFA)
An athletic wing with a career three-point rate of 37.0% and some defensive versatility, Nwora will turn 24 years old in September. His on/off-court numbers and defensive analytics weren't especially impressive in 2021/22, but a team that misses out on this year's top wings and wants to bet on a young player with untapped potential may try to force the Bucks' hand with a strong multiyear offer.
44. Aaron Holiday, G, Suns (RFA)
Traded twice in the last year, Holiday maintained his steady production in Washington and particularly in Phoenix, where he made 44.4% of his attempts from beyond the arc and the Suns posted a +7.2 net rating in his 358 minutes — that mark was especially impressive because he spent only 114 of those minutes playing with Devin Booker and just eight alongside Chris Paul. At age 25, Holiday is already a solid backup point guard and may not have reached his ceiling yet.
45. JaVale McGee, C, Suns
At age 34, McGee probably won't find himself in the middle of a bidding war this offseason. He has only averaged 20+ minutes per game once in the last 10 years and shouldn't be relied upon to play a significant role, but he continues to produce at an elite level in small samples, averaging 20.9 points, 15.2 rebounds, and 2.5 blocks per 36 minutes for the Suns in 2021/22. He should be able to match or exceed last season's $5MM salary on his next deal.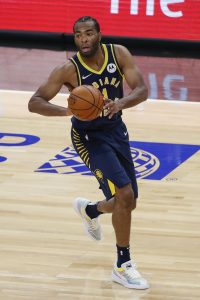 46. T.J. Warren, F, Pacers
There are a number of veteran free agents who would have made this list if not for injury concerns. Ricky Rubio and Joe Ingles, for instance, tore ACLs during the 2021/22 season — they probably won't be ready for training camp and may not get back to 100% next season at all, so it's hard to justify including them here. Warren, meanwhile, has missed nearly two full seasons due to left foot problems but is believed to be fully recovered heading into '22/23. That makes him a more intriguing target than his fellow veterans who sustained their major injuries more recently. A team taking a flier on Warren as a wing scorer shouldn't expect him to play like he did in 2019/20 (19.8 PPG on .536/.403/.819 shooting), but he's still just 28 years old.
47. Robin Lopez, C, Magic
Like McGee, Lopez is a 34-year-old center coming off a one-year, $5MM deal. Lopez's per-minute numbers don't pop off the page like McGee's do, but he's more adept at doing the little things that don't show up in the box score, like setting screens and boxing out on rebounds. He'd make sense as a backup center on a playoff team, though he was happy to play a modest role for the 22-60 Magic this past season.
48. Bryn Forbes, G, Nuggets
Forbes is one of the NBA's best three-pointer shooters, making 41.3% of his attempts across six seasons, including 45.2% during the Bucks' championship season in 2020/21. He's not a good defender, which makes it hard to rely on him for a significant role or crunch-time minutes, but his ability to make shots and spread the floor makes him a useful rotation piece over the course of an 82-game season.
49. Derrick Jones, F, Bulls
Jones' athleticism and defensive versatility helped earn him the full mid-level exception from Portland when he last reached the open market in 2020. However, his offensive game remains limited and the 17.6 minutes per game he averaged after being traded to Chicago last year represented his lowest mark since 2017/18. He's still young (25) and would be a solid depth piece for most teams, but he's unlikely to generate interest at the full mid-level again.
50. Danuel House, F, Jazz
House had to settle for a series of 10-day contracts and then a minimum-salary deal in 2021/22, but he played well for Utah both before and after getting a rest-of-season commitment. The 29-year-old wing helped shore up the Jazz's perimeter defense and hit 41.5% of his three-pointers in a 25-game stint with the club. While it's possible the bidding for House won't go far beyond the minimum, he should have no problem securing a guaranteed roster spot heading into 2022/23.
---
Here are some of the other free agents we considered, in alphabetical order:
---
Pre-free agency updates: