Myles Turner's extension agreement with the Pacers may take him off the trade market. If that's the case, Hawks forward John Collins could be the top available trade target at this season's deadline.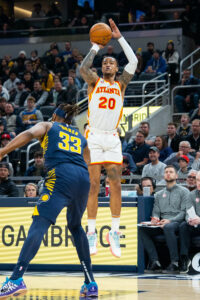 In just the past two weeks, the Pelicans, Rockets, Jazz, Heat and Wizards have been mentioned as potential destinations for Collins.
Atlanta seemed somewhat reluctant to re-sign Collins after his rookie deal but eventually gave him a five-year, $125MM deal in 2021. He's currently in the second year of that contract, which includes a player option in the final season.
That's a significant salary commitment for an acquiring team, since Collins is viewed as a solid starter but not an All-Star level talent. He's also been nicked up the last couple of seasons. He only appeared in 54 regular-season contests last year.
He's played in 42 of 50 games this season, averaging 13.5 points per night, his lowest output since his rookie season. That can be attributed in part to the Hawks' guard-oriented attack, as well as Collins' subpar 3-point shooting (26.3 percent). He's second on the team in rebounding (7.7) behind center Clint Capela.
There have been conflicting reports regarding what the Hawks are seeking in a Collins trade, but they certainly don't view him as a salary dump. It's a safe bet they're seeking to upgrade their rotation to become a more dangerous playoff contender built around the backcourt duo of Trae Young and Dejounte Murray.
It's not a given that the Hawks will trade Collins. They could simply ride with what they've got and seek a better offer for Collins during the offseason.
That brings us to today's topic: Should the Hawks trade Collins? If so, which team would benefit the most from his services?
Please take to the comments section to weigh in on this topic. We look forward to your input.