Celtics wing Jaylen Brown is under contract through the 2023/24 season, meaning he could reach unrestricted free agency in a little over 15 months. Asked by Logan Murdock of The Ringer if he wants to remain in Boston for the long time, Brown didn't exactly commit one way or the other.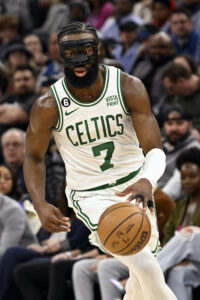 "I don't know. As long as I'm needed. It's not up to me," Brown said. "We'll see how they feel about me over time and I feel about them over time. Hopefully, whatever it is, it makes sense. But I will stay where I'm wanted. I will stay where I'm needed and treated correct."
Brown would be eligible to sign a contract extension anytime during the 2023/24 league year, starting in July. However, because he's earning well below his maximum salary and would be limited to a 20% raise in the first year of a veteran extension, the Celtics wouldn't be able to offer him a maximum-salary deal until free agency.
That would change if Brown earns a spot on an All-NBA team this spring, in which case he'd become eligible for a super-max contract extension (worth 35% of the 2024/25 cap) entering the final year of his current deal.
Still, it doesn't sound as if Brown is thinking too much about all of his potential contract options quite yet. As Murdock notes, the 26-year-old kept the focus on the present rather than the future when asked how long he wants to play with star teammate Jayson Tatum.
"I just enjoy the time that you have now," Brown said. "If it's your whole career, it's your whole career. If it's not, it's not. Some of the greatest players of all time haven't finished with their organization. Michael Jordan retired a Wizard. As much as we like it here and enjoy being here, you see where life takes you. You see how the process goes. All you do is really focus on what's in front of you right now, to be honest.
"But I don't really know or want to answer that question because that type of stuff makes Celtics fans speculate and go crazy. Especially right now, I'll just say we'll get there when we get there."
Whether or not Brown qualifies for a super-max contract, the Celtics will have the ability to offer him more years and more money than any rival suitor when he signs his next contract. So they remain in the driver's seat to retain him beyond his current deal — and there's no reason at this point to believe that they won't want to do just that.
As for Brown, his noncommittal stance may simply be a pragmatic choice rather than an indication that he's lukewarm on a future in Boston. His former teammate Kyrie Irving once publicly declared his plans to re-sign with the Celtics, then had a change of heart by the time his free agency arrived nine months later. It will be at least a few more months before Brown can sign a new contract, so there's no reason to lock himself into a single path yet.
The fact that Brown has been at the center of trade speculation multiple times during his years in Boston may also make him wary about publicly committing to the franchise without a new contract in hand. According to Murdock, while Brown received assurances from the organization following Kevin Durant's trade request that he wouldn't be moved, that "nearly endless cycle" of trade rumors over the years "has left some scars."