3:31pm: Morant has issued the following statement, via his agency Tandem Sports + Entertainment (Twitter link):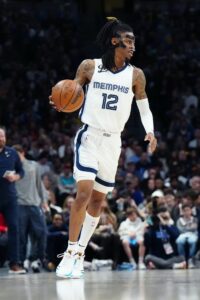 "I take full responsibility for my actions last night. I'm sorry to my family, teammates, coaches, fans, partners, the city of Memphis, and the entire Grizzlies organization for letting you down. I'm going to take some time away to get help and work on learning better methods of dealing with my stress and my overall well-being."
---
1:05pm: The Grizzlies have announced in a brief press statement that star guard Ja Morant will be away from the team for at least the next two games (Twitter link). He'll miss Sunday's contest against the Clippers and Tuesday's vs. the Lakers.
The Grizzlies haven't said that Morant is suspended and didn't offer any specific explanation for his absence. However, their statement comes shortly after the NBA announced it was investigating an Instagram Live video that appeared to show the All-Star guard flashing a gun at a strip club. It seems pretty safe to assume there's a correlation between that news and this update.
As we outlined in our previous story, Morant has allegedly been involved in a handful of off-court incidents during the last year, with Friday's video representing the latest.
Morant got into an altercation with a 17-year-old during a pickup game at his house last July and punched the teen several times, claiming later that it was in self-defense. He was also accused of threatening a security guard at a Memphis mall, and was reportedly involved in a confrontation with members of the Pacers' traveling party after a January game, resulting in some of his associates being banned from the Grizzlies' home arena.
The 17-year-old from the pickup game told police that Morant went into his house and reemerged with a gun visible in his waistband during their dispute, a claim that the Grizzlies guard's lawyer and agent have vigorously disputed.
Members of the Pacers' traveling party, meanwhile, alleged that someone in a slow-moving SUV (in which Morant was riding) trained a red laser on them during that January incident, with some individuals believing that laser was attached to a gun.
Even if both of those allegations were false, Morant had found himself under a harsher spotlight as of late and displayed extremely poor judgment when he brandished a gun on Friday night's live stream.
Typically, when the league and/or a team is investigating an off-court incident, they'll work in tandem to determine a appropriate response. It's unclear in this case whether the NBA will defer to the Grizzlies to handle the matter or whether Morant is simply getting a leave of absence as the league continues to look into Friday's social media video. I'd assume the latter.