An early exit for the Hawks could lead to an offseason shakeup that might include a trade involving Trae Young, according to Kevin O'Connor of The Ringer.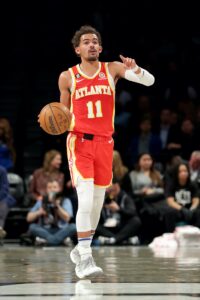 Young has been regarded as Atlanta's franchise player since he was drafted in 2018, but recent changes to the front office and coaching staff may point the team in a new direction, O'Connor states. Young had a tense relationship with former head coach Nate McMillan before he was replaced in February and may no longer be viewed as indispensable.
Sources tell O'Connor that the Hawks' front office has received approval from ownership to make any roster changes it believes are necessary this summer. That group includes general manager Landry Fields and assistant general manager Kyle Korver — who have been running the team since former president of basketball operations Travis Schlenk moved into an advisory role in December — along with Quin Snyder, who demanded a say in personnel decisions when he took over as head coach. Many rival teams believe Snyder now has the final say in roster moves, according to O'Connor's sources.
Snyder has been working to install the motion offense that was successful for him in Utah, but it has been difficult to overhaul the team's style of play in just a few weeks. He also wants the Hawks to operate at a faster pace than they did under McMillan.
Both those concepts don't seem to fit well with Young, who has gotten used to monopolizing the ball. O'Connor notes that even after Young pushed for the acquisition of Dejounte Murray as a second ball-handler, he often looks disengaged when he's not running the offense and rarely cuts to the basket.
Young's defensive limitations also remain an issue, O'Connor adds, which Snyder understands because he used to target Young on that end of court when he was coaching the Jazz. O'Connor points out that Atlanta has been among the bottom half of the league in defensive rating every season since Young arrived.
Young is in the first season of a five-year, $215MM extension that he agreed to in 2021. He will make $40MM, $43MM and $46MM over the next three years and has an early termination option for his $49MM salary in 2026/27.
While the Hawks will explore their options with Young this summer, O'Connor emphasizes that the odds are always against a major star being traded unless he forces his way out. O'Connor adds that the most likely scenario remains that Atlanta will keep Young and Murray together and try to rebuild the roster around them.