The 2020 NBA draft was a strange one for a number of reasons. It wasn't viewed as the strongest class by scouts and analysts, and there was no consensus top overall pick. The COVID-19 pandemic also (understandably) made it much more difficult for teams to scout and interview players due to travel restrictions.
Rookies from the class were also negatively impacted, as they were drafted in November and the 2020/21 season started one month later, with shortened training camps. Normally rookies have up to four months to spend with their new teams, including summer league and full training camps. The truncated offseason put all players behind the curve, but the ones without NBA experience were hit hardest.
It's fair to say the 2020 class has been relatively disappointing overall to this point, especially some of the players drafted in the top 10.
However, there are still some excellent players who were selected in the first round, and I believe three of them are basically locks to receive maximum-salary rookie scale extensions at the beginning of July (the new contracts will kick in starting in '24/25). They all have areas they need to improve on, but the potential and production are there.
---
The top candidates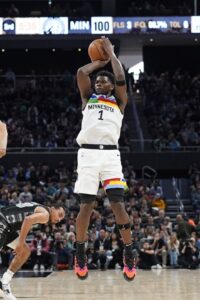 After spending much of his first two seasons playing small forward, Edwards primarily played shooting guard in 2022/23 and had a career year, averaging 24.6 points, 5.8 rebounds, 4.4 assists and 1.6 steals on .459/.369/.756 shooting in 79 regular season games (36.0 MPG). The top overall pick of 2020 was named an All-Star for the first time this season.
Edwards has been durable, has improved nearly across the board in each of his three seasons, is arguably the best athlete in the class, and is only 21 years old. The fact that the Wolves were able to stay afloat with Karl-Anthony Towns missing most of the season is a testament to Edwards' growth, and there's still plenty of room for improvement.
The 2020/21 Rookie of the Year was an All-Star in year two after averaging 20.1 points, 6.7 rebounds, 7.6 assists and 1.6 steals on .429/.389/.872 shooting in 75 games (32.3 MPG). Ball, the third overall pick in 2020, followed that up by averaging 23.3 points, 6.4 rebounds, 8.4 assists and 1.3 steals on .411/.376/.836 shooting in '22/23.
The problem was, Ball sustained multiple left ankle sprains and then fractured his right ankle on a non-contact play at the end of February, which limited him to 36 games this season.
I highly doubt those ankle injuries will impact his next contract, though they are a little worrisome. It's possible the Hornets might push for some type of protections on the deal, but I'd be a little surprised — Ball played 75 games in '21/22.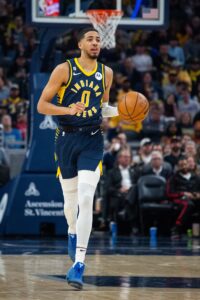 Several draft analysts had Haliburton high on their boards, but he wound up falling to the Kings at No. 12 overall. He played very well in his stint with Sacramento, but his fit with fellow point guard De'Aaron Fox was less than perfect, particularly defensively, and the Kings memorably traded him in February 2022 for a package headlined by big man Domantas Sabonis.
The deal has worked out well for both teams. Haliburton thrived as a full-time point guard for the Pacers to end last season, and he was outstanding in 2022/23, making his first All-Star appearance while averaging 20.7 points, 3.7 rebounds, 10.4 assists and 1.6 steals on a sparkling .490/.400/.871 shooting line in 56 games (33.6 MPG).
Advanced stats nearly universally say Haliburton has been the top player from his class through three seasons. His efficiency and excellent decision-making stand out.
The 23-year-old only averaged 2.5 turnovers per game this season, good for a 4.15-to-1 assist-to-turnover ratio – an excellent mark. Indiana went 28-28 with him in the lineup, versus 7-19 without him.
---
The borderline candidates
Two other first-round picks from 2020 are likely to receive massive extension offers this summer, but I'm not sure if they'll get the full max – I could see it going either way.
Given his relatively modest numbers as a rookie, Maxey's enormous leap in '21/22 was pretty surprising (and impressive). He averaged 17.5 points, 3.2 rebounds and 4.3 assists on .485/.427/.866 shooting in 75 games (35.3 MPG) in his second NBA season. The former 21st overall pick had a strong playoff showing as well, averaging 20.8 points, 3.5 rebounds and 3.9 assists on .484/.377/.940 shooting in 12 games (40.4 MPG).
Maxey maintained his great outside shooting this season, averaging 20.3 points, 2.9 rebounds and 3.5 assists on .481/.434/.845 shooting in 60 games (33.6 MPG).
Still just 22 years old, Maxey is electric with the ball in his hands and is one of the fastest players in the league, making him a terror in transition. While he rarely turns the ball over, he's more of a shooting guard than a point guard at this time, frequently looking to score instead of distribute.
However, he's only 6'2″, so he can realistically only defend point guards, and he doesn't have great instincts on that end. Most of the players listed here need to work on becoming more consistent defenders, but the other players have size advantages and are better at making plays both on and off the ball defensively.
The new CBA allows players eligible for rookie scale extensions to sign five-year deals – they were previously limited to four-year contracts. With that in mind, I think Maxey is highly likely to receive an offer in the range of $160-170MM over five years, but I'd be mildly surprised if he gets the full projected $200MM+ due to his limitations as a play-maker and defender (whether he accepts less than a max deal is another story).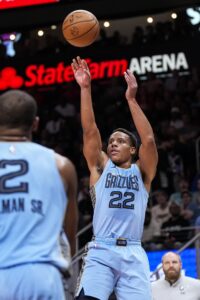 A four-year college player out of TCU, Bane was the last pick of the first round in 2020. He had a quality rookie season, mostly off the bench, averaging 9.2 points and 3.1 rebounds on .469/.432/.816 shooting in 68 games (17 starts, 22.3 MPG).
Like Maxey, Bane emerged as one of the most improved players in the league last season, averaging 18.2 points, 4.4 rebounds, 2.7 assists and 1.2 steals on .461/.436/.903 shooting in 76 games (29.8 MPG). He was even better in '22/23, putting up 21.5 PPG, 5.0 RPG, 4.4 APG and 1.0 SPG on .479/.408/.883 shooting in 58 games (31.7 MPG).
From a statistical standpoint, the 24-year-old has a legitimate argument for getting a max deal. He's an elite shooter and is a solid play-maker and defender.
My only real questions as far as a max deal are: Can Bane be one of the best players on a championship-level team? Is he good enough at creating his own shot? I did view Memphis as a legitimate contender this year until Steven Adams and Brandon Clarke went down with injuries.
Bane is already an excellent player who has shown consistent improvement year over year. Every team in the league would love to have him. I'm just not totally sold on a full max, though I wouldn't be surprised if he gets it, and it's hard to say he hasn't earned it.