The Kings were the NBA's best story in 2022/23, snapping their 16-year playoff drought by lighting the beam 48 times during the regular season en route to the No. 3 seed in the West.
Although I'm sure Sacramento was disappointed to lose its first-round series against the defending champion Warriors in seven games, it was still an incredible season based on the modest external expectations for the Kings. Going from 30 to 48 wins is a huge leap, and having one of the top fan bases in the league excited again is fantastic for the team and the city.
Next comes the tricky part. By no means am I diminishing what the Kings accomplished this season — if it was easy to make the playoffs, every team would do it every season. But from an organizational perspective, the hardest thing to do in the NBA is to go from a good team – which the Kings were this season – into a team capable of competing for championships.
---
The Kings' Offseason Plan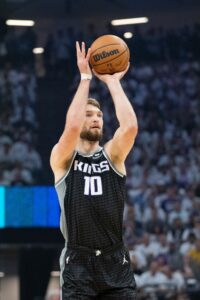 The blueprint for the Kings to become an elite team already exits: Become their own version of the Nuggets. The reason I say that is because, while I do think Nikola Jokic is a better defender than he's given credit for, he's not a traditional rim protector, and neither is center Domantas Sabonis. In order for the Kings to be great with Sabonis and De'Aaron Fox as the their two best players, they need to maintain their top offense in the playoffs while becoming at least an average defense team.
That will be easier said than done. Sacramento had the top offense in the league during the regular season. In fact, the Kings posted the best offensive rating in league history (118.6). In seven games against Golden State, that figure dropped to 109.3, which ranked 12th out of 16 playoff teams. By contrast, their 24th-ranked regular season defense (116.0) improved to seventh of 16 in the postseason (111.6).
I'm not going to overreact – nor should Sacramento – to seven games of a team making the playoffs for the first time since George W. Bush was President of the United States. That should be stated up front. At least four Kings regulars — Fox, Malik Monk, Keegan Murray and Davion Mitchell — were making their postseason debuts. But it was kind of alarming how the series played out for certain players.
Sabonis averaged 19.1 PPG, a league-high 12.3 RPG, 7.1 APG and 2.9 TOV on .615/.373/.742 shooting in 79 regular season games (34.6 MPG), despite playing with a severe thumb injury since December. He averaged 16.4 PPG, 11.0 RPG, and 4.7 APG (3.7 TOV) on .495/.200/.571 shooting in seven playoff games (34.7 MPG), getting outplayed by Kevon Looney for prolonged stretches (Looney was fantastic, averaging 15.1 RPG in 30.1 MPG).
Kevin Huerter, who also had an excellent regular season (15.2 PPG on .485/.402/.725 shooting in 75 games), struggled mightily with his shot (9.1 PPG on .347/.205/.750 shooting). Harrison Barnes had either a neutral or negative plus/minus in six of the seven games, and didn't play much at all in Games 6 and 7. The Kings were minus-9.5 per 100 possessions in 243 minutes with Sabonis on the court and plus-18.3 when he was off, for a preposterous net rating differential of minus-27.8. Barnes was minus-26.6.
The reason I bring this up is Sabonis is entering the final year of his contract, and Barnes, who turns 31 years old today, will be an unrestricted free agent.
The Kings can — and almost certainly will — offer Sabonis a contract extension with a starting salary of $30.8MM in '24/25, 140% of his '23/24 contract. I don't think there's much chance actually Sabonis signs it, however, after making third-team All-NBA this past season. He'll be looking for a maximum deal, or something close to it.
He's undoubtedly a great player. But is he worth a full max when he isn't a transcendent offensive player like Jokic? I'm not sure how favorably rival teams would view such a deal, and that's part of the reason why some people thought Indiana "won" the Sabonis-Tyrese Haliburton trade at the time it was made (Haliburton is entering the final year of his rookie contract and would be a restricted free agent if he doesn't sign an extension, whereas Sabonis is four years older and would be an unrestricted free agent).
Fox will also be eligible for a veteran extension. He's unlikely to accept an offer right now though because he could become eligible for a Designated Veteran extension (also known as the super-max) if he makes All-NBA again in one of the next two seasons.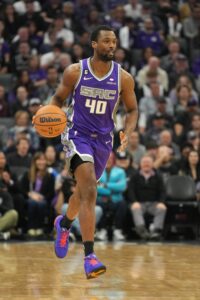 Barnes is extension-eligible until the end of June. He's coming off a four-plus season run with Sacramento, having averaged a combined 15.4 PPG, 5.3 RPG and 2.3 APG on .472/.387/.827 shooting (and a strong 61.1 true shooting percentage). Barnes, who won a championship with the Warriors in '14/15 during his third season, has made $85MM over the past four seasons, which feels about right for a solid starter. I think he'll get something close to that again on the open market, whether it be from Sacramento or another team.
The Kings can create nearly $24MM in cap room if they renounce all their cap holds, keep their first-round pick (No. 24 overall) and exercise their team option on Kessler Edwards, which I think is likely (he's only on a minimum-salary deal). Could they find something better than Barnes, Terence Davis, Alex Len, Trey Lyles and Chimezie Metu with $24MM? Probably not.
I did say I wouldn't overreact to one playoff series, and I think the safest choice is to re-sign Barnes. The veteran forward appeared in every game this season and has been quite durable throughout his career. The Kings also had great chemistry, and while a two-way wing is likely high on their wish list, every other team is looking for that too (and that's partly why they drafted Murray, a first-team All-Rookie selection).
They could also retain Lyles, who has said he wants to return, and Metu or Len. I'm not sure how the team views Davis, but another guard who can reliably score would be a solid fit with how the Kings play.
Perhaps the Kings could get an infusion of production from Sasha Vezenkov, fresh off being named EuroLeague MVP. They exclusively control his NBA rights and can negotiate a deal with him after next month's draft — he remains under contract with his current club, Olympiacos, but has buyout language in that deal.
Vezenkov averaged 17.6 PPG, 7.0 RPG and 1.9 APG on a highly efficient .546/.398/.857 shooting line in 33 EuroLeague games (28.7 MPG). It's hard to say how his game would translate, but he has been shooting well for years. If the Kings want to offer him a three- or four-year deal, they'd have to use part of their mid-level exception, which they would lose in the unlikely event that they renounce their cap holds and become a cap room team.
There have been reports indicating the Kings might look to package their three draft picks (Nos. 24, 38 and 54) in a win-now move. The most likely outgoing piece from a salary perspective is center Richaun Holmes.
It's remarkable how quickly things can change in the NBA. While the Sabonis trade has been mutually beneficial for the Kings and Pacers thus far, one player who did not benefit was Holmes. He was just coming off a career season in '20/21 at age 27, averaging 14.2 PPG, 8.3 RPG and 1.6 BPG on 63.7% from the field and 79.4% from the line in 61 games (29.2 MPG). He then signed a four-year, $46.5MM contract to stay with Sacramento in 2021 — seemingly solid value for his production.
Instead, his value has cratered in part due to circumstances beyond his control, including a custody battle with serious allegations from his son's mother (Holmes was later awarded custody and sued his ex). He actually had a good start to '21/22 prior to that and had great lob chemistry with Haliburton, but his role was basically nonexistent after the Sabonis trade. That was the case again this season.
I do think there are teams Holmes could play well for, but it's been a while since we've really seen him out there. Barnes could also be a sign-and-trade candidate if the Kings want to get aggressive. However, they owe a top-14 protected 2024 pick to Atlanta as part of the Huerter deal with lighter protections until '26. That means Sacramento only has its '23, '28 and '30 picks available for an all-in type move, which seems a little unlikely at this juncture.
---
Salary Cap Situation
Guaranteed Salary
De'Aaron Fox ($32,600,060)
Domantas Sabonis ($22,000,000)
Kevin Huerter ($15,669,643)
Richaun Holmes ($12,046,020)
Malik Monk ($9,945,830)
Keegan Murray ($8,409,000)
Davion Mitchell ($5,063,640)
Total: $105,734,193

Dead/Retained Salary
Player Options
Team Options
Non-Guaranteed Salary
PJ Dozier ($2,413,304)

Note: Dozier's salary would become fully guaranteed if he's not waived on or before July 10.

Total: $2,413,304
Restricted Free Agents
Two-Way Free Agents
Draft Picks
No. 24 overall ($2,693,160)
No. 38 overall (no cap hold)
No. 54 overall (no cap hold)
Total: $2,693,160
Extension-Eligible Players
Note: These are players who are either already eligible for an extension or will become eligible before the 2023/24 season begins. Barnes and Metu are only eligible until June 30.

Unrestricted Free Agents / Other Cap Holds
Harrison Barnes ($27,528,410 cap hold): Bird rights
Jeremy Lamb ($15,750,000 cap hold): Bird rights
Terence Davis ($7,600,000 cap hold): Bird rights
Alex Len ($5,094,180 cap hold): Early Bird rights
Trey Lyles ($3,412,500 cap hold): Early Bird rights
Matthew Dellavedova ($1,989,698 cap hold): Non-Bird rights

Note: Dellavedova has agreed to sign with Melbourne United in Australia.

Chimezie Metu ($1,989,698 cap hold): Bird rights
Corey Brewer ($1,989,698 cap hold): Early Bird rights
Total: $65,354,184
Note: The cap holds for Lamb and Brewer remain on the Kings' books from prior seasons because they haven't been renounced. They can't be used in a sign-and-trade deal.
Cap Exceptions Available
Mid-level exception: $12,220,600
Bi-annual exception: $4,448,000
Note: If the Kings go under the cap to use room, they'll lose access to these exceptions and will gain access to the room exception.