After making a huge jump in the standings by going 41-31 in 2020/21, the Knicks brought back largely the same group in '21/22, but regressed significantly, posting a 37-45 record.
Entering the 2022 offseason in search of a backcourt upgrade, the team was heavily rumored to be considering two big moves: clearing cap room to sign Jalen Brunson away from Dallas, and putting together a mega-package to trade to Utah for Donovan Mitchell.
Ultimately, only one of those two rumored plans came to fruition, with the Knicks sacrificing some draft equity in order to clear the necessary cap room to sign Brunson to a four-year, $104MM contract. Despite weeks of reports linking Mitchell to New York, the All-Star guard was eventually sent to Cleveland instead.
While we can't say with certainty whether the Knicks' decision not to meet the Jazz's lofty asking price for Mitchell was the right call, we can confidently declare the signing of Brunson a success. Given the keys to the Knicks' offense, Brunson had an incredible first season with his new team, setting new career highs in points (24.0) and assists (6.2) per game, as well as three-point percentage (41.6%).
Buoyed by Brunson's performance, an All-NBA bounce-back season from forward Julius Randle, and strong contributions from their supporting cast, the Knicks enjoyed a big bounce-back year themselves, winning 47 games (their highest total in a decade) and making the second round of the playoffs.
This still isn't a championship-caliber roster, but the foundation is more stable than it was two years ago following the Knicks' previous playoff appearance. And after not going all-in for Mitchell, the club still has plenty of trade assets on hand to continue its search for another star.
---
The Knicks' Offseason Plan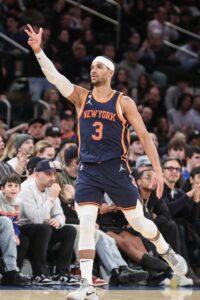 All 15 of the players who finished the 2022/23 season with the Knicks are under contract – or at least have an option – for '23/24, with none of them currently on track for unrestricted or restricted free agency. However, that doesn't mean the front office can rest on its laurels this offseason.
For starters, Josh Hart is unlikely to exercise his $13MM player option, since he'll have no problem matching – and likely exceeding – that salary on a new contract that covers multiple years. Turning down that option will make Hart an unrestricted free agent and there will be no shortage of teams with interest in the versatile wing.
As popular as Hart would be on the open market, reports have indicated there's widespread pessimism among rival suitors about their ability to pry him away from New York. The Knicks gave up their first-round pick in February to acquire Hart, who immediately became a favorite of head coach Tom Thibodeau and seemed to love playing in the Big Apple alongside Brunson, his former college teammate.
Because Hart won't be restricted, New York won't technically control his free agency, but it would be a surprise if he doesn't re-sign with the team, perhaps on a three- or four-year deal worth in the neighborhood of $15-18MM per season.
The Knicks hold team options on two guards, Derrick Rose ($15.6MM) and Miles McBride ($1.8MM). McBride is a good value on his minimum-salary deal and should have his option exercised, but Rose fell out of New York's rotation last season and spent most of the season serving as a veteran mentor on the sidelines.
Unless there's a scenario in which his salary is required in a trade for matching purposes, the Knicks will decline Rose's option, but that doesn't rule out the possibility that he'll be back with the team on a minimum-salary contract. Thibodeau and the Knicks clearly value the former MVP's influence in the locker room and on the bench, having opted to keep him on the roster all season rather than buying him out after the trade deadline. There's a path for the relationship to continue unless Rose wants to seek more playing time elsewhere.
DaQuan Jeffries and Isaiah Roby have non-guaranteed minimum salaries for 2023/24 and may not be back, especially if the Knicks need to open up their roster spots for newcomers.
New York doesn't control any 2023 draft picks, but the team should have the cap flexibility necessary to use the full mid-level exception and/or bi-annual exception to go shopping for another rotation piece in free agency.
Any significant roster changes for the Knicks, however, would likely occur on the trade market. Evan Fournier's pseudo-expiring $18.9MM contract (he has a 2024/25 team option that won't be exercised) makes an ideal salary-matching starting point for any package, though no Knick – with the possible exception of Brunson – is likely to be off the table.
New York is also armed with young talent like Immanuel Quickley, Quentin Grimes, and Obi Toppin, and has an excess of future first-round picks, including protected 2024 selections from Dallas, Detroit, and Washington, as well as the Bucks' 2025 first-rounder (top-four protected). The pieces are there to put together a pretty compelling package for any star player that becomes available this summer.
The real question is whether the stars who might be available in the short term are ones the Knicks would be eager to consolidate their assets for.
There has been constant trade speculation about Trail Blazers guard Damian Lillard, who was once viewed as ideal fit for New York. But Lillard will turn 33 this year, is on a massive super-max contract, and doesn't make as much sense as a Knicks target now that Brunson is in the picture.
Karl-Anthony Towns' name has come up frequently as a possible option, but even if the Timberwolves were willing to move him, would Towns would be the right star for the Knicks? The 27-year-old big man has made a few All-Star teams and is a talented scorer, but he's not a great defender and has won just four total playoff games (across three appearances) since arriving in Minnesota in 2016.
The Raptors could be willing to listen on Pascal Siakam this summer, but the Knicks already have an All-NBA power forward in Randle, whose substantial role has made it tricky to find playing time for Toppin, a former lottery pick. Siakam is a great player, but he's probably not a big enough upgrade on Randle to really move the needle for the Knicks — and if the team were to acquire him without moving Randle, it's unclear that the two power forwards could thrive alongside one another.
There are potential trade targets who are capable of being difference-makers for the Knicks. Joel Embiid would be one. Jaylen Brown might be another. But players like that seem unlikely to be available this offseason (and if we're looking at those two stars specifically, it's worth noting that it might be a challenge to negotiate a deal with a division rival).
You can count on Leon Rose and the front office to keep a close eye on the trade market this offseason to see if any impact players who fit the current roster will shake loose. But if the right players aren't available, the prudent move for the Knicks would be continue to exercise patience, jumping on opportunities to keep adding quality players at a good price when they come along, like they did with Brunson and Hart.
That approach may not be popular among fans and league observers eager to see the Knicks make a splash, but going all-in on the wrong player who would be harder to come back from than waiting a little longer to see if better opportunities emerge.
---
Salary Cap Situation
Guaranteed Salary
Julius Randle ($28,226,880)
Jalen Brunson ($26,346,666)
RJ Barrett ($23,883,929)
Evan Fournier ($18,857,143)
Mitchell Robinson ($15,681,818)
Isaiah Hartenstein ($9,245,121)
Obi Toppin ($6,803,012)
Immanuel Quickley ($4,171,548)
Quentin Grimes ($2,385,720)
Jericho Sims ($600,000)

Note: Partial guarantee. Rest of salary noted below.

Total: $136,201,837

Dead/Retained Salary
Player Options
Josh Hart ($12,960,000): Bird rights

Note: If Hart picks up his player option, his salary would remain non-guaranteed until June 25.

Total: $12,960,000
Team Options
Non-Guaranteed Salary
DaQuan Jeffries ($2,066,585)
Isaiah Roby ($2,066,585)
Jericho Sims ($1,327,896)

Note: Partial guarantee. Sims would receive another $600K in guaranteed money if he's not waived on or before July 16 and would have his salary fully guaranteed if he's not waived on or before August 16.

Total: $5,461,066
Restricted Free Agents
Two-Way Free Agents
Draft Picks
Extension-Eligible Players
Evan Fournier (veteran)
Josh Hart (veteran)
Derrick Rose (veteran)
Immanuel Quickley (rookie scale)
Obi Toppin (rookie scale)
Note: These are players who are either already eligible for an extension or will become eligible before the 2023/24 season begins. Hart would only be eligible if he picks up his player option; Rose would only be eligible if the Knicks pick up his option.

Unrestricted Free Agents / Other Cap Holds
Cap Exceptions Available
Mid-level exception: $12,220,600
Bi-annual exception: $4,448,000
Note: The Knicks would lose access to the full mid-level exception and the bi-annual exception if their team salary surpasses the tax apron.