This is the second 2023 installment in our series examining players who are prime candidates for contract extensions. This series will explore the player's strengths and weaknesses, and will evaluate what a fair deal between the player and his team might look like.

---
Rundown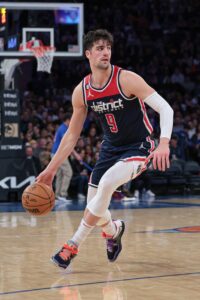 The ninth overall pick of the 2020 draft, Deni Avdija received regular playing time as a rookie in 2020/21, averaging 6.3 points, 4.9 rebounds and 1.2 assists on .417/.315/.644 shooting in 54 games (32 starts, 23.3 minutes).
Avdija was one of a select handful of players to appear in all 82 games (eight starts, 24.2 minutes) in '21/22 during his second season, averaging 8.4 points, 5.4 rebounds and 2.0 assists on .432/.317/.757 shooting.
Last season, the combo forward once again increased his counting stats and showed more aggression offensively, averaging 9.2 points, 6.4 rebounds and 2.8 assists on .437/.297/.739 shooting in 76 games (40 starts, 26.6 minutes). He averaged 10.2 points, 7.3 boards and 2.9 assists on .443/.310/.708 shooting in 37 games (27.4 minutes) after Washington traded Rui Hachimura to the Lakers in January.
Both of Avdija's parents are former athletes. His Serbian-born father was a professional player and is now the president of basketball operations of Bnei Herzliya of the Israeli Premier League, while his mother is another former basketball player who also participated in track and field.
As with Jaden McDaniels, whose candidacy we previously examined, Avdija is entering the final year of his rookie contract, which makes him eligible for a rookie scale extension until the start of the '23/24 regular season.
Strengths
The first thing that immediately comes to mind with Avdija is that he has a strong feel for the game. He has above-average vision, timing and touch as a passer, and is a plus play-maker.
He can bring the ball up the court, initiate the offense, navigate pick-and-rolls – things you'd normally expect from a guard. But he can also be the roll man and is a strong slasher with good timing on cuts to the basket.
Due to his guard-like skills, Avdija can serve as an offensive hub from several areas on the court. His spontaneity and instinctual ability to make correct reads make him difficult to game-plan against.
Avdija is not someone who should be hidden in the corner waiting for open threes – in order to take advantage of his strengths, he needs to be directly involved in the offense.
When he's at his best, he's a solid, switchable defender across multiple positions. He can be stifling one-on-one at times and is a respectable rebounder for a forward, pulling down 8.7 boards per 36 minutes in '22/23 (8.0 for his career).
At 6'9" and 210 pounds, Avdija has above-average size for his position. He's not a top-flight athlete or the strongest player, but he's tough and doesn't get pushed around.
Effort in general is a strength for Avdija. He runs the floor hard and has good intangibles when it comes to making winning plays, such as hustling after loose balls and being unselfish.
Just 22 years old, Avdija is still developing and has shown signs of progress in becoming a more confident and aggressive offensive player, which will need to continue in order for him to unlock his potential.
Weaknesses
There's a reason I mentioned that Avdija should not be utilized strictly as a spot-up shooter: He has converted just 31.0% of his threes in 212 NBA games, with his attempts decreasing slightly over time (which is likely by design).
He's not a total non-shooter from deep, but he lacks confidence in the shot. Having a forward who can't space the floor effectively isn't ideal, because there aren't many centers who can both shoot and protect the rim (the Wizards just traded one in Kristaps Porzingis). Having two subpar shooters in the game mucks up most offenses unless the players around them are supremely talented.
While Avdija is a solid driver and timely cutter, he has not been an efficient scorer inside the arc either, only converting 53% of his twos in '22/23, which is right in line with his career average (52.9%). His 53.5% true shooting percentage is subpar, especially for a forward.
He's just an OK finisher at the rim and has no real semblance of a floater game or touch on short-range bank shots. His feel as a passer doesn't translate to his touch as a scorer.
That makes Avdija a tricky player to have on your roster. His blend of skills are atypical for someone who spends a lot of time on the wing and is often tasked with defending star wings.
The young forward can get down on himself when he isn't making open shots, which can bleed into other aspects of his game. He reminds me of Cedi Osman a bit in that regard — his defense and decision-making can be affected by how he's shooting.
Because he's not an incredible athlete by NBA standards, Avdija lacks a degree of burst and isn't a great weak-side rim protector. He can be undisciplined at times on defense and a little bit stiff and upright in his stance, which are normal mistakes for young players. Becoming more consistent from night to night is definitely a goal to work toward.
Conclusion
Avdija's mix of skills makes him a difficult player to evaluate at the best of times. Ideally, he would be used in a sort of poor man's Draymond Green-type role offensively, where his passing and play-making can enhance scorers who don't necessarily need to have the ball in their hands to be effective. He can also leverage that to drive.
Improving his jump shot would change that trajectory. 31% from deep just isn't good enough to be treated like a threat right now though, which limits Avdija's appeal as a plug-and-play starter.
Complicating matters further is the fact that Washington's new front office just took over last month, so it's impossible to know how they might view Avdija. The prior regime dealt Hachimura last season in part to give Avdija more of an opportunity, but that might be irrelevant now.
In theory, moving Porzingis should open additional minutes for Avdija, and the Wizards don't really have any proven scorers on the roster beyond Kyle Kuzma and Jordan Poole. That means the young Israeli has a chance to claim a major rotation role entering his contract year.
It's hard to come up with contract comparisons for Avdija on a potential extension. He certainly has upside on both ends of the court, and if he gains confidence and consistency, he could blossom. As with many role players, he could also look overpaid if the situation he's in doesn't suit his skill set.
Perhaps Kyle Anderson's two-year, $18MM deal with the Wolves last year sort of works as a reference. There are some similarities between the two players, though Avdija is seven-plus years younger.
I doubt Avdija would receive more than the full mid-level exception right now if he were a free agent on the open market. The MLE starts at $12.4MM in '23/24 and maxes out at $53.4MM over four years, or about $13.6MM annually.
Trying to sign him to a deal in the $10-12MM per year range could be reasonable for the Wizards if they like him going forward. Something like Matisse Thybulle's recent three-year, $33MM offer sheet from Dallas (which Portland matched) could be another reference point. They're very different players, but it's in the range of what I think he could get. Locking Avdija into that type of salary could look like a bargain if he improves as a scorer, and a possible larger role in '23/24 could boost his numbers ahead of restricted free agency next year if he doesn't get an extension before the season starts.
On the other hand, waiting a year would give management more time to evaluate him both personally and professionally, and unless he really turns the corner as a shooter and/or finisher, it seems unlikely that his value will drastically change. He might also want to bet on himself.
Avdija is one of many young players on the Wizards roster worth keeping an eye on going forward with new management on board. Since he was drafted by the prior regime, he could also be a trade candidate.