A disabled player exception can be granted when an NBA team has a player go down with an injury deemed to be season-ending. The exception gives the club some additional spending flexibility, functioning almost as a cross between a traded player exception and a mid-level exception.
We go into more detail on who qualifies for disabled player exceptions and how exactly they work in our glossary entry on the subject. But essentially, a DPE gives a team the opportunity to add an injury replacement by either signing a player to a one-year contract, trading for a player in the final year of his contract, or placing a waiver claim on a player in the final year of his contract.
Because the rules related to disable player exceptions are somewhat restrictive and the exceptions themselves generally aren't worth a lot, they often simply expire without being used. Still, it's worth keeping an eye on which disabled player exceptions have been granted, just in case.
We'll use this space to break down the teams with disabled player exceptions available for the 2023/24 league year, updating it as the season progresses if more teams are granted DPEs and/or to indicate which ones have been used.
Teams have until January 15 to apply for a disabled player exception and until March 11 to actually use them (the typical deadline is March 10, but it gets pushed to the next business day when March 10 falls on a weekend).
Here's the list so far:
---
Available disabled player exceptions: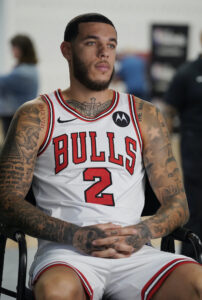 After missing half of the 2021/22 season and all of '22/23, Ball still wasn't ready to play this fall. The point guard, who has undergone multiple procedures in an attempt to address his knee problems, received a cartilage transplant surgery in March, and head of basketball operations Arturas Karnisovas told reporters in June that he didn't expect Ball to be available for the 2023/24 campaign.
Because Ball's salary this season is $20,465,117, Chicago received a disabled player exception worth half of that amount: approximately $10.23MM. That's a sizable exception, the largest one the Bulls hold after having used about half of their mid-level exception to sign Jevon Carter.
However, Chicago's team salary isn't far below the luxury tax line — the team actually needed to waive its 15th man before the season began in order to sneak below the tax threshold.
Ownership hasn't shown any inclination to become a taxpayer in recent years, especially for a roster that isn't a championship contender. There's no reason to expect that to change this season, so if the Bulls use their DPE, it'll probably be in a trade where they're also sending out some salary and staying out of tax territory.
A knee injury sidelined Adams for the final few months of the 2022/23 season, but the expectation was that he'd be ready to return this fall following a lengthy non-surgical rehab process.
Unfortunately, that non-surgical plan failed to address the instability issues in Adams' knee, according to the Grizzlies, who announced that the veteran center would undergo a procedure on his right posterior cruciate ligament that would keep him on the shelf for all of '23/24.
The Grizzlies' exception is worth $6.3MM, half of Adams' $12.6MM salary. While it could come in handy at some point this season, Memphis also has a trade exception worth $7.5MM that won't expire until next July, as well as approximately $7.4MM remaining on its mid-level exception, so the DPE is somewhat redundant.
The Grizzlies would also need to open up a spot on their 15-man roster in order to use the exception.
One of the players Portland acquired from Boston in the Jrue Holiday trade, Williams saw his poor injury luck continue in 2023/24, as he was forced to undergo season-ending knee surgery less than a month into his first season as a Trail Blazer.
Williams' deal includes some incentives, but his base salary is $11,571,429, so the Blazers' disabled player exception is worth half of that amount.
Portland is armed with several cap exceptions, including the full mid-level exception and four trade exceptions (two of which are worth $8.3MM or more). The Blazers' team salary is also just $3.5MM below the luxury tax line, so it seems unlikely that they'll actually need to use their DPE. Still, it's another tool they'll have available as they consider in-season trades to aid their rebuild.
Used disabled player exceptions: