The Bucks and the Lakers earned quarterfinal victories on Tuesday night, joining the Pacers and Pelicans as the final four teams that will head to Las Vegas to compete for the championship in the NBA's first-ever in-season tournament.
Milwaukee pulled away from New York in the second half in Tuesday's early game, with superstars Giannis Antetokounmpo and Damian Lillard combining for 63 points in the 146-122 victory.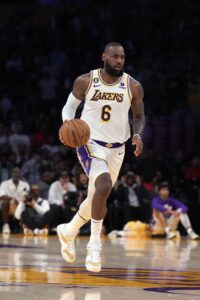 In the late game, the Lakers benefited from a generous timeout call in the closing seconds (Twitter video link) and eked out Phoenix in a 106-103 nail-biter, led by LeBron James' 31 points, 11 assists, eight rebounds, and five steals.
The schedule for Thursday's semifinals at T-Mobile Arena is as follows:
Milwaukee Bucks vs. Indiana Pacers (4:00 pm Central time)
Los Angeles Lakers vs. New Orleans Pelicans (8:00 pm CT)
The winners of those semifinal matchups will square off in the in-season tournament final at T-Mobile Arena on Saturday at 7:30 pm CT.
Players on standard contracts with the Bucks, Pacers, Lakers, and Pelicans have now secured bonuses worth at least $100K (two-way players will earn half that amount). A semifinal victory would increase those bonuses to at least $200K, while the champs will earn $500K apiece.
The Celtics, Knicks, Kings, and Suns, meanwhile, will come away with bonuses worth $50K per player for making the knockout round, but won't get the opportunity to head to Vegas for the tournament's final stage.
Instead, the Knicks will travel to Boston on Friday, while the Kings will visit Phoenix on the same night. Those newly added regular season contests represent the 82nd game on each team's schedule. Thursday's semifinals will also count toward the NBA's regular season standings, but Saturday's final won't, since that will be the 83rd game on those teams' schedules.