Every week, Hoops Rumors takes a closer look at players who will be free agents or could become free agents next offseason. We examine if those players' stock is rising or falling due to performance and other factors. This week, we turn our attention to the Atlantic Division: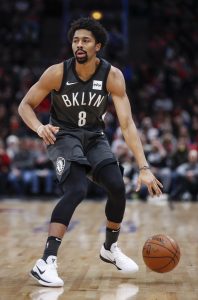 Spencer Dinwiddie, Nets, 25, PG (Up) – Signed to a three-year, $3.9MM deal in 2016
Dinwiddie has been one of the biggest bargains in the league over the past couple of years but he figures to get a hefty pay raise next summer. Dinwiddie may not be the prototypical point guard but he can carry an offense at times. He's averaging 14.9 PPG while shooting 48.9% overall and 43.5% from long range. He's a career 32.5% 3-point shooter, so if he can establish himself as a solid long-range threat, he'll be even more valuable. He had a 25-point outburst, all after halftime, and made the game-winning shot against his former team, the Pistons, on Wednesday.
Damyean Dotson, Knicks, 24, SG (Up) – Signed to a three-year, $4MM deal in 2017
Dotson has a non-guaranteed salary next season. It's hard to see the Knicks cutting a productive player on a dirt-cheap deal loose unless they hit the jackpot on a couple of top level free agents and need to open up more cap space. Dotson, a second-round pick last summer, has taken advantage of an injury to rookie Kevin Knox, scoring in double digits in each of the last six games. He's also been a factor on the boards, averaging nearly six per game. Dotson has earned coach David Fizdale's trust, though it will be interesting to see how much his minutes drop when Knox returns.
Wilson Chandler, Sixers, 31, SF (Down) – Signed to a four-year, $46.5MM deal in 2015
The Sixers were hoping that Chandler would be a key component of their second unit. They're still waiting to see if that's the case, as Chandler has yet to make his Philadelphia debut due to a hamstring injury. Chandler has been durable in recent seasons, appearing in at least 71 games for the Nuggets the past three seasons, but he's at the point of his career where injuries could be a growing concern.
Marcus Morris, Celtics, 29, PF (Up) – Signed to a four-year, $20MM deal in 2015
Brad Stevens has a lot of quality pieces to fit but Morris doesn't need to worry about his rotation spot. He's posting averages of 14.4 PPG and 7.4 RPG in 25.6 MPG off the bench while guarding three different positions. Those stats are even more impressive on a loaded team with a lot of mouths to feed. Morris is due for a huge pay increase after signing a team-friendly deal with the Suns three years ago.
Greg Monroe, Raptors, 28, C (Down) – Signed to a one-year, $2.17MM deal in 2018
Monroe is the type of player who's getting phased out of the league. He's a low-post scorer with slow feet who has difficulty making defensive switches. He's made only two brief appearances with the Raptors thus far and will likely remain at the end of the bench unless injuries pile up. Monroe will likely have to settle for a similar contract in free agency next summer.
Photo courtesy of USA Today Sports Images.