Guaranteed Contracts
Non-Guaranteed Contracts
Options
Restricted Free Agents/Cap Holds
Norris Cole ($5,095,515) — $3,036,927 qualifying offer
Jeff Withey ($1,147,276) — $1,147,276 qualifying offer2
Unrestricted Free Agents/Cap Holds
Draft Picks
Cap Outlook
Guaranteed Salary: $40,582,846
Non-Guaranteed Salary: $1,185,784
Options: $15,514,031
Cap Holds: $22,593,864
Total: $79,876,525
Rarely does a single regular season game take on so much importance, but when the Pelicans beat the Spurs in their regular season finale in a make-or-break contest for a postseason berth, there's a decent chance it forestalled a major shakeup in the team's braintrust. GM Dell Demps denied a report from Adrian Wojnarowski of Yahoo! Sports that the Pelicans told him and coach Monty Williams that they had to make the playoffs to save their jobs, but there were seemingly questions about the future of each even before the report surfaced.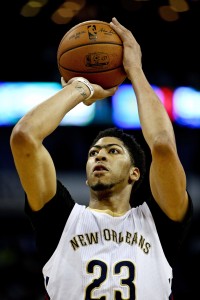 There are no certainties after the Warriors swept the Pelicans out of the playoffs, but whomever is in charge won't benefit from a first-round pick this year, as the Pelicans are set to endure a third straight season without one. Technically, it'll only be two straight years, since New Orleans drafted Nerlens Noel before the trade that sent his rights to the Sixers became official, but Noel never suited up for the Pelicans, who sent out their 2014 first-rounder in that deal, too. This year's first-rounder went to the Rockets courtesy of the trade that brought Omer Asik to town, and while the Pelicans' run to the playoffs left Houston with a pick that wasn't nearly as valuable as it could have been, the lack of burgeoning talent to develop around Davis is nonetheless disconcerting. Reserve center Jeff Withey is the only player on the Pelicans roster who entered the league after Davis did.
All of this will weigh on the minds of Davis and agent Arn Tellem as they ponder whether to accept an inevitable five-year maximum-salary extension offer from the Pelicans, who will be eligible to make that tender come July. It would be highly unusual for him to decline such an offer, but there'd be little risk in letting the Pelicans twist in the wind at least until the October 31st deadline for rookie scale extensions. Outside of some catastrophic injury next season, there's little for Davis to lose if he doesn't sign an extension at all and instead enters restricted free agency in the summer of 2016. He could further turn the screws if he were to accept his qualifying offer, though that would entail a significantly discounted salary, and few have been willing to go through with such a drastic measure. Unless Davis is altogether displeased with the Pelicans, and he's given no signs that he is, his next deal will almost certainly be a multiyear arrangement that keeps him in New Orleans.
The Pelicans need not fret about keeping Davis for the next few years. The concern is in using those years to build a roster that will help convince him to stay whenever his next deal is up, and perhaps the most important step toward that this summer involves Asik. Numbers paint a fuzzy picture about whether the center for whom New Orleans relinquished this year's first-round pick lived up to his reputation as a premier defender. He ranked just 31st in Basketball-Reference Defensive Box Plus/Minus among centers who played at least 500 minutes this season. ESPN's Real Plus/Minus shows him at No. 20 among centers, though DeAndre Jordan, the third-leading vote-getter in Defensive Player of the Year balloting, was just one spot ahead of Asik in the ESPN metric. The Pelicans gave up only 100.5 points per 100 possessions with Asik and Davis on the floor together, a mark that would have left New Orleans tied for the sixth-best defensive efficiency in the league if it held for the entire team. The Pelicans outscored opponents by 4.6 points per 100 possessions with Davis and Asik on the floor. With the big-man combo of Davis and Ryan Anderson, the Pelicans had a net rating of 6.0, more porous on defense than Davis-Asik combinations but deadly on offense, with a 112.7 offensive rating that would have been the best in the league for a full team.
A new deal with an eight-figure salary for Asik would wipe out any hope the Pelicans have of addressing their hole at small forward with cap space, since, assuming Eric Gordon opts in, as he evidently plans to do, the Pelicans are set to begin the offseason with more than $56MM in commitments. That would leave roughly $10MM worth of cap flexibility if the team preferred to go with Davis and Anderson inside and use the money that would otherwise go to Asik on the true starting-caliber small forward it lacks. Jeff Green, Luol Deng, Khris Middleton and DeMarre Carroll are among the potentially available players who could fit the bill for a salary of about $10MM a year or less.
That would allow the team to use versatile Tyreke Evans as a sixth man, as the team originally envisioned. The team figures to be able to re-sign Alexis Ajinca, whose Defensive Box Plus Minus was identical to Asik's this year, for much less than Asik would cost. In an ideal scenario, the Pelicans would delay Ajinca's signing and keep his minimum-salary cap hold on the books while using their cap space on other free agents before circling back to ink Ajinca and using their Early Bird rights on him to exceed the cap.
A different scenario is at play with soon-to-be restricted free agent Norris Cole, the midseason trade acquisition from the Heat. He averaged 9.9 points in 24.4 minutes per game after the trade, though part of that scoring had to do with three-point shooting that had been absent while he was Miami during the first half of the season. He shot 37.8% from behind the arc as a Pelican, but he's just a 32.6% career three-point shooter, and the 74 three-pointers he attempted for New Orleans provide only a tiny sample size. A healthy Jrue Holiday and the use of Evans as a sixth man would leave little room in the rotation for Cole, an Ohio native and client of Cleveland-based Klutch Sports who looms as a better fit for the Cavs' hole at backup point guard. Renouncing Cole's outsized cap hold of more than $5MM would let the Pelicans use the full extent of their cap flexibility.
New Orleans made an 11-game improvement from last season to this one, no insignificant feat. The future holds no shortage of promise as long as Davis is around, and while uncertainty looms as the Benson family fights over control of the franchise, the Pelicans have the true superstar that so many other non-contenders lack. The length of the step forward the team takes next season is largely up to Davis, since the Pelicans have neither a first-round pick nor the ability to change the core of their roster through free agency this year. Still, shrewd management can position the team for more significant growth in years to come. Asik and Cole, the team's most prominent free agents, aren't strong fits, so the Pelicans would be wise to move on.
Cap Footnotes
1 — Douglas receives a full guarantee if he remains under contract through August 1st.
2 — Withey's cap hold would be $947,276 if the Pelicans decline to tender a qualifying offer.
The Basketball Insiders Salary Pages were used in the creation of this post. Photo courtesy of USA Today Sports Images.