Arizona sophomore Rondae Hollis-Jefferson's decision to enter this year's NBA draft is one that is open for second-guessing. While the forward is perhaps the best wing defender in this year's draft, serious questions abound regarding Hollis-Jefferson's offensive skills, or lack thereof. The player certainly has lottery pick potential, but in a draft peppered with talented wings, Hollis-Jefferson may have been better served to spend one more season with the Wildcats.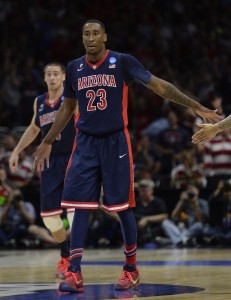 The 6'7″, 220-pounder is currently ranked as the No. 23 overall prospect by Jonathan Givony of DraftExpress, while Chad Ford of ESPN.com (Insider subscription required) places him 24th overall. With 2016's NBA draft class projected to be much weaker than this year's, Hollis-Jefferson, barring an unforeseen regression in 2015/16, would likely have been a top-15 pick, though that is merely my speculation.
Hollis-Jefferson is an extremely athletic player who is a monster in transition, and is an elite finisher at the rim. The sophomore is also adept at absorbing contact when attacking the basket, and his 7.1 free throw attempts per 40 minutes pace adjusted ranking is the most of any small forward in this year's draft. The rest of his numbers are quite solid, with Hollis-Jefferson averaging 11.2 points, 6.8 rebounds, 1.6 assists, and 1.2 steals in 28.7 minutes per contest as a sophomore. His career numbers are 10.2 PPG, 6.3 RPG, 1.5 APG, and 0.9 SPG, and a career slash line of .496/.205/.697.
But it's the Hollis-Jefferson's jump shot that is his Achilles heel, and what is relegating him to the bottom half of the first round this year. With the NBA placing more and more value on "3-and-D" players, Hollis-Jefferson's anemic 20.7% shooting from beyond the arc does him no favors in the eyes of talent evaluators. While some players can "fix" their outside shooting form, it's not necessarily something that can be counted on. Plus, it would likely take a number of seasons for the team drafting Hollis-Jefferson to see any repair efforts bear fruit on the hardwood. With patience not a staple amongst NBA teams, talent evaluators aren't likely to be very forgiving in their pre-draft assessments of Hollis-Jefferson's game.
The 20-year-old will be able to match up athletically with most wing NBA players, as his combination of strength, quickness and explosiveness is difficult to find, Givony notes. Hollis-Jefferson is a solid rebounder for his position, though he will need to bulk up to continue that trend in the NBA, since his athleticism will be somewhat neutralized when he is surrounded by the abundance of talent in the league. The player also needs to improve his ball-handling, since he doesn't handle heavy ball pressure as well as he should.

Offensive woes aside, Hollis-Jefferson's true value is on the defensive end of the court. The forward is second all time in the Pac-12 for career defensive rating (88.6) and fifth in the conference this past season in defensive win shares (2.9). He is capable of guarding four positions, which makes Hollis-Jefferson especially valuable with the league's increasing focus on pick and roll offense, and the switches that defenses are required to make on the fly in order to counter those attacks.
Hollis-Jefferson can certainly contribute as a role-player in an NBA rotation, perhaps as early as next season. But unless he can make himself a passable threat on offense, he is looking at a career as a role-player. The young wing reminds me quite a bit of Michael Kidd-Gilchrist, and not just because of the hyphenated last name. Both players are high-energy defenders who can dominate in transition, but hamper their teams in half court sets with their offensive limitations. The best case scenario for Hollis-Jefferson is that he can carve out a career similar to that of Gerald Wallace. For a team selecting toward the end of the first round that potential should be enough to make drafting Hollis-Jefferson worthwhile, but teams picking in the top 20 should pause before nabbing him that high.
Photo courtesy of USA Today Sports Images.