Throughout the spring and summer, Hoops Rumors will be talking with some of the most intriguing prospects in the 2015 NBA Draft.  The Hoops Rumors Draft Prospect Q&A series begins with Bowling Green product Richaun Holmes, whom Jonathan Givony of DraftExpress ranks No. 45 in this year's class and Chad Ford of ESPN.com rates 59th.
Standing at 6'10", Holmes is a lengthy forward with athleticism that translates to both sides of the floor.  With a wingspan of 7'1.5″, the 21-year-old can disrupt passing lanes and protect the paint on defense.  Offensively, Holmes has worked hard to improve his game, transforming from a fairly one-dimensional low-post threat to a legitimately strong shooter.  Holmes can score with his back to the basket, from 15 feet out, and by driving to the hoop, and that could prove troublesome for defenders at the next level.
Holmes, a client of Keith Kreiter at Edge Sports International, took some time out of his schedule on Tuesday to chat with Hoops Rumors about his skill set, his basketball journey up to this point, and more.
Zach Links: Scouts are enamored with your athleticism, but you've also developed into a very solid shooter over the last couple of years. What do you attribute that to?
Richaun Holmes: Just putting the time in.  A lot of the time I wasn't shooting the ball well or consistently, I wasn't doing it the same way every time and I was just putting up a lot of shots.  I knew that I wanted to develop a solid outside shot because I was being left open at the top of the key so often.  So, I put the time in and made my shot better.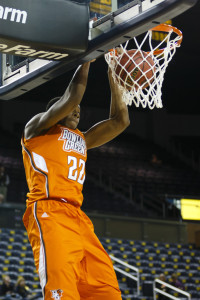 ZL: What did you change in your form?
RH: My elbow was the main thing that my coaches worked on with me.  It was kind of loose and they taught me to keep it tucked in.  Once I started doing that, my shots were staying on line.
ZL: You've shown that you can score in the post, by driving to the basket or by spotting up from further out.  Which facet of your offensive game are you most comfortable with?
RH: I'm definitely most comfortable around the basket just because that's the most natural thing I did in basketball. Scoring around the basket, getting boards around the rim, that's what I've always done.  That's my domain.
ZL: If you had to write your own scouting report, what NBA player(s) would you compare yourself to?
RH: I think the main guy is Serge Ibaka because of how he affects the game defensively. Obviously, he blocks a ton of shots, and on the offensive end he's extremely active there finishing around the rim.  Now, he's developed a very good mid-range jumper like I have, so that's a guy I look up to as I go through this process.
ZL: In a limited sample size, you've done pretty well from beyond the arc, too, making 18 of 43 shots this season.  Do you feel comfortable shooting from deep now?
RH: I feel like I'm more of a mid-range guy, but I feel like I can space the floor and make three point shots.  I definitely have that in my game.
ZL: Are you looking to bulk up between now and the fall? In terms of size and conditioning, what are your goals as you get ready to make the jump to the NBA?
RH: I'm in the weight room just trying to get stronger and ready to compete against those guys. I can't really put a number on [how many pounds] I want to be, I just want to be strong enough to compete at the highest level.  I've been talking to a nutritionist, trying to put the best things in my body to keep myself going, [and] doing different weightlifting programs to get more strength and explosiveness.
ZL: You have the size and strength defensively to guard big men, but I imagine that scouts also see you as a guy that can guard on the perimeter thanks to your athleticism and wingspan (7'1.5" wingspan, 6'10" height).  Do you feel comfortable defending against guards and smaller guys when necessary?
RH: I have the confidence to do that when my team needs me to.  I've been assigned to a smaller guy at times because I can move pretty well and sometimes they have me switch from 1-5 all over the court.  Also in pick and rolls, there are times where you have to switch assignments and I'm comfortable with doing that.
ZL: You took an unusual path to Bowling Green as you first began your collegiate career at Moraine Valley Community College in Illinois.  What led you to go that route rather than a four-year program right out of high school?
RH: When I got out of high school my dream was to play [NCAA] Division I basketball but I was a late bloomer in high school.  When I first came out, I didn't have any D-I offers really.  I had a lot of D-IIs and D-IIIs interested, but i wanted to play D-I so I went to MVCC and the coach there at the time told me that if I worked hard and if I played for him, he'd get me to a D-I college. I trusted him and he came through; that's how i ended up at Bowling Green.
ZL: Did you think it would be easier to transfer from a community college rather than a D-II or a D-III school?
RH: I knew if you transferred from a community college you could play right away at a D-I and I wasn't sure how it worked at a D-II or a D-III, so I went to community college to be sure.
ZL: When did you take that major leap forward in high school?
RH: I didn't step into a leadership or starting role until my senior year.  I really didn't play much in my junior year.
ZL: What led you to break out?
RH: I went from 6'4″ to 6'6″ in my senior year and I just kept working as hard as I could.  Then, I kept growing after high school.  I measured in at 6'7″ and 3/4 inches in my sophomore year of college and now I'm 6'10".
ZL: When did you first realize that you had an excellent chance of making it to the NBA?  After playing less than 20 minutes per night in your first year at Bowling Green, did you see yourself eventually going pro?
RH: In my junior year I would talk to the coaching staff at that time with [head] coach Louis Orr and he told me that the sky was the limit, that I could play in the pros somewhere if I worked hard enough.  I think towards the end of this year the NBA started to become a more realistic possibility for me.
ZL: What specific areas of your game do you feel like you need to improve upon?
RH: I would say for one, ball handling.  I just want to be able to create for me and my teammates.  I also want to keep developing that solid mid-range jumper because it's so important in the NBA now for a 4 to stretch the floor and make his shots.
ZL: Have you gotten an indication of where you might go in the draft?
RH: I'm not sure.  I talk to my agent, Keith Kreiter, a lot and he tells me I'm a mid-second round guy right now with a chance to get to the first round, so I'm working hard to improve my stock every day.
ZL: What led you to choose Keith Kreiter and the team at Edge Sports International to represent you?
RH: When we sat down with him — we being me, my family, and my brothers — we all just got a really good vibe from him.  He was sincere and I knew he was gonna work hard for me and he really cared about me as a person, not just as a commodity.  He's been doing this for a long time and all of those elements for me made this a good decision.
ZL: Have interested teams started reaching out to you?
RH: They've talked to Keith and had conversations with him.  They know who I am and they want to know even more about me, so that's exciting.
ZL: What are you up to now?
RH: I'm still down at Bowling Green in school, finishing up. I work out during the week and I train back home in Chicago on the weekends, training there and working around the clock.  I've got a pretty full slate right now with 12 credit hours, but finals week is next week so I'm almost done.
Photo courtesy of USA Today Sports Images.