THURSDAY, 10:51am: The league has formally announced Butler as the winner of the award, as shown on NBA.com. He took the honor by a wide margin over second-place finisher Draymond Green, who finished just ahead of Rudy Gobert. Butler took in 92 first-place votes while Green and Gobert had 11 and 12, respectively. The weighted voting system awarded five points for a first-place vote, three for a second-place vote and one for a third-place vote, giving Butler a total of 535 points, more than two and a half times as many as Green's 200. Hassan Whiteside, Anthony Davis and Klay Thompson were the others to receive multiple first-place votes, while Giannis Antetokounmpo, DeMarre Carroll and Tyler Zeller garnered one each. Media members cast the ballots, and to see how each of them voted, click here.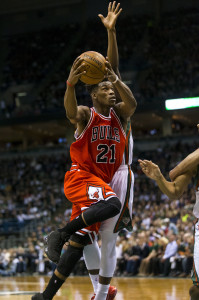 WEDNESDAY, 7:00pm: Bulls swingman Jimmy Butler will be named as the NBA's Most Improved Player, Marc Stein of ESPN.com reports (Twitter link). The 25-year-old certainly picked the correct season to become a breakout star since Butler can become a restricted free agent this summer if the Bulls tender him a qualifying offer worth $4,433,683. Chicago reportedly intends to match any offer sheet that Butler signs, and the franchise is expected to offer him a maximum salary contract this offseason.
Chicago already has nearly $60.2MM in commitments for seven players next season, not including a player option of almost $2.855MM for Kirk Hinrich. With the luxury tax line currently projected to come in around $81MM, it may be difficult to re-sign Butler without becoming a taxpayer. But with the Bulls' roster aging quickly, locking down the budding young star should certainly be a priority for the team.
Butler appeared in 65 contests for Chicago this season and averaged 20.0 points, 5.8 rebounds, and 3.3 assists in 38.7 minutes per contest, all of which were career highs. His shooting line was .462/.378/.834. The 6'7″ swingman out of Marquette well outperformed his 2013/14 campaign numbers of 13.1 PPG, 4.9 RPG, and 2.6 APG.
Photo courtesy of USA Today Sports Images.