Throughout the spring and summer, Hoops Rumors will be talking with some of the most intriguing prospects in the 2015 NBA Draft.  The Hoops Rumors Draft Prospect Q&A series continues with Murray State guard Cameron Payne, whom Chad Ford of ESPN.com ranks No. 15 in this year's class and Jonathan Givony of DraftExpress rates 20th.
Cameron Payne's individual stats are impressive: he averaged 20.2 points and 5.7 assists while shooting 37.7% from beyond the arc in 2014/15.  Perhaps more impressive than that, however, is that Payne helped lead Murray State to a 25-game winning streak in his final year on campus.
In a draft with several intriguing point guards, Payne is one of the very best in the bunch and quickly rising up draft boards.  The Murray State star made his mark in his freshman year and took another seismic leap forward this season in his sophomore year, cementing himself as a first-round talent who could very well prove to be a lottery pick.  Payne, a client of Relativity Sports agent Travis King, spoke with Hoops Rumors earlier this week about his NBA future.
Zach Links: We first heard that you were probably going pro towards the end of March.  When did you first really start leaning toward entering the draft?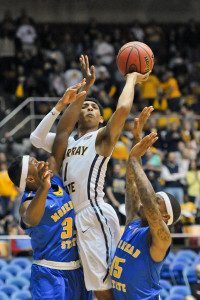 Cameron Payne: For me, the possibility of it became very real after the [Ohio Valley Conference tournament semifinal] game we played against Morehead State.  Afterwards, I heard from a lot of people there that I played a great game (Payne led the way with 25 points) and I felt like, man, this would be a perfect time for me to make the jump.
ZL: Were you pretty much off the national recruiting radar coming out of high school?
CP: Well, the team I played on in AAU, we had a lot of big-name players and I came off the bench, so I might have been overshadowed at the time.  I just played my role there and then I got the opportunity to play at Murray State.  They were the first school to recruit me and everything worked out for the best.  It was a great fit for me.  I became a better player at Murray State and now it looks like I'm going to get drafted pretty early.
ZL: You've had NBA scouts at your games for a long time now. Did you ever find it hard to stay focused on the task at hand rather than look ahead to the NBA?
CP: Not really, because I was so focused on winning and focused on trying to get our school and our team exposure in the tournament.  I'm 20 [years old] and getting this attention, so I was definitely thinking about it, but all in all it was about winning as a team because the more that we won, the more attention we all got.  It was all about my team and Murray State, so I wasn't worried during the season.
ZL: When word came out that you would be going pro, you were projected as a fringe or late first-round pick.  Since then, you've been steadily climbing up those mock drafts.  What do you attribute that to?
CP: I think people are starting to watch me, that's what I think it is, because, before then, no one really watched me.  They would just see me on ESPN here and there. They'd say, "He's pretty good and he got his team pretty far," but after the season, people were starting to watch game film on me and seeing what kind of person and player I am on and off the court.  Everything is working out for the best in the end because, man, I've moved up now from being a late first-round guy to earlier; some say I'll go in the lottery.
ZL: Elfrid Payton was another underclassman out of a small school last year who shot up draft boards in similar fashion. Have you been hearing his name brought up to you a lot?
CP: I've definitely heard that a few times now. Elfrid came out of a mid-major and so am I.  He was a late first type that climbed up the same way I'm climbing up.
ZL: Coming out of high school, what other colleges were you considering before committing to Murray State?
CP: I definitely considered Wichita State. It was between Wichita State and Murray State and, at the end, I chose to stay a little closer to home.  Murray came at me early and they were close enough for my family to come see me play.
ZL: Do you think that going to a smaller school gave you a better chance to develop than a bigger school might have?
CP: Yeah, it did give me a better platform.  At Murray State, I was getting minutes as a freshman; they let me mature and play through mistakes and at a mid-major they allow you to do that.  It helped me grow as a player.  My coach told me that I grew up faster than he ever expected me to and I think that's because of all of the in-game experience I got.
ZL: What have you improved on since you first arrived on campus?
CP: I've improved on my decision making.  I know that my shot selection was a problem in my freshman year and in my sophomore year that improved so much.  My defense has also gotten much better because I was only 165 pounds as a freshman.
ZL: What's your weight right now?
CP: I'm 186 pounds but still trying to get bigger.  I want to be at least around 190 or 195 [pounds].
ZL: Would you say you're a leader on the court?
CP: Absolutely.  I'm a leader and I'm a selfless teammate.  I want to win so bad and anything I can do to help my team win, that's what I'll do.  If it means giving my teammate the ball because he's hot, I'm going to keep feeding him.  When it comes to being a leader, you know, I can't be out there messing around because I'm setting the example for everyone else.
ZL: What would you say your greatest strength is on the floor?
CP: This goes back to my leadership ability, but I feel like I can have a big impact on the court, with or without the ball in my hands.  I'm a really good talker and I can keep everybody involved in the game.
ZL: What NBA point guard, past or present, would you compare yourself to?
CP: He's not a point guard but growing up I wanted to be like Kobe Bryant.  That's my guy, but I grew into a different kind of player.  I think Tony Parker would be the best to compare me to if you were to compare me to someone.  We do the same thing.  He gets the teammates involved, he wins; that's the main thing I like about him.
ZL: Do you have an idea as to where you'll be drafted? What's your floor and what's your ceiling?
CP: To be honest, I think my ceiling … I haven't really seen the top of it yet.  I think it can really rise past even [No.] 11 or 12, but from looking at the board, i could see myself going 11 to 25 because a lot of teams in the draft can use a point guard and I'd be a perfect fit for most or all of them.  I've worked hard to put myself in a great situation and I'm gonna work as hard as I can to move up.  My goal is to get up to [No.] 7, 8, or 9.  Where ever I go, though, I'll be happy.  My goal is just to get to shake the commissioner's hand.  That's always been my dream.
ZL: Why was Travis King and the Relativity Sports agency the right fit for you?
CP: I kind of knew Travis a little bit before this NBA stuff started happening.  He's a really good guy.  I like the agency and the program. They're very loyal to their players and they're very trustworthy.  They've done a great job with their players and knowing Travis a bit just made it an even easier decision for me.
Photo courtesy of USA Today Sports Images.