Guaranteed Contracts
Non-Guaranteed Contracts
Options
Restricted Free Agents/Cap Holds
Unrestricted Free Agents/Cap Holds
LaMarcus Aldridge ($18,960,000)4
Robin Lopez ($9,187,094)5
Wesley Matthews ($10,868,460)
Dorell Wright ($4,075,500)
No. 23 pick ($1,112,900)
Alonzo Gee ($947,276)
(Earl Watson $947,276)6
Draft Picks
Cap Outlook
Guaranteed Salary: $23,073,077
Non-Guaranteed Salary: $5,808,345
Options: $9,920,465
Cap Holds: $48,548,397
Total: $87,350,284
Portland's offseason hinges on one name: LaMarcus Aldridge. It'll be up to him to decide whether he continues to wear a Trail Blazers uniform or not, and there will surely be a maximum-salary offer from the Blazers waiting there for the Arn Tellem client, with his choice of contract length and option clauses. Aldridge appears, by many accounts, to be reconsidering the pledge he made last summer to re-sign with the team in the offseason ahead, one that he reiterated this past fall as the season began.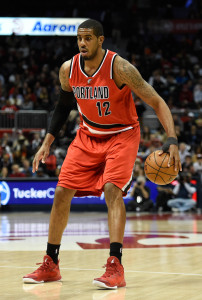 It's not the first time that the 29-year-old, who turns 30 in July, has wavered on a decision. It seemed as recently as two years ago that his exit from Portland was inevitable as he appeared eager to leave a rebuilding situation behind, but Portland's quick turnaround in 2013/14 had him talking extension midway through the season. Aldridge put an end to extension talk when he said last summer that he would re-sign when his contract was up in 2015, though that was merely a prudent financial move on his part, as collective bargaining rules greatly disincentivize veteran extensions.
It's unclear what's triggered Aldridge's renewed interest in leaving the Blazers. Portland stumbled down the stretch and fell quietly in the first round of the playoffs, but injuries played an outsized role in that, and Aldridge's subpar 33.0% shooting in the Grizzlies series contributed to the team's demise, too. Of course, Aldridge was battling an injury of his own, a torn ligament in his left thumb that was supposed to knock him out for six to eight weeks this season. Instead, he put off surgery and played through it, a decision that seemed only to further cement his status as a Blazers legend before doubts about his future with the team crept in.
Regardless, the Blazers would clearly prefer to keep Aldridge if they can, but if that proves impossible, they won't be left without a way to contend next season, as was the case when LeBron James and Dwight Howard left their respective teams in recent years. The departure of Aldridge would leave Portland with a chance to open some $40MM in room against a projected $67.1MM cap, about enough to sign two 30% max free agents. More importantly, Damian Lillard's presence looms as reason for max-level players to entertain the idea of playing in Portland, as does GM Neil Olshey's track record of building winners with the Clippers and Blazers. Portland, in a vacuum, wouldn't necessarily be an attractive destination to marquee free agents, but with a budding superstar and a canny executive at the helm, the Blazers can put forth a convincing case to stars that they can win.
Marc Stein of ESPN.com raised an intriguing possibility last week when he suggested that the Cavs could enter the picture for Aldridge as a sign-and-trade destination if Kevin Love were to pull a reversal of his own and change his plan to opt in. Love is a California native and went to UCLA, but he first burst onto the national basketball scene while attending high school in suburban Portland. The Blazers would offer him the chance to return to a familiar place and a more expansive role next to Lillard than he's had with both James and Kyrie Irving in Cleveland. A sign-and-trade would be tricky, since teams over the tax apron can't take on players via sign-and-trade and Cleveland is in line to zoom well into tax territory, but on the off chance Love does opt out, the Blazers could just sign him outright.
Greg Monroe, to whom the Blazers were linked last summer, looms as a much more obtainable possibility, and so would Roy Hibbert, if he opts out, as Hibbert was reportedly ready to sign an offer sheet with the Blazers in 2012 before the Pacers made it clear they'd match. Of course, Hibbert hasn't performed like a star lately and probably wouldn't merit the max, and there are plenty of soon-to-be free agent big men whom Portland might find more valuable, like DeAndre Jordan, Paul Millsap, Brook Lopez and Tristan Thompson. None aside from Love and Marc Gasol are Aldridge's equal among interior players in this year's free agent class, but Gasol seems committed to Memphis.
Of course, Aldridge isn't the only significant soon-to-be free agent in Portland. The value of Wesley Matthews has never been more apparent than over the last two months since the theretofore remarkably durable shooting guard tore his left Achilles tendon. The fortunes of just about every Blazers free agent seem intrinsically linked to Aldridge, but it wouldn't be surprising if Portland pushes hard to bring back Matthews regardless of what happens with the power forward. It's uncertain if the Knicks have abandoned their reported interest in the wake of the injury, which threatens to keep him from starting next season on time, and surely other teams will be wary of his recovery. Matthews turns 29 in October, but the injury is far from a death knell for his long-term productivity. If the Blazers are willing to stomach a market value deal given the possibility of a lengthy recovery and a slow adjustment to playing again, they can probably bring back one of their anchors, as he's expressed a preference to remain in Portland.
The Blazers acquired Arron Afflalo at the deadline to serve as a sixth man behind Matthews, but the former Nuggets shooting guard wound up starting before missing time with an injury of his own to his shoulder. That injury cost Afflalo time in the postseason and was conceivably at the root of his woeful performance, but he nonetheless reportedly plans to opt out. He stands as an in-house alternative to Matthews, but the emergence of C.J. McCollum, who's on a rookie deal much cheaper than what Afflalo will surely command, casts doubt on Portland's need to hang on to the Sam Goldfeder client. Still, if all of the team's other key free agents come back at salaries commensurate to what they're making now, it would be difficult for the Blazers to afford a replacement who can produce the way Afflalo does.
Robin Lopez appeared to be the missing piece last season, when the Blazers shot from 33-49 to 54-28 and a first-round playoff series victory. The 27-year-old's production slipped this season, though part of that had to do with a dip in playing time as the Blazers sought to make use of an upgraded bench. His game might not be quite as complementary to a big man who isn't Aldridge, so if Aldridge leaves this summer, it wouldn't be surprising to see the Blazers look elsewhere for a starting center. Lopez would be a natural draw for brother Brook Lopez, but Brook appears likely to opt out and re-sign with the Nets, and the twins probably wouldn't be as effective an on-court pairing as they were at Stanford.
Complicating the frontcourt for the Blazers is Meyers Leonard's candidacy for a rookie scale extension this summer. The former 11th overall pick rebuilt his game and added a three-point shot after falling out of the rotation last season, and he was strong on the boards in the playoffs, averaging 11.2 rebounds per 36 minutes. He switched agents, hiring the Creative Artists Agency and Aaron Mintz, a hint that he intends to push for a deal this summer.
Of course, Leonard isn't the most prominent Blazer up for a rookie scale extension. That distinction belongs to Lillard, who's already made it clear that he has no plans to settle for less than a full five-year max deal. Portland probably won't hesitate to give it to him and jump at the chance to secure the two-time All-Star for the long term. Regardless of whether the extension would prompt Aldridge to chafe against the notion that he's not the team's top priority, a feeling he sensed earlier in his career, the Blazers can't afford to dally with Lillard. Quickly securing the elite point guard in the first few days of July would allow marquee free agents to bank on the chance that they'd have a star running mate for years to come if they were to sign with Portland. Aldridge might not want to be a team's No. 2 priority, but surely other talented free agents would.
There's little doubt that Aldridge holds all the cards this summer in Portland, but unlike some other teams, the Blazers don't have all their chips in front of a single superstar. The preferable outcome involves the power forward returning, but the Blazers have the wherewithal to quickly jump back into contention this coming season or in 2015/16 if he bolts.
Cap Footnotes
1 — Kaman's salary is partially guaranteed for $1,000,000.
2 — The cap hold for Afflalo if he opts out would be $11,625,000
3 — The cap hold for Blake if he opts out would be $2,492,400
4 — The cap hold for Aldridge will be the lesser of $24,384,000 and the NBA's maximum salary for a veteran of nine seasons. It will likely be the latter, so an estimate is used above.
5 — This presumes the estimated average salary for 2015/16 won't be equal to or greater than Lopez's $6,124,729 salary from this season. If it is, Lopez's cap hold would instead be $11,636,985.
6 — See our glossary entry on cap holds for an explanation why Watson technically remains on the books.
The Basketball Insiders Salary Pages were used in the creation of this post. Photo courtesy of USA Today Sports Images.