Sam Dekker emerged as one of the stars of this spring's NCAA Tournament but NBA general managers and scouts knew all about him before Wisconsin's run to the title game. The 6'9" Dekker was considered a first-round prospect heading into his junior season with the Badgers and he moved up the draft board with his tournament performances. Dekker dropped as low as No. 25 on Chad Ford's ESPN Insider Big Board but now sits on the fringes of the lottery at No. 14 overall and No. 5 among small forwards. Jonathan Givony of DraftExpress has Dekker, who declared for the draft after three seasons with the Badgers, rated one spot higher at No. 13 in his first-round mock draft. Dekker also sits at No. 13 on Hoops Rumors' latest 2015 NBA Draft Prospect Power Rankings.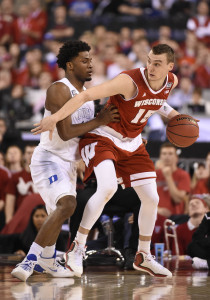 Dekker does not have one particular talent that makes him stand out from the pack but he has plenty of attributes that translate to the next level. Offensively, he's a versatile player who can be used in a variety of ways. He's an efficient scorer, particularly inside the 3-point arc, converting 52.5% of his field-goal attempts in his junior year.
Playing in Wisconsin's patient system based on ball movement, Dekker was adept at moving without the ball and finding open areas for catch-and-shoot situations or making smooth cuts to the basket. He also possesses the footwork, moves and strength needed to convert on postups against smaller players. He's athletic and quick enough to finish in transition, though he's not a premier ball-handler. He's also not a prolific rebounder for someone of his size but has a knack for slipping into the paint for second-chance opportunities, as evidenced by his team-high 29 putbacks in his final season.
He has shown he can slash to the basket on straight-line drives and score at the rim, though that ability will be tested when he's faced with taller, quicker defenders than he saw in college. He'll also have to be craftier at the rim when shot blockers come over to help on those drives.
Combining all of those strengths, Dekker delivered an unusually high 63.9% shooting percentage on his two-point attempts this season. The biggest issue for Dekker is his spotty shooting from long range, which he'll need to improve to become a starter-quality NBA player.
Dekker's 3-point shooting in his final two seasons with the Badgers was troubling. He knocked down just 32.6% of his long-range shots as a sophomore and improved only slightly as a junior (33.1). He shot 39.3% on threes during this year's tournament but his streakiness was evident. He made 5-of-6 against Arizona in the regional semifinals and buried a couple more in clutch situations against Kentucky in the Final Four, then laid an 0-for-6 egg against Duke in the championship game.
With NBA teams basing their offensive strategies on pick-and-rolls and penetrating guards, Dekker must show he can make those shots when kickout passes come his way. Dekker's shooting inconsistency might be a correctable flaw. He has some mechanical issues, according to Givony, which at times cause him to release his shot with poor balance and excessive arc. His free throw shooting is also subpar for a wing player. He converted 69.5% from the line during his college career with no noticeable improvement from year to year.
There are no questions about his basketball IQ or toughness. Dekker makes smart decisions with the ball and doesn't get sloppy with his dribble. Dekker turned the ball over on just 7.3% of his possessions as a junior, making him the least turnover-prone player among this year's draft prospects. That's an underrated skill which is highly valued among NBA coaches, since games are often decided by a few crucial possessions.
Playing in the open floor more often could accentuate Dekker's ability. He was a standout in last summer's LeBron James camp, which led to the first-round projection for him prior to last season. Breaking free from Wisconsin's system could turn Dekker into an even more dangerous offensive threat.
"I saw him at LeBron and I thought he was the best kid out there," an unnamed scout told Ford. "That kid you saw in the tournament? That's the kid we saw at LeBron and I think it's who he is. I like him better than Kelly Oubre Jr. or Stanley Johnson. I'd take him in the lottery for sure. Maybe the top 10."
Dekker is also a willing defender who has the build (230 pounds) and lateral quickness to match up with players at his position. Moreover, he has the height and strength to defend most stretch fours and enough foot speed to handle some shooting guards. With many NBA teams using smaller lineups, Dekker's ability to guard three positions increases his value. He'll be able to make switches on pick-and-rolls and acquit himself reasonably well on postups.
That emphasis on going small could mean that Dekker will see action at both forward spots, provided he doesn't have to defend some of the more rugged and taller power forwards in the league.
Intangibles make Dekker all the more attractive. He plays with confidence and fire which turns into swagger when he's making his outside shots. He comes from a winning, team-oriented program where he learned to make sacrifices and get the best out of his ability in Wisconsin coach Bo Ryan's system. He loves the spotlight and isn't afraid to take the big shot, make the extra pass or defend the opponent's best player in crunch-time situations. With three years at a top-level program under his belt, he's also more ready to contribute right away than most of the players in this year's draft.
It would be an unreasonable to expect Dekker to develop into an All-Star caliber player unless he turns himself into a more prolific long-range shooter. He's still worthy of being taken in the middle of the first round. He's got enough talent to be a starter or, at the very least, a reliable rotation player off the bench.
Photo courtesy of USA Today Sports Images.