Tyus Jones' decision to leave Duke after a single season is a move that should pay off for the young point guard. The freshman's stock isn't likely to rise much higher than it is right now, with Jones having been part of Duke's National Championship squad this season, as well as being named as the Most Outstanding Player of the 2014/15 NCAA Final Four in the process. With NBA scouts already divided in their opinions of Jones, returning to Durham would have been a big risk for the 18-year-old. His stock could have only fallen by spending another season at the collegiate level, so making the jump to the NBA at this time is firmly in Jones' best interests.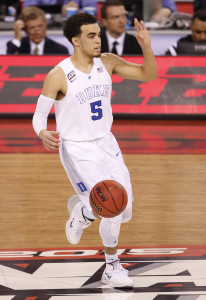 Jones is quite possibly the best pure point guard in this year's draft. He possesses remarkable floor vision, is a reliable and consistent performer, and has all of the leadership qualities that a coach could desire from a floor general. But it is Jones' size, 6'1″, and lack of elite athleticism that have his doubters unconvinced that he can make a successful transition to the NBA.
The point guard is currently ranked as the No. 19 overall prospect by Jonathan Givony of DraftExpress, while Chad Ford of ESPN.com (Insider subscription required) slots Jones 21st amongst his top-100 prospects. If you added another two inches to Jones' frame, or if he was just a bit faster, then the player would likely be thrust into the discussion when debating the potential top five picks in June's draft.
"I want to love him [Jones]," one NBA GM told Ford. "He's really, really good. His feel for the game is tremendous and now that his jump shot is falling, he's very difficult to guard. I'm just worried that given the size of so many elite point guards in our league and how great so many of them are athletically, whether he can keep up on either end of the floor. That was my concern last year with Tyler Ennis and he was bigger and more athletic. I just don't know when you take him."
While his athleticism might not be on par with the upper echelon of point guards in the NBA, Jones has all of the intangibles you could hope for, and also demonstrated that he can perform when the lights are at their brightest. In 39 games with the Blue Devils, Jones averaged 11.8 points, 3.5 rebounds, 5.6 assists, and 1.5 steals in 33.9 minutes per contest. His shooting numbers were .417/.379/.889. In his six NCAA tournament appearances, Jones committed only eight turnovers in total, including just one in his 37 minutes of action versus Wisconsin in the title game.
The 18-year-old possesses outstanding ball-handling skills, and is a dynamic passer who sees the floor and reads defenses incredibly well for a player with his limited experience. The combination of Jones' floor vision, ball distribution, and his ability to consistently sink jump shots off the dribble make him a handful in pick-and-roll sets, Givony notes. Jones also demonstrated good accuracy from beyond the three-point line, with nearly 38% of his deep balls finding their mark. This is a very important aspect of Jones' game going forward, since he won't be able to make a living in the NBA without being able to keep defenders honest with his shooting.
If Jones is to find any success at the next level, he'll have to continue to improve on his outside game, since he doesn't have the speed necessary to blow by most NBA guards. The freshman also isn't especially adept at creating his own shot with any level of consistency. However, this is an area I think the young guard will improve upon as he gains more playing experience. Jones also needs to become more effective when he is able to take it to the rim, having converted just 44% of his shots in the paint while at Duke. Thankfully, Jones is quite adept at creating contact on his drives, and is a sharpshooter from the charity stripe, nailing nearly 89% of his free throws during the 2014/15 campaign.
The young point guard's lack of explosiveness also impacts him while on defense. To put it bluntly, Jones was not a good defender during his time at Duke. His lack of lateral quickness and strength will certainly be exploited at the NBA level, though with his high basketball IQ, Jones might be able to compensate after a time. What will require immediate adjustment is Jones' overall defensive intensity and dedication to becoming a ball-stopper. If he hopes to earn regular rotation minutes at the pro level, some serious defensive improvement will be required on Jones' part.
Despite all of the knocks against his athleticism, Jones is quite simply a winner. One who plays his best ball when the stakes are high and the intensity is at its peak. He is also a player who can make his teammates around him better. Some serious D-League time will be required during his rookie campaign, but for a patient team Jones could be a worthwhile investment. Unless he surprises NBA scouts and executives during his pre-draft workouts, expect Jones to have his name called somewhere in the 17-25 range this June.
Photo courtesy of USA Today Sports Images.