Before the NBA offseason gets underway in earnest, the Celtics have given new contracts to two key members of their organization, announcing today in a press release that general manager Danny Ainge and head coach Brad Stevens have signed extensions. Terms of those new deals have not yet been disclosed.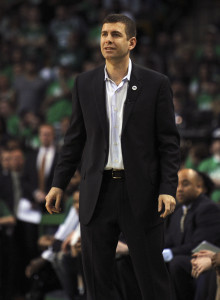 "A major job of ownership is to find the right people to run the basketball side," Celtics co-owner Wyc Grousbeck said in a statement. "We believe we have found them in Danny and Brad. Once you find your people, you need to support them in their efforts and create a work environment that enables them and the team to succeed. If all of that is in place, the topic of extending contracts becomes an easy one, because everybody wants to keep moving forward together."
Stevens, who took over as the Celtics' head coach in 2013, has a losing record overall, but the team has made tremendous strides under his watch. After winning just 25 games in 2013/14, Boston won 40 and 48 in Stevens' next two seasons, earning playoff berths in both years. Stevens' contract with the Celtics was a six-year pact and wasn't set to expire until 2019, so the team has made a very early decision to extend it, signalling how pleased the franchise is with its coach.
"Brad has demonstrated the ability to get the very best out of his players," Grousbeck said. "A number of guys have had career years playing for him: Isaiah Thomas and Jae Crowder, for example. And our young players have been developing very nicely. [Stevens] is a natural leader and a very skilled, strategic coach who is the right man to coach the Celtics."
As for Ainge, he has been the Celtics' GM since 2003, so his latest extension doesn't come as a surprise. As a result of Ainge's maneuvering, Boston holds eight picks in this year's draft – including the No. 3 overall selection from Brooklyn – and has an excess of picks lined up for future years as well.
Photo courtesy of USA Today Sports Images.