The Knicks and Bulls have agreed to deal that sends Derrick Rose to New York, along with Justin Holiday and a 2017 second-round pick. In exchange, Chicago receives Robin Lopez, Jerian Grant and Jose Calderon. Both teams have officially confirmed the move, with the Knicks announcing that they've also waived guard Tony Wroten as part of the deal.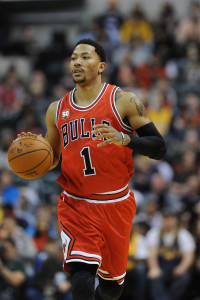 [RELATED: Knicks among teams Dwight Howard would consider]
K.C. Johnson of The Chicago Tribune (Twitter link) first reported that an agreement was in place, along with all the names involved, while Adrian Wojnarwoski and Shams Charania of The Vertical (Twitter link) were first to report that the two teams were engaged in "advanced talks" on a trade that would send Rose to the Knicks. The deal also came on the heels of earlier reports that the Bulls were open to moving Rose, and that the Knicks had internally discussed acquiring the Chicago point guard.
While Rose has been plagued by injuries since his MVP campaign in 2010/11, he managed to stay on the court for 66 games this past season, his highest mark in five years. In those games, he recorded averages of 16.4 points and 4.7 assists, shooting .427 from the floor.
Rose is entering the final year of his contract, and is set to earn a $21.323MM salary in 2016/17, so the Knicks are betting on him continuing to stay healthy going forward, and perhaps recapturing the form that saw him win that MVP award five years ago. If the 27-year-old has a solid season in New York, the Knicks would hold his Bird Rights when he becomes eligible for free agency in 2017.
By acquiring Rose, the Knicks will perhaps shift their focus in free agency more toward big men. The team could still use backcourt help, particularly at the two, with Arron Afflalo opting out, but losing Lopez will leave a hole at center in New York. Frank Isola of the New York Daily News suggests (via Twitter) that Dwight Howard, Joakim Noah, and Pau Gasol could be among the Knicks' targets in July, and we know Howard would be open to signing with New York.
Noah and Gasol, of course, are Bulls free agents, but the odds of those players both landing elsewhere appear to be on the rise with Lopez headed to Chicago. If the Bulls go into full rebuilding mode, Jimmy Butler could be a trade candidate as well, but considering they acquired veteran players in exchange for Rose, I'd be surprised if the Bulls go in that direction.
As Jonathan Givony of DraftExpress.com tweets, the Bulls have been eyeing point guard prospects in this year's draft class, and while the team won't get Kris Dunn at No. 14, a player like Wade Baldwin is a potential target. In Calderon, Chicago will at least have a solid veteran at the position for one more year.
From a financial perspective, the salaries involved in the swap are virtually a wash, despite Rose's $20MM+ cap figure. Lopez, Grant, and Calderon combined to earn $21,625,172 in 2015/16, compared to $21,040,340 for Rose and Holiday. As Bobby Marks of The Vertical tweets, Rose's 15% trade kicker won't be applied to this deal, since his salary would exceed the max with that kicker — it would have been in play if the trade had been completed in July.
The Knicks create a traded player exception worth $1,572,360, the amount of Grant's salary, but will likely renounce that exception next month in order to use space under the cap.
Photo courtesy of USA Today Sports Images.