Hoops Rumors is looking ahead to offseason moves for all 30 teams. We'll examine free agency, the draft, trades and other key storylines for each franchise as the summer approaches.
State Of The Franchise
For a second straight season, the Celtics were dispatched fairly quickly from the postseason, but the early playoff exit shouldn't diminish enthusiasm for the long-term future in Boston. Since the Celtics parted ways with their veterans and replaced Doc Rivers with Brad Stevens in 2013, the franchise has accelerated its rebuilding process, bottoming out at 25 wins in Stevens' first year before winning 40 in 2014/15 and 48 this past season.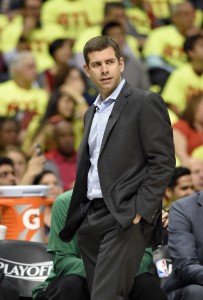 The drastic improvements on the court have come even before the Celtics have reaped most of the rewards of their blockbuster 2013 trade with the Nets, which gives Boston the third overall pick this year, the rights to swap first-rounders with Brooklyn in 2017, and the Nets' first-rounder in 2018. Boston's success within the last two years is as a testament to Stevens' impact and to Danny Ainge's other moves, including the acquisition of All-Star guard Isaiah Thomas.
Stevens and Ainge were rewarded for their excellent work with new contract extensions earlier this month, and will continue to lead the franchise for years to come. As effective as they've been so far though, there's plenty of work to be done. The Celtics are just 2-8 in the postseason under Stevens, and if they want to start making deeper playoff runs, they'll have to start turning all the assets they've collected into more impact on-court talent.
The Search For A Star

Having gathered so many young players and draft picks, the Celtics could make an effort to emulate the Knicks' and Rockets' approach to acquiring a star — those teams turned a surplus of assets into Carmelo Anthony and James Harden, respectively, taking advantage of situations where All-Star caliber players became expendable for one reason or another.
For the Celtics, that could mean targeting a player like Jahlil Okafor, who is part of an increasingly crowded frontcourt in Philadelphia; or Kevin Love, who has never quite fit in with the Cavaliers; or Jimmy Butler, who could become available if the Bulls decide to fully enter rebuilding mode. Ainge will likely make calls inquiring on several more players around the league who teams will be reluctant to move, such as DeMarcus Cousins and Paul George.
Trading for an impact veteran, particularly one who can create his own shot and help Thomas carry the scoring load, would help the Celtics become a more dangerous team in the short term, but the club should be wary about giving up too many of its assets for a non-superstar. The Knicks and Rockets, after acquiring Anthony and Harden respectively, have each made it past the first round of the playoffs just once since making those blockbuster deals. Shoving your chips into the table sometimes makes sense, but if Ainge and the Celtics take that approach, it will have to be for the right player(s).
Fortunately for Boston, the team is so loaded with draft picks – this year and in future seasons – that Ainge could move a handful of them and still have several more to work with. That gives the franchise some room for error, and could encourage a big splash this offseason — even if the C's don't immediately become a title contender by making a major trade, they'll still have some bullets in the chamber to fire down the road.
Draft Outlook
First-round picks: 3rd, 16th, 23rd
Second-round picks: 31st, 35th, 45th, 51st, 58th
A large chunk of those aforementioned assets the Celtics have stockpiled come in the form of 2016 draft picks. With eight of the 60 total selections in their possession, the C's control more than 13% of this year's draft, creating a ton of flexibility to add young talent or accommodate trades.
Of course, with two consensus prospects – Ben Simmons and Brandon Ingram – at the top of most draft boards, the Celtics would have been in an even better spot if they'd been able to move up the lottery, but controlling that No. 3 pick still puts the team in a strong position. If the C's keep the pick, they'll be able to choose their favorite player out of a group of prospects that includes Jamal Murray, Jaylen Brown, Marquese Chriss, Kris Dunn, and Dragan Bender.
If another team covets one of those players though, the Celtics sound more than willing to move the third overall pick, with one report indicating that the team has been "really shopping" the selection around in search of an impact player. While rebuilding clubs make the most sense as trade partners for Boston, contenders shouldn't necessarily be ruled out either. For a contending team with a ton of salary on its books, replacing a high-priced veteran with a younger player capable of contributing immediately at a fraction of the price could make real sense.
The No. 3 draft pick is the Celtics' most valuable draft asset, but the team has seven more picks at its disposal. The odds of Boston using even half of those selections seem slim, unless the team decides to load up on draft-and-stash players. Still, there are several different directions Ainge and the front office could go with those picks. Do they keep the third overall pick and use some of the other selections to add a lesser talent? Do they package that No. 3 pick in a deal for a star? Or do they simply push their draft assets to future years, trading some of their second-round picks for future second-rounders?
The sheer number of options available to Ainge this offseason is a good thing for the Celtics, but it will make for some difficult decisions. If Boston can go in 10 different directions with its picks, choosing the optimal path will be tricky.
To Guarantee Or Not To Guarantee?
Further complicating the Celtics' offseason plans is the fact that the team is carrying nearly $18MM in non-guaranteed salary, the majority of which belongs to Amir Johnson ($12MM) and Jonas Jerebko ($5MM). Both players appeared in nearly every game for Boston last season, and Johnson in particular was a solid role player. Considering the team only has about $34MM in guaranteed contracts on its books for 2016/17, bringing back both players is feasible, but not necessarily a lock.
Both Johnson's and Jerebko's contracts are set to become guaranteed on July 3rd, so the Celtics will have to make a decision on the duo before the July moratorium ends. That could mean quickly getting a sense of which free agents are willing to come to Boston and which aren't interested — if the team has to clear out cap space for a major signing, releasing Jerebko and perhaps Johnson as well would quickly open up another $17MM.
Free Agent Targets
While trading for talent makes sense for the Celtics, the team won't be hindered by cap issues in its pursuit of top-tier free agents. Even after taking into account cap holds for restricted free agents Jared Sullinger and Tyler Zeller, unrestricted free agent Evan Turner, and the club's three first-round picks, Boston still only has about $57MM on its books for next season, not counting its non-guaranteed salaries. That's more than enough space to make a maximum contract offer to a free agent.
While the cap flexibility is there, Boston historically hasn't been a marquee destination for free agents, and it seems unlikely that a player such as Kevin Durant would sign with the Celtics, even if the club gets an opportunity to make a pitch in July. Obviously, if the C's can land a player like Durant, they should go all out to do so, but the club should be wary of using its cap space on a lesser player simply to use it — a max contract for a second-tier free agent like Harrison Barnes could prevent Boston from making other moves down the line, limiting the team's ceiling.
Although Durant will likely end up elsewhere, and Barnes may not be worth the investment required (or the complications, given his RFA status), the Celtics should be targeting players with their kind of skill-sets. In Thomas, Marcus Smart, and Avery Bradley, the club has a respectable backcourt, and Jae Crowder is a solid three-and-D player, but the C's need to add scoring and outside shooting. A playmaking forward who can help shoulder the scoring load would be an ideal addition for Boston. Chandler Parsons, Nicolas Batum, Ryan Anderson, and Pau Gasol are among the free agents who the team could consider.
As for Sullinger, Zeller, and Turner, they're all candidates to return. Given Sullinger's and Turner's prominent spots in the rotation last season, I wouldn't be surprised if the Celtics try to keep them around, perhaps jettisoning Zeller, whose role was reduced. Boston could also use a rim-protecting big man, though I'd be a little surprised if the team is willing to pay big money for a free agent like Bismack Biyombo.
Final Take
The Celtics have some solid building blocks in place, and Stevens has done an excellent job at getting the most out of those players. If Ainge can figure out the best way to maximize all the assets the franchise has gathered during its rebuild, Boston could take another big step forward in 2016/17. Still, it's not as if the C's have to make a move before their window of contention closing. With so many roster-building options available to him, Ainge will ultimately have to decide what the best course of action is, and that could mean exercising patience and waiting for a better opportunity to cash in some of those assets.
Guaranteed Salary
Avery Bradley ($8,269,663)
Isaiah Thomas ($6,587,132)
Jae Crowder ($6,286,408)
Marcus Smart ($3,578,880)
Kelly Olynyk ($3,094,013)
Terry Rozier ($1,906,440)
James Young ($1,825,200)
Jordan Mickey ($1,223,653)
R.J. Hunter ($1,200,240)
Total: $33,971,629
Player Options
Team Options
Non-Guaranteed Salary
Restricted Free Agents (Qualifying Offers/Cap Holds)
Jared Sullinger ($4,433,683/$5,673,150)
Tyler Zeller ($3,695,169/$6,542,438)
Totals: $8,128,852/$12,215,588
Unrestricted Free Agents (Cap Holds)
Other Cap Holds
No. 3 pick ($3,952,500)
Luigi Datome ($2,275,000)
No. 16 pick ($1,573,500)
No. 23 pick ($1,151,900)
Total: $8,952,900
Projected Salary Cap: $92,000,000
The Basketball Insiders salary pages were used in the creation of this post.