JULY 27: The Blazers have officially signed McCollum to his extension, the team announced today in a press release.
"I'm ecstatic to be able to extend my career in Portland and grateful for the trust and the opportunity the organization has provided for me," McCollum said in a statement. "Since I arrived in Oregon I've considered it home and look forward to building something special, not only on the court, but in the community as well."
JULY 25: The Trail Blazers and C.J. McCollum have reached an agreement on a maximum-salary contract extension, reports Adrian Wojnarowski of The Vertical. According to Wojnarowski, the deal will add four years to McCollum's current contract, locking him up through the 2020/21 season. Based on current cap projections, the deal would be worth about $106MM.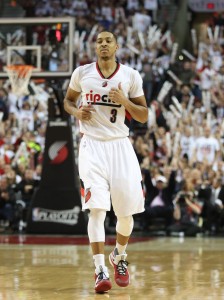 The 10th overall pick in the 2013 draft, McCollum became eligible for a contract extension for the first time this month, after playing the first three seasons of his rookie contract. He's set to earn a modest $3.22MM salary in 2016/17 before getting bumped up to the max the following year. If he hadn't agreed to an extension with Portland, McCollum would have been eligible for restricted free agency next summer.
After starting just three of 100 games in his first two seasons as a pro, McCollum became a full-time starter in 2015/16. He responded by increasing his scoring average from 6.8 PPG to 20.8 PPG, and chipped in 4.3 APG and 1.2 SPG as well. Although McCollum's huge increase in production was largely due to a similar increase in playing time, he was also a more efficient contributor in his third season, establishing new career highs in FG% (.448), 3PT% (.417), and FT% (.827).
Because Portland inked Damian Lillard to a five-year contract extension last year, making him the team's "designated player," McCollum was limited to a four-year extension. Wojnarowski adds that the agreement for the team's starting two guard won't include any options or a trade kicker.
While the exact value of McCollum's contract won't be known until the NBA officially sets the 2017/18 salary cap next July, the league currently projects a $102MM cap, which would result in a starting salary of about $24MM on McCollum's new deal. The Blazers already have nearly $62MM committed to Lillard, Allen Crabbe, and Evan Turner for the '17/18 campaign — McCollum's deal figures to bring that total to about $86MM.
Photo courtesy of USA Today Sports Images.