JULY 8: The Celtics have officially announced the signing of Horford, who says in a statement that he's "extremely excited" to be heading to Boston.
JULY 2: The Celtics plan to sign Al Horford to a four-year, $113MM deal, reports Adrian Wojnarowski of The Vertical. Horford, on his verified account, changed his avatar to the Celtics' logo and tweeted, "Celtics Pride," in an unsubtle way of announcing the agreement.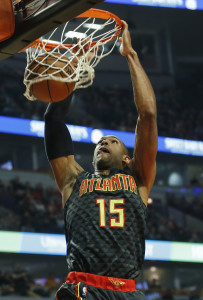 The signing is a coup for the Celtics, who have not landed a free agent in his prime in quite some time, as Gary Washburn of the Boston Globe relays. The decision is also somewhat surprising, given that the Hawks appeared to have momentum to re-sign the veteran, according to Wojnarowksi, who just minutes prior reported the Celtics figured Horford would stay in Atlanta. Alas, the Hawks and Horford were $6MM apart on a deal, Wojnarowski tweets.
Interestingly, there was also a time when Horford preferred to sign with the Wizards, per Wojnarowski. What's more, the Thunder pitched to Horford, but he turned them down because there was no assurance that Kevin Durant and Russell Westbrook would be there long-term, Wojnarowski tweets. Horford also reportedly had some level of interest from the Lakers, Magic, Pistons, and Nets, but those teams were never serious suitors for the veteran big man.
In Horford, the Celtics now have one of the better big men in the league. The longtime Hawk leaves the franchise he joined as the No. 3 overall pick in the 2007 draft, and the city in which developed into a four-time All-Star. Horford appeared in all 82 regular season games for Atlanta this past season, averaging 15.2 points, 7.3 rebounds and 3.2 assists in 32.1 minutes per night. His shooting line was .505/.344/.798.
We ranked Horford as this year's No. 3 free agent, behind only Durant and LeBron James. This is turning out to be a big weekend for Boston, which hosted Durant Saturday and still as the cap flexibility to land the superstar, as Bobby Marks of The Vertical points out on Twitter.
Photo courtesy of USA Today Sports Images.