JULY 9th, 5:22pm: The signing is official, the team announced via press release.
JULY 5th, 3:21pm:  A year after taking a significant pay cut to sign with the Spurs, David West has once again decided to forgo a major payday in order to join a title contender. According to David Aldridge of NBA.com (via Twitter), West has agreed to terms on a one-year, minimum-salary contract with the Warriors. The minimum salary for a player with West's experience is $1,551,659.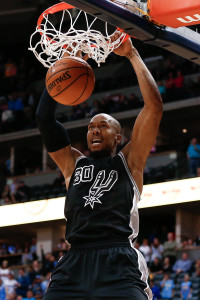 [RELATED: Kevin Durant to sign with Warriors]
West, the 18th overall pick in 2003, spent eight years with New Orleans to start his NBA career before joining the Pacers for four seasons. Last summer, the veteran forward declined a player option worth $12MM+ with Indiana, instead signing a minimum-salary contract with the Spurs in the hopes of winning a championship.
West, 35, played just 18 minutes per game for San Antonio during the 2015/16 regular season, his lowest mark since his rookie year. He was still fairly effective in that limited role, recording a career-best .545 FG%. However, he and the Spurs fell short of a championship having been eliminated in the second round by the Thunder. West subsequently declined his player option for the coming season.
In 2016/17, West will take another shot at a ring with the Warriors, who are huge title favorites after agreeing to sign Kevin Durant. In addition to striking a deal with Durant and now landing West, Golden State also got Zaza Pachulia to agree to a below-market contract to join the roster, fortifying the team's frontcourt.
The Warriors have limited flexibility to fill out their roster, but as the Pachulia and West deals show, there are veteran free agents willing to take less money to join Golden State's stacked squad. Even longtime players who have been out of the NBA for the last couple years have been linked to the Dubs — one report suggested the club would give Ray Allen a call, while another report indicated Jermaine O'Neal is open to a return for the Warriors. The team has also been linked to younger free agents such as Willie Reed and Dewayne Dedmon.
Photo courtesy of USA Today Sports Images.