JULY 7TH: The signing is official, the team announced.
JULY 4TH: After nine years with the franchise, Kevin Durant has decided to leave the Thunder and will join the Warriors. Durant formally announced his decision on Monday morning in a post on The Players' Tribune. Per ESPN's Marc Stein (via Twitter), the deal will be a two-year pact worth about $54.3MM, with a player option for that second year.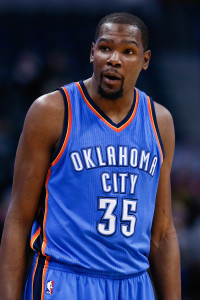 "The primary mandate I had for myself in making this decision was to have it based on the potential for my growth as a player — as that has always steered me in the right direction," Durant wrote. "But I am also at a point in my life where it is of equal importance to find an opportunity that encourages my evolution as a man: moving out of my comfort zone to a new city and community which offers the greatest potential for my contribution and personal growth. With this in mind, I have decided that I am going to join the Golden State Warriors.
"It really pains me to know that I will disappoint so many people with this choice, but I believe I am doing what I feel is the right thing at this point in my life and my playing career," Durant added.
Although the team wasn't formally allowed to speak to him until this past Friday, the Warriors' pursuit of Durant has been ongoing for months, with Golden State players remaining in contact with him, as Adrian Wojnarowski of The Vertical tweets.
Wojnarowski adds that the Warriors sold Durant on the opportunity to win multiple titles together, and to ease Stephen Curry's workload. Durant will join a stacked Golden State roster that will feature not just Curry, but Klay Thompson and Draymond Green as well, creating an incredibly imposing "big four" — all four players earned spots on one of the 2016 All-NBA teams earlier this year.
[RELATED: Updated Warriors' depth chart at RosterResource.com]
With Durant on the way, the Warriors will need to clear the cap space necessary to sign him to his new contract. The most logical roster move for Golden State looks like a trade of center Andrew Bogut, who is set to earn $12,681,081 in 2016/17. According to Sam Amick of USA Today (via Twitter), at least three teams have expressed interest in acquiring Bogut.
Meanwhile, restricted free agent Harrison Barnes will also be headed elsewhere as a result of the Durant acquisition. The Mavericks are expected to offer Barnes a max deal when the July moratorium ends on Thursday, so Dallas could very well be his next destination. The Warriors may rescind Barnes' cap hold, allowing him to sign with the Mavs as an unrestricted free agent — per Marc J. Spears of The Undefeated (Twitter link), the team is doing just that with Festus Ezeli's QO, which will make him a UFA.
Once the Dubs officially get Durant under contract, the team will likely just have the room exception – worth about $3MM – and the minimum-salary exception to fill out its roster. Given the free-agent prices we've seen so far this week, that money may not go far, but it's also entirely possible that veterans seeking a title will want to join the Warriors' stacked squad and will be willing to take a pay cut to do so.
As for the teams that failed to land Durant, the Thunder are obviously the most interesting case. With Russell Westbrook a year from free agency himself, Oklahoma City may have to seriously consider the possibility of exploring the trade market for Westbrook, rather than risking having him leave for nothing. However, now that they won't be paying Durant $26MM+ in 2016/17, the Thunder have a little flexibility to try to go out and fortify the roster with another free agent addition, so GM Sam Presti will have some difficult decisions to make.
The Heat, meanwhile, now have the opportunity to mend fences with Dwyane Wade since the team won't need a huge chunk of cap space for Durant. The Spurs will likely move on to other free agent pursuits — they're currently considered a frontrunner for Pau Gasol. The Celtics were at least able to add a top-five free agent over the weekend by reaching an agreement with Al Horford, so they've improved their roster this week and still have cap room and assets to make additional moves. As for the Clippers, they were informed earlier in the process that they were out of the running for Durant, and have already begun reaching deals with their own free agents, including Jamal Crawford and Austin Rivers.
With Durant eligible for an increased maximum salary a year from now, and Curry's contract also set to expire next summer, the Warriors are on track to finalize a pair of massive contracts in 2017, assuming Durant does indeed sign a long-term deal with the team at that point.
Because Golden State will only have Durant's Non-Bird rights in 2017, the club will have to make sure it has enough cap room to fit the former MVP's new max salary (approximately $35MM) next summer, unless he's willing to take a much more modest raise. For now, keeping that cap room available doesn't look like it should be a problem for the Warriors, who only have two guaranteed salaries – Thompson's and Green's – on the books for 2017/18
With Durant's decision now official, the rumor mill for the free agent market figures to come back to life — there had been little free-agent news this morning, as the league waited for the star forward to announce his destination.
Photo courtesy of USA Today Sports Images.