JULY 26, 2:15pm: The Wizards have finally made it official with Beal after using up the rest of their cap room, announcing today that they've re-signed their standout guard.
"Bradley has proven himself as one of the top young shooting guards in the league, and we feel that he has the potential to rise to an elite level as he enters the prime of his career as one of the cornerstones of our team," president Ernie Grunfeld said in a statement. "He is an outstanding member of the community and a great example of the type of player and person we want to represent our franchise."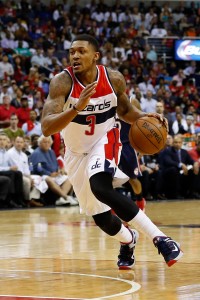 JULY 1, 9:46am: The two sides have agreed to a five-year, maximum salary contract, Jeff Goodman of ESPN.com relays (on Twitter).
JUNE 30, 11:24pm: The Wizards are close to reaching the first major free agent agreement of 2016, according to Adrian Wojnarowski of The Vertical, who reports that Washington is nearing a five-year, maximum-salary deal for Bradley Beal (Twitter link).
While The Vertical pegs the value of the five-year contract at $128MM, the exact total won't be known until the NBA announces the salary cap amount for 2016/17, which won't happen until next week. Based on a $94MM salary cap, a five-year max deal for Beal would be worth about $126.5MM. Either way, it would be a huge payday for the former third overall pick.
Beal, who turned 23 on Tuesday, is a talented scorer when healthy, averaging a career-high 17.4 points per game on 44.9% shooting in 2015/16. However, he also established a new career low in games played this past season, appearing in just 55 contests. The former third overall pick has never played more than 73 games in a season, due to injuries.
Still, the Wizards' max offer to Beal comes as no surprise, as a report earlier in the offseason indicated the team would put such an offer on the table when free agency began. Beal's cap hold is only worth about $14MM, so Washington figures to hold off on finalizing his new contract — if the team finds other uses for its cap room, it can make those moves first, then go over the cap to lock up Beal.