Veteran contract extensions rarely occur in the NBA. The current Collective Bargaining Agreement places heavy restrictions on contract restructuring and extensions. In most cases, it doesn't make sense for one party or the other.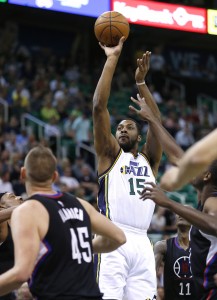 This summer, a couple of notable exceptions have popped up. James Harden agreed to a max extension, allowing the Rockets to lock up their franchise player for at least another year beyond the two seasons remaining on his contract. Russell Westbrook, who could have become an unrestricted free agent next summer, agreed to a max extension with the Thunder that will keep him under contract for at least another season.
Both players could remain with their respective teams — Harden in 2019/20 and Westbrook in 2018/19 — for an additional season if they decide not to opt out of the final year of those extensions.
Jazz power forward Derrick Favors doesn't have the star power or resume of that duo but he, too, is eligible for a veteran extension this offseason. The player's current contract must be at least four years to qualify for an extension and Favors signed a four-year, rookie-scale extension in October 2013.
Favors could officially sign a veteran's extension during training camp on the third-year anniversary of his current contract. There's ample financial reasons for Favors to work out such an agreement.
Favors is scheduled to make $11.05MM this season and $12MM in 2017/18. If he received a bottom tier max from the Jazz, he could essentially double his salary for the next two seasons.
Utah currently has more than $10MM in salary-cap space and could open up a little more by waiving a player with a non-guaranteed contract. They have two such players on the books — Chris Johnson and Jeff Withey.
From that point, Favors could receive two more years on his deal, though the numbers could range wildly. He could either get the max 7.5% raises in those two years. Conversely, the numbers could nosedive by as much as a 40% maximum decrease in the first year of the extension and another 7.5% decrease in the final season.
As Eric Pincus of Basketball Insiders details, that means Favors could wind up with a four-year restructuring/extension worth anywhere from $70MM to $99MM. If Favors waited until he became an unrestricted free agent in the summer of 2018, the max he could earn over the next four years would be approximately $86.3MM.
LIke Harden and Westbrook, he could aim for an opt-out in the final year of the extension, though the Jazz might not be interested in doing so. If they agreed to an opt-out, they'd be giving him a whopping raise while only being assured of having him an additional season. That would be a very generous offer to a player who hasn't made an All-Star team.
The Jazz also have major decisions to make regarding two of their other top players. Leading scorer Gordon Hayward will almost assuredly opt out of the final year of his contract and become an unrestricted free agent next summer. Utah will have to decide whether to sit back and hope Hayward re-signs next summer or whether to explore trade possibilities, though Hayward has a 15% trade kicker in his contract.
Center Rudy Gobert is eligible for a rookie-scale extension before the start of the season, though the Jazz could also lock him up next summer when he becomes a restricted free agent.
Favors is undoubtedly a productive, if somewhat brittle, player who is entering his prime years. He's just 25 years old and coming off back-to-back years in which he averaged at least 16 points, eight rebounds and 1.5 blocks. Favors has missed some time with assorted injuries since he started playing regularly — nine games in 2013/14, eight in 2014/15 and 20 last season.
Advanced stats are generally kind to Favors. He posted a rock-solid 21.71 PER last season, well above the 15.0 average. His offensive and defensive box ratings via BasketballReference.com are also above average, though he's never had an OBR above 1.0. His overall Box Plus/Minus of 2.7 last season was a career best.
There's another factor the Jazz must consider in their decision whether to extend Favors — what kind of player do they project Trey Lyles to be over the next few seasons?
The 2015 lottery pick posted modest stats in his first season, averaging 6.1 points and 3.7 rebounds. On the flip side, Lyles played well enough to remain in the rotation all season and he's just 20 years old. If Utah believes Lyles could develop into a starter at power forward and possibly replace Favors two years down the road, what's the incentive to extend Favors?
Either Favors or the club could decide to put off extension talks until next summer. He'd still be eligible for an extension entering the final year of his contract, as Westbrook was this summer. The tricky part is there's no guarantee the current rules will still be in place.
Negotiations between the league and the Players' Association appear to be going well but if they break down, either side could opt out of the CBA next summer. Even if the sides reach an agreement on a new CBA, the rules could change in terms of veteran extensions.
Given his team-friendly contract, Favors and agent Wallace Prather have plenty of motivation to get something done this summer. The Jazz will probably be willing to accommodate them, as long as Favors doesn't shoot for the max and an opt-out clause.
Photo courtesy of Jeff Swinger / USA Today Sports