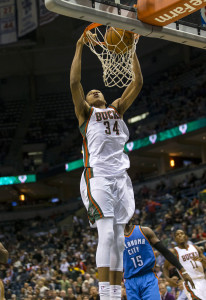 Of all the teams with rookie extension decisions to make this offseason, the easiest one belongs to the Bucks.
Giannis Antetokounmpo has developed into a team leader during his first three years in Milwaukee, averaging 16.9 points, 7.7 rebounds and 4.3 assists last season. At age 21, the Greek star is seen as the future of the franchise, which is trying to build a contending team around a core of young, versatile athletes.
That process starts with Antetokounmpo, who has emerged as one of the best young players in the league and is considered to be a future All-Star and possibly an MVP candidate one day.
Jared Dudley, who spent the 2014/15 season with the Bucks, talked about the development of Antetokounmpo during a recent appearance on a podcast with ESPN's Zach Lowe. Dudley had a first-hand view as Antetokounmpo began to evolve from a rookie to a legitimate NBA star.
"It's Giannis' team," Dudley said. "You're only going to go as far as him. Once Jabari [Parker] takes that next step — he was a lot better second half than he was first — but as of right now, people have to know this is Giannis' team. You fall in line to try to make people better around him.
"If you see [coach Jason Kidd], he was strict on Giannis when I was there. He was on Giannis more than anybody, because he knew. And now he's given Giannis the keys."
"The keys" came via a decision to run the offense through Antetokounmpo after a mid-season injury to Michael Carter-Williams. After the point guard went down with a torn labrum in his left hip that required season-ending surgery, Antetokounmpo took over that position and flashed frightening glimpses of what he can do as a creator.
Once he became the main ball handler after the All-Star break, Antetokounmpo posted averages of 18.8 points, 8.6 rebounds, 7.2 assists and 1.9 blocks, and the Bucks' offensive efficiency increased by 2.2 points per game. Opposing defenses scrambled to find a way to deal with a speedy 6'11" point guard who has impeccable court vision and elite leaping ability.
Kidd explained the move in a post on his website, saying it was something he had been considering since training camp, but he felt more freedom to experiment once the Bucks slid out of the playoff race. Kidd said Antetokounmpo still has a lot to learn about his new position, but the switch provides a better showcase for his athleticism and creativity.
"It got him in the open court, which highlights his natural abilities," Kidd wrote. "One of his strengths is being able to find guys, and he did a really good job with that. Being able to see the floor the way that he does makes the game easy. It makes it exciting for his teammates because they all know they have a chance of getting the ball. Being as tall as he is, he has so many natural advantages. His skill set — to be able get into the paint and finish — puts a lot of pressure on a defense.
"There are still plenty of things he has to learn, and hopefully, as a point guard myself, I can help him understand game management—the importance of time and score, and just the little things it takes to be a good point guard. … He's a competitor. He wants to win and he wants to be great. It's just a matter of time before he's an All-Star on a consistent basis."
That's why the Bucks would like to get an extension with Antetokounmpo wrapped up as quickly as possible. They face an October 31st deadline to finalize a new deal that would prevent him from becoming a restricted free agent next summer.
Antetokounmpo is eligible for a five-year extension that would pay him approximately $138MM, and both he and the team have expressed a desire to get a deal done. In an interview shortly after last season ended, Antetokounmpo told Gary D'Amato of The Milwaukee Journal-Sentinel that he believes his long-term future is in Milwaukee. "That was what everyone's been working for, for them to extend me," Antetokounmpo said. "Hopefully, I stay here 20 years and I get my Greek Freak Day like Kobe [Bryant]."
One reason the deal hasn't been signed already is that Antetokounmpo has been spending the summer completing his obligation to the Greek army. All Greek men who live permanently overseas are required to prove three months of service to the military, and Giannis and his brother Thanassis have been working at an armor training center near Athens.
Once Antetokounmpo's military training is complete, the extension will be a high priority for Milwaukee before training camp opens. The Bucks know what they have in Antetokounmpo. He earned the "Greek Freak" nickname because of his 7'4″ wingspan, his elite athleticism and a breathtaking ability to go from one end of the court to the other in four dribbles or fewer. He's the cornerstone of what the Bucks are trying to build, and the idea of him spending 20 years in Milwaukee seems very possible.
Jeff Hanisch / USA TODAY Sports Images