The increased usage of smaller lineups, along with a greater emphasis on 3-point shooting, theoretically reduces the need for a quality center. Considering the contracts being handed out, that's not the case.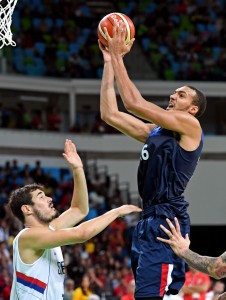 Hassan Whiteside, despite a somewhat limited track record, was a hot commodity on the free agent market this summer. He received a max four-year extension to stick with the Heat. Joakim Noah, who lost his starting job with the Bulls and was injured the second half of last season, got a truckload of money to sign with the Knicks.
Andre Drummond, even with his free throw shooting issues, received a max five-year extension from the Pistons.
Unheralded centers such as Timofey Mozgov, Ian Mahinmi and Bismack Biyombo landed giant contracts while jumping teams.
Given those developments, Rudy Gobert shouldn't have much trouble receiving a max contract offer — or something close to it — from the Jazz. The biggest question mark is whether Utah will decide to lock up its defensive stalwart prior to the regular season or take some risk by waiting until next summer, when Gobert can become a restricted free agent.
The two parties agreed to delay the process until the Rio Olympics wrapped up. Gobert was busy playing for Team France, then decided to stay overseas for a couple of weeks before returning to Utah late this month or in early September to get ready for the NBA season.
From a salary cap standpoint, the Jazz certainly have the freedom to hammer out an agreement by the end of training camp, the deadline for rookie scale contract extensions. One or both parties might also want to get it done before the possibility that NBA Players' Association or the league opts out of the current Collective Bargaining Agreement. That could occur in mid-December and go into effect after the season.
Utah has just $34.3MM in guaranteed salary commitments for 2017/18, though its inclusive totals (non-guaranteed salaries, early termination options, etc.) is closer to $78.3MM. The projected salary cap for that season is $102MM.
So why would the Jazz wait to extend Gobert entering his prime years at 24 years old? The 7'1" Gobert has a modest $5.3MM cap hold. That gives the Jazz plenty of flexibility in terms of re-signing their free agents, pursuing top free agents and making trades next offseason if they hold off on Gobert's extension.
Utah also has some major decisions regarding two of its other top players. Power forward Derrick Favors is eligible for a veteran's extension right now. Small forward Gordon Hayward can opt out of the final year of his contract and become an unrestricted free agent next summer. Hayward will almost certainly command a max salary if Utah tries to retain him.
Point guard George Hill, arguably the Jazz's biggest addition this offseason, is entering his walk year. Hill's current $8MM salary is well under market value for a starter and if the Jazz want to make him a competitive offer next summer, they'll probably have to give him a huge raise.
Gobert has not been a major part of the Jazz's offense, even as his playing time has grown the past two seasons. He's never averaged more than six shot attempts in his three NBA seasons.
As a part-time starter in 2014/15, Gobert averaged 8.4 points, 9.5 rebounds and 2.3 blocks. Those numbers improved slightly to 9.1/11.0/2.2 as a starter last season, though he was limited to 61 games because of injuries.
Free throw shooting is also a problem for Gobert — he's made 58.5% of his foul shots during his short NBA career.
His value on the defensive end overshadows his offensive deficiencies. According to Basketball-Reference.com's Defensive Box Rating, he was the league's second-best defender (4.8) last season behind the Spurs' recently-retired Tim Duncan (5.0). His Defensive Box Rating the previous season was even higher at 5.1, behind only the Warriors' Andrew Bogut (5.5).
Difference makers on either side of the ball are hard to find and there's no viable option on the roster to replace Gobert. Thus, it's reasonable to assume he'll be maxed out, though it's conceivable he could give the club a little discount in order to get the extension done early. Remember, if the Players' Association or league opts out of the CBA, the rules regarding contracts could be significantly altered.
How much could Gobert receive? According to Eric Pincus of Basketball Insiders, players with less than seven years of service could get a max of approximately $24MM under the projected cap of $102MM. With 7.5% raises each season, Gobert could sign a four-year extension worth approximately $107.35MM. A five-year extension could max out around $139.4MM.
That's an awful lot of money to shell out for someone who isn't an offensive threat or considered a franchise-type player. Having multiple players making max money severely curtails what clubs can do with their rosters, even with the recent rise in the salary cap. The Jazz might be hesitant to commit about half its cap to Hayward and Gobert, who fall short of superstar status.
Yet it's abundantly clear that retaining Gobert will require something at or close to the max. The market for big men is as competitive as ever, whether or not teams continue to play small ball.
(Photo courtesy of John David Mercer / USA Today Sports Images)