With the NBA's preseason schedule underway and the regular season set to begin just over three weeks from now, it's worth checking in on where things stand for a few players who remain unsigned but who aren't unrestricted free agents. These three players are under team control, but their situations for the 2016/17 remain uncertain.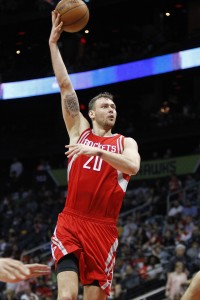 The first of the trio is power forward Donatas Motiejunas, 2016's last restricted free agent. Although Motiejunas was tendered a qualifying offer by the Rockets back in June, he saw that offer expire when he declined to sign it by midnight on October 1. As Calvin Watkins of ESPN.com writes. Motiejunas and the Rockets discussed a contract on Saturday prior to that deadline, but the two sides couldn't work something out.
"We understand where they are at and what they'd like to do," agent B.J. Armstrong said of the Rockets, per Mark Berman of FOX 26 Houston. "I think they understand what we would like to do. At this time neither side is willing to accept what each is discussing. We will continue to negotiate with the Rockets and other teams. We're going to continue to work this out and move forward."
Although the Rockets could extend Motiejunas' qualifying offer beyond October 1, they're under no pressure to do so, since the forward continues to be a restricted free agent — Houston still has the right of first refusal, but now Motiejunas no longer has the safety net of signing that one-year QO, which would have let him become an unrestricted free agent in 2017.
It's a tricky spot for Motiejunas, whose health history has likely scared away rival teams from making an aggressive long-term offer. Armstrong and his client would presumably love to sign a multiyear offer sheet to put pressure on the Rockets, but other teams probably don't want to spend time putting together a proposal, only to have Houston match it. For now, the Rockets remain in the driver's seat in contract negotiations, particularly now that they have the option of lowering their one-year offer from the initial $4.4MM QO price.
Meanwhile, the fates of two players selected in the second round of June's draft remain unclear. Daniel Hamilton, picked 56th overall by the Thunder, and Tyrone Wallace, the 60th overall pick by the Jazz, haven't yet signed with their respective teams and also haven't committed to playing overseas.
[RELATED: 2016 Draft Pick Signings]
While we don't know exactly what's going on behind the scenes for Hamilton and Wallace, the most likely scenario for each player at this point is following in the footsteps of 58th overall pick Abdel Nader. A Celtics draftee, Nader agreed to play for Boston's D-League affiliate this season. That allows the Celtics to retain Nader's NBA rights and to keep an eye on him in Maine, while ensuring that he'll have a job for the coming season, albeit one that pays very modestly.
Nader and his agent had considered pushing for an NBA deal, but if the Celtics had signed Nader, they likely would have subsequently waived him at the end of the preseason, assigning him to the Maine Red Claws while losing his NBA rights. In that scenario, Nader would have ended up in the same place, but the Celtics wouldn't have had a vested interest in his development, since they would no longer have held his NBA rights.
We don't know yet whether Hamilton and Wallace have reached any sort of agreements with the Thunder and Jazz, respectively, but both teams have D-League affiliates, and both organizations are solid and respected. It would make sense for Hamilton and Wallace to accept D-League assignments without NBA contracts, in the hopes that they can develop and impress their teams' coaches, eventually earning a call-up.
In all likelihood, the Motiejunas, Hamilton, and Wallace situations will each be resolved within the next few weeks, so we'll keep a close eye on them until then.
Photo courtesy of USA Today Sports Images.