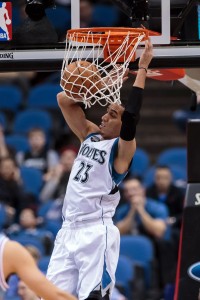 Longtime NBA player Kevin Martin has officially called it a career, officially announcing his retirement in his hometown paper, The Zanesville Times Recorder. The No. 26 overall pick in the 2004 NBA Draft played 12 seasons in the league and is an unrestricted free agent.
In his announcement, Martin wrote: "Thank you, thank you, thank you. There's not a more perfect day for me to express those feelings. There are so many ways to announce your after professional career plans. My family and close friends have known since June of the direction I wanted my life to go….
To my community, I think the way I have always wanted to do it was on a personal level with the place that has always been there for me as I started this journey as a 18 year old kid. That place is Zanesville, OH!  It was always about you!  Special is just the start to describe you guys as part of my journey from day 1.  Honestly, there isn't enough pages or enough days in a year for me to name everyone that has had a positive impact in my life…. Thank you so much and I'm excited to see who the next kid will be to experience the professional sports world but most importantly… for them to experience the reception from our community every time they are able to come back home and give hope for the next generation!!!
In appreciation to you… The Kevin Martin Youth Foundation will be donating $100,000 to enhance the talents of our young children, on and off the sporting fields, in the Zanesville and surrounding area! Have a Happy Thanksgiving!"
Martin played for the Kings, Timberwolves, Rockets, Thunder and Spurs during his time in the league. His career regular season averages through 714 games (504 starts) are 17.4 points, 3.2 rebounds and 1.9 assists to accompany a shooting line of .437/.384/.870.
Photo courtesy of USA Today Sports Images.