In the months leading up to February's trade deadline, Hoops Rumors will be taking a closer look at several players we consider trade candidates, discussing their value, speculating on potential destinations, and explaining why they are – or should be – available. These players won't necessarily be dealt in advance of the deadline, but it won't be surprising if they are.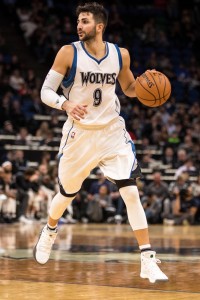 Ricky Rubio, PG
Minnesota Timberwolves
2016/17 salary: $13,550,000
Eligible for unrestricted free agency in 2019
Trade restrictions: None
There seems to be an uneasy truce these days between the Timberwolves and their starting point guard. The way that the Timberwolves' offseason unfolded, it's somewhat surprising that Ricky Rubio remains their floor leader. It probably won't be that way much longer, though Rubio has done little to enhance his trade value through the first six weeks of the season.
Once Tom Thibodeau was hired as the head coach and president of basketball operations, Rubio's exit seemed like a foregone conclusion. Rubio was shopped prior to the draft, as Thibodeau pursued a deal for the Bulls' Jimmy Butler. One of the reasons that that potential deal fell through was the Chicago wanted Zach LaVine, instead of Rubio, as part of the package.
The Timberwolves wound up with their fallback plan, which was to select the top point guard in the draft to presumably take Rubio's job. Kris Dunn dropped to the No. 5 spot, which Thibodeau didn't mind since he was reportedly atop his draft board.
Supposedly, Thibodeau got some offers for Rubio during the summer, but nothing that compelled him to pull the trigger. Eventually, the Timberwolves opted to take a wait-and-see approach, giving Dunn time to acclimate himself to the NBA game while Rubio held the fort as the starter during the early portion of the season.
What's happened since the season began may not be a worse-case scenario, but it's pretty close. First, Rubio missed five games with an elbow injury. Upon returning, his play has been substandard while the Timberwolves, who were expected to be one of the most improved teams in the Western Conference, have floundered.
His shooting, never his strong suit anyway, has been woeful. He's made 34.5% of his field-goal attempts and 22.9% of his 3-point tries. His assists are down to an average of 6.7 per game over 30.6 minutes, though his turnover numbers (1.9) remain respectable. His current 12.1 PER is well below the league average of 15.0.
By comparison, Rubio has averaged at least 8.6 assists per game the past three seasons while playing a comparable amount of minutes.
Perhaps the only reason why Rubio has kept his starting position is that Dunn struggled in the early going himself, though that appears to be changing. According to Jim Souhan of the Minneapolis Star-Tribune, Dunn's shot looked as good as it has all season on Tuesday, when he made all but one of his field-goal attempts and scored 15 points against the Spurs. Moreover, as Souhan noted, Rubio is the picture of frustration these days whose veteran leadership is being outweighed by his lack of production.
The pairing of Dunn and talented combo guard LaVine as the starting backcourt will probably happen soon. Minnesota also has another recent first-round pick, Tyus Jones, in line to take an expanded reserve role. The only reason to delay the inevitable at this point would be hope Rubio gets into a better groove, which would make it easier to move him.
Rubio's contract, given the rise in salaries to coincidence with jump in the salary cap, is reasonable. He's making $13.55MM this season and has two guaranteed years remaining at $14.25MM and $14.95MM, respectively. If another team views Rubio as an upgrade to their current point guard situation, those figures are certainly not prohibitive.
So which teams out there might want a flashy if offensively-challenged point man who at 26 years old should be in his prime? The Kings were reportedly one of his pursuers this summer and their point situation hasn't improved. Darren Collison is averaging 4.7 assists, compared to 2.2 turnovers, and journeyman Ty Lawson is also getting steady playing time. Sacramento is overloaded with young bigs on its roster and has also been trying to move small forward Rudy Gay, who can become an unrestricted free agent after the season if he opts out.
Which other teams might be a match for Rubio? The Nets, who lead the league in having offer sheets to restricted free agents matched, have been looking to upgrade their roster. Current starter Jeremy Lin has been injured and seems like a short-term fix, anyway, with rookie Isaiah Whitehead behind him.
The suddenly woebegone Mavericks could seek a younger replacement to Deron Williams and the Pelicans might consider such a move, considering Jrue Holiday is oft-injured and heading into the free agent market this summer.
The Sixers, with Sergio Rodriguez currently running the show, could use a heady point guard to feed the ball to their stable of bigs. Another intriguing option might be the Spurs, taking into account Tony Parker's mileage and recent injury history. The Hawks chose to hand the controls of their attack to Dennis Schroder but with an offense currently ranked No. 27 in efficiency, they might rethink that plan.
Minnesota could also wait on a contender that suffers a point guard injury — the Grizzlies and Mike Conley already fit that category, though they're paying Conley way too much to take on a salary like Rubio's as a fill-in at the same position.
Rubio is undoubtedly a better player than he's shown this season. In his last two full seasons — he was injured most of the 2014/15 campaign — he had a VORP (Value Over Replacement Player) of 2.3 each time. That translates to approximately six wins per season over a replacement player. Rubio is not only one of the league's most prolific distributors, he's typically near the top of the steals categories, generating a couple of easy baskets per game for his club.
What's apparent is that Rubio is not the long-term starter for Minnesota. By drafting Dunn in the lottery, the Timberwolves basically told Rubio that he was just a placeholder for their preferred option at the point. If Rubio is still wearing their uniform by the end of the season, it will speak more toward his declining trade value than their reluctance to give him a fresh start.
What do you think? Should the Timberwolves trade or keep Rubio? Which team would be the best fit for Rubio? Weigh in below in the comments section with your thoughts and possible trade ideas.
Photo courtesy of USA Today Sports Images.