4:50pm: The Magic and Raptors have each confirmed the trade as reported, making it official (Twitter links).
10:13am: The Magic and Raptors have agreed to a trade that will send Serge Ibaka to Toronto, reports Adrian Wojnarowski of The Vertical. According to Wojnarowski, the Magic will receive Terrence Ross and a 2017 first-round pick in the swap.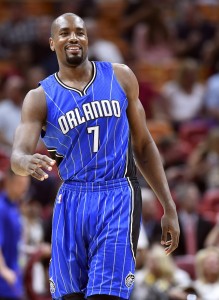 The Raptors hold a pair of first-round picks for 2017, having acquired the Clippers' lottery-protected first-rounder in addition to their own. According to Wojnarowski (via Twitter), Orlando will get the less favorable of those two selections. As our 2016/17 Reverse Standings show, the Raptors' pick currently projects to land at No. 20 or 21, while the Clippers' pick would be No. 25, though the standings remain tight.
For the Magic, it's essentially an admission that last summer's Ibaka trade was a misstep. At the time, Orlando parted with a package of Victor Oladipo, Ersan Ilyasova, and a lottery pick (Domantas Sabonis) for the Oklahoma City big man. Ibaka's value has declined a little as his contract nears its end, but a package of Ross and a late first-rounder still pales in comparison to what the Magic initially gave up for the 27-year-old.
[RELATED: Magic GM Acknowledges Criticism Is 'Warranted']
Still, last summer's trade was a sunk cost for GM Rob Hennigan, who had vowed to be "aggressive" in pursuing trades this month. Reports had indicated Ibaka was unlikely to re-sign with Orlando this offseason, so the Magic were at least able to add a pair of assets that will help the team beyond 2016/17. Ross is under contract at a rate of $10.5MM annually for two years beyond this season, while the player drafted with Orlando's newly-acquired 2017 first-rounder will be under team control through at least 2020/21. Hennigan will likely continue to be active on the trade market leading up to next Thursday's deadline.
The Magic are also able to create a modest trade exception worth $2.25MM in the deal. That's the difference between the 2016/17 salaries for Ibaka ($12.25MM) and Ross ($10MM). That trade exception will expire one year from now.
From the Raptors' perspective, the deal will give them the stretch four they have long coveted. Although the team has been linked to several other power forwards – including Paul Millsap, Danilo Gallinari, and Taj Gibson – Ibaka's name has perhaps been the one most frequently connected to Toronto in trade rumors. The Raps reportedly tried to acquire Ibaka during the 2016 draft, offering up their own lottery pick in a package, but were unable to match the Magic's offer at the time.
Although Ibaka will be a free agent this summer, the Raptors now hold his Bird rights and have every intention of trying to re-sign him, tweets Wojnarowski. With Ibaka and Kyle Lowry both in line for lucrative new long-term deals in free agency in July, it will be interesting to see if Toronto moves another contract or two off its books in order to avoid going deep into luxury tax territory. It's also worth noting that Ibaka and Lowry share an agent in ASM's Andy Miller.
In the shorter term, Ibaka will join a Raptors frontcourt that features Valanciunas, Patrick Patterson, and Lucas Nogueira, while Norman Powell will be the top candidate to assume a good chunk of Ross' minutes. In addition to providing some of the rim protection and rebounding that the team lost when Bismack Biyombo departed in free agency, Ibaka will also give Toronto an outside threat on offense.
Although he didn't shoot much from beyond the arc earlier in his career, Ibaka has developed into a reliable option from outside, making a career-high 38.8% of his long-distance attempts this season. He's also averaging a career-high 15.1 PPG to go along with 6.8 RPG and 1.6 BPG.
The timing of the move is good for the Raptors, who have been slumping so far in 2017. After posting a losing record in January, the team is just 2-4 so far in February, and will look to regain ground on the Cavaliers, as well as the surging Celtics and Wizards.
Before the Magic and Raptors struck a deal, Ibaka was believed to be drawing interest from the Heat, among other teams. According to ESPN's Zach Lowe (Twitter link), other offers for Ibaka were believed to be "shockingly weak," with the big man's impending free agency limiting his trade value.
Photo courtesy of USA Today Sports Images.