7:53 PM: The trade is official, according to a Nets' press release.
3:01 PM: The Nets and Wizards have agreed to a deal that will send Bojan Bogdanovic to Washington, reports Adrian Wojnarowski of The Vertical (via Twitter). Wojnarowski had previously identified the Wizards and Kings as teams with interest in the Brooklyn sharpshooter.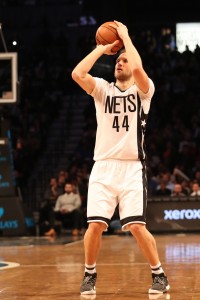 In exchange for Bogdanovic and Chris McCullough, who will also head to Washington in the deal, the Nets will receive Andrew Nicholson, Marcus Thornton, and the Wizards' 2017 first-round pick, according to Wojnarowski (Twitter links). The pick will be lottery protected, per ESPN's Zach Lowe (Twitter link).
Bogdanovic, who will turn 28 in April, was the 31st overall pick in the 2011 draft and eventually arrived stateside to join the Nets in 2014. The 6'8″ forward is is enjoying a career year this season, with 14.2 PPG and a .357 3PT% in 55 games so far.
Although Bogdanovic is on an expiring deal, he'll be eligible for restricted – rather than unrestricted – free agency this summer. His matching rights will now be held by the Wizards, rather than by Brooklyn, and that has some value. The Nets know first-hand that it can be difficult to steal an RFA away from another team — the club had offer sheets for Allen Crabbe, Tyler Johnson, and Donatas Motiejunas matched in 2016.
Depending on whether the Wizards want to commit to Bogdanovic beyond the 2016/17 season, they may have to worry about re-signing two key RFAs in the summer, as Otto Porter is also on track for restricted free agency.
From the Nets' perspective, the club gets another first-round pick in what's expected to be a deep and talented draft. That probably makes the deal a win for GM Sean Marks, even though the Wizards' pick currently projects to fall just 24th overall, as our reverse standings show. The Nets, of course, don't have their own first-rounder, but they'll also get Boston's pick, setting them up for two selections in the 20s.
As for the financial details of the trade, the Nets had been well below the salary floor, but they'll inch about $2.3MM closer to that mark by taking on Nicholson and Thornton, who combine to earn more than $7MM. Meanwhile, the Wizards will cut costs a little by taking on Bogdanovic ($3.57MM) and McCullough ($1.19MM). Washington should also be able to create a traded player exception in the deal worth about $2.5MM.
While Bogdanovic and Thornton are free agents at season's end, Nicholson and McCullough are controllable through the 2018/19 season. McCullough will be eligible for restricted free agency in the summer of '19, while Nicholson has a player option for the '19/20 season.
Photo courtesy of USA Today Sports Images.