4:23pm: The Cavs formally confirmed Sanders' deal today in a press release. The team also announced that Bogut has been waived.
8:21am: The Cavaliers have reached an agreement on a contract with free agent big man Larry Sanders, according to Shams Charania of The Vertical (Twitter link). Sanders, who will make his return to the NBA after two years away from the league, will likely get a second-year option for 2017/18 on his new deal, adds Charania.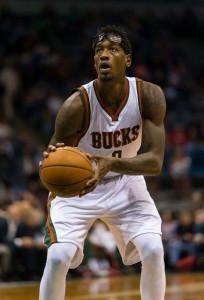 As Charania explains (via Twitter), Sanders is in Cleveland today with agent Joel Bell to finalize his new contract with the Cavs. The former Buck will take a physical exam this morning, and the two sides are still working on nailing down a decision date for next year's option. Based on a report from ESPN's Brian Windhorst, it sounds like it will be a team option, with a guarantee date this summer — if Sanders is still under contract beyond that date, his salary for next season will become guaranteed.
In order for Sanders' deal to become official, the Cavaliers will need to officially waive Andrew Bogut. The former first overall pick joined the team after being cut by the Mavericks, but suffered a fractured tibia just 58 seconds into his first game with the Cavs, ending his season. A report last week indicated that the club intends to release Bogut to open up a roster spot.
As for Sanders, he has been looking to make an NBA comeback this season after walking away from the game for personal reasons more than two years ago. Sanders, now 28, flashed promising upside during his initial stint in the NBA. In the 2012/13 season, the last time he was fully healthy, the former 15th overall pick averaged 9.8 points, 9.5 rebounds and 2.8 blocks per game. Injuries and off-court problems limited him to 50 games over his last two seasons in the NBA.
[RELATED: Sanders to play games for Cavs' D-League affiliate]
The cap-strapped Cavs can't offer Sanders more than the minimum salary, so his cap hit will be modest, though the team will be charged an extra $2.50 in taxes for every dollar it spends on Sanders. Assuming he gets a two-year deal, Sanders will have a cap charge of $207,722 on the Cavs' books this season, and the team would owe an additional $519,305 in taxes on his 2016/17 salary.
According to Sam Amico of AmicoHoops.net (via Twitter), approximately half the teams in the NBA expressed some level of interest in Sanders, but the veteran center made it known two weeks ago that he preferred to join the Cavs. Because he hasn't been on an NBA roster this season – and therefore hasn't been waived at all – Sanders retains his playoff eligibility for Cleveland.
Photo courtesy of USA Today Sports Images.