Expiring contracts are a popular form of currency at the NBA trade deadline when teams are looking to get deals done and create future cap flexibility. In some cases, that means including a player like Andrew Bogut, who has an $11MM expiring contract, can be advantageous for both teams involved in a trade — by moving Bogut, the Mavericks avoided pushing up against the luxury tax, while the Sixers reached the salary floor.
Bogut was waived shortly after being traded to Philadelphia though, so his 2017 free agency wasn't impacted in a real way by the deadline deal. However, there were several players moved in the hours, days, and weeks leading up to last month's trade deadline who will be free agents in 2017 and whose change of scenery will significantly impact their situation this summer.
Here's a closer look at five players eligible for free agency in 2017 who were affected by being traded in February, including one player who was involved in that Sixers/Mavs swap along with Bogut…
For much of the 2016/17 season, Noel's long-term outlook was cloudy. The Sixers certainly had no shortage of future cap room, which would have made it easy for them to match any offers Noel received in restricted free agency and retain him for several more years. It's possible that – if they hadn't found an acceptable trade offer at the deadline for Noel – they would have done just that this summer, rather than losing him for nothing.
But the Sixers never seemed like a logical long-term fit for Noel, with Joel Embiid in place as the team's franchise center and Jahlil Okafor and Richaun Holmes also in the mix. While the club may have found a way to make an Embiid/Noel pairing work if the former sixth overall pick had remained on the roster, Noel reportedly preferred to be dealt to a team where he'd have the starting center job to himself.
In Dallas, he'll have exactly that, and the Mavericks like Noel enough that they're expected to match any offer sheet he signs this summer. Pursuing Noel in restricted free agency might have saved Dallas a couple second-round picks and the rights to Justin Anderson, but there was no guarantee the club could have pried him away from the Sixers or another team. Now, the Mavs will be the overwhelming favorites to retain Noel for the next few seasons.
Ibaka is an unrestricted free agent this offseason, so where he finishes the season isn't as significant as it would be for a restricted free agent like Noel. Still, for rival suitors hoping to land Ibaka, his move from Orlando to Toronto is a big deal.
When reports first began swirling about the Magic's efforts to move Ibaka, several sources suggested that the odds of the big man re-signing in Orlando were slim. The Magic held Ibaka's Bird rights at the time, giving them the opportunity to offer five years instead of four, with slightly larger raises, but with Orlando headed for the lottery, Ibaka seemed likely to seek out a team closer to contention.
Having been sent to the Raptors, Ibaka has found a team that fits that bill. GM Masai Ujiri has long coveted the former Thunder power forward, and all signs point to Toronto making a strong effort this summer to lock up Ibaka. Before (and after) the trade, the Raptors were in no position to open up a real chunk of cap room this summer, barring a major roster overhaul. So the fact that they now hold Ibaka's Bird rights, giving them the ability to go over the cap to re-sign him, means they've gone from being a non-contender for his services to the new frontrunner.
Like Ibaka, Gibson is an unrestricted free agent this summer. He's also not a candidate for a maximum salary offer or a five-year contract, so the fact that the Thunder hold his Bird rights isn't as important as it would be for some other free agents.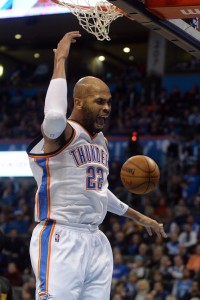 Still, when an NBA veteran has spent the better part of eight seasons with a single franchise and that team trades him a few months before he hits free agency, the odds of him returning to that team probably aren't great. During the last couple weeks, we've seen Gibson wear a different NBA uniform for the first time in his NBA career, and it's possible that he'll put on a third uniform later this year.
That's not to say the Thunder should be ruled out as a candidate to sign Gibson though. Oklahoma City projects to remain over the cap this summer, so holding Gibson's Bird rights could be important — if he proves to be a solid fit in OKC, the team would be able to go over the cap to re-sign him.
Despite playing in New York City, Bogdanovic was toiling in relative obscurity on the NBA-worst Nets this season. Now he's a key contributor on the No. 3 seed in the East, and he has gotten off to a scorching start in Washington, making 3.3 three-pointers per game at a rate of 58.8% so far. He won't stay that hot all season, but if he continues to make big shots and remains productive in the playoffs, he'll improve his free agent stock much more than he could have in Brooklyn.
Bogdanovic's move from Brooklyn to Washington also could create some interesting new scenarios when it comes to offer sheets. The Nets have plenty of long-term cap flexibility and could have matched any offer for Bogdanovic if they'd wanted to. The Wizards, on the other hand, have already committed major money to John Wall, Bradley Beal, and Ian Mahinmi, among others, and they'll likely have to go up to the max – or close to it – to re-sign Otto Porter this summer. Will the team be willing to spend on Bogdanovic as well? That remains to be seen.
After re-signing three restricted free agents last offseason, the Trail Blazers apparently had no interest in going through the process again this year, and sent Plumlee to a team that has more flexibility to retain him this summer — Denver only has about $55MM in guaranteed salary on its 2017/18 books, as opposed to an incredible $132MM+ for Portland.
After starting every game he played in for the Blazers this season, Plumlee is coming off the bench in Denver, but that shouldn't be interpreted as a sign that the Nuggets don't like him. Having sent a first-round pick to Portland in the deal, the Nuggets presumably intend to match any offer sheet Plumlee gets as a restricted free agent, even though he'll be a second-stringer behind Nikola Jokic. That's discouraging news for any rival teams that had been hoping to swoop in and steal Plumlee away from the cap-strapped Blazers later this year.
Photos courtesy of USA Today Sports Images.