With the 2016/17 NBA regular season in the books, we're making our picks for the year's major awards. The Hoops Rumors writing team has weighed in with our selections below, but we also want to know which players, coaches, and executives you think are most deserving of the hardware this season, so jump into the comments section below to share your thoughts.
We're keeping things going today with the award for Coach of the Year. Here are our picks:
Dana Gauruder: Mike D'Antoni (Rockets)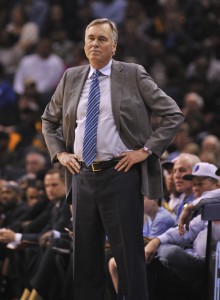 Many people thought D'Antoni was washed up and might not get another head coaching job. The Rockets rolled the dice and D'Antoni's decision to make James Harden the primary ball-handler turned out to be a brilliant stroke. Houston has the second-most feared offense in the league behind only the uber-talented Warriors.
Austin Kent: Mike D'Antoni (Rockets)
In his first year with the Rockets, D'Antoni completely changed the culture of the organization. He didn't just gradually facilitate the inevitable improvement of his players — he transformed how the team approaches the game. From the get-go, D'Antoni executed an unconventional vision and his decision to let Harden steer the ship as a point guard instantly spurred the team's offensive metamorphosis and pushed Houston from a forgettable good team to a dark-horse great team.
Chris Crouse: Gregg Popovich (Spurs)
Popovich is the best coach in the league. The Spurs remain in contention for a title every year and Popovich's ability to get the most out of the team's talent is a major reason why — just look at Dewayne Dedmon and Jonathon Simmons this season. David Lee appeared to be on his way to out of the league only two seasons ago, but this year under Popovich, you can argue that he had his most effective season as a pro. D'Antoni and Erik Spoelstra both deserve credit, but Pop continues to prove he deserves the award.
Arthur Hill: Brad Stevens (Celtics)
The Celtics were supposed to get better after adding Al Horford in free agency, but hardly anyone expected a No. 1 seed. Boston doesn't have a superstar like the other elite teams, but Stevens constantly has the team playing above its talent level. He took Isaiah Thomas, who was cast off by both the Kings and Suns, and turned him into an MVP candidate, and he gave rookie Jaylen Brown a smooth transition into the rotation. Stevens has been recognized as one of the league's best bench coaches for years, and now he has a No. 1 seed to back it up.
Luke Adams: Gregg Popovich (Spurs)
D'Antoni, Spoelstra, Scott Brooks, and a handful of other coaches have strong cases for this award, but it's hard to vote against Popovich, who coaxed 61 wins out of a roster that's not exactly loaded with All-Stars. While Kawhi Leonard is a bona-fide MVP candidate, many other Spurs are either past their primes (Tony Parker, Manu Ginobili, Pau Gasol) or haven't yet peaked (Jonathon Simmons, Kyle Anderson, Davis Bertans). Tim Duncan's retirement seemed to mark the end of an era in San Antonio, but the Popovich-led Spurs didn't miss a beat in Duncan's absence.
Who is your pick for Coach of the Year? Share your choices and your thoughts in the comments section below!
Previously:
April 13: Executive of the Year
Still to come:
April 17: Most Improved Player
April 18: Sixth Man of the Year
April 19: Defensive Player of the Year
April 20: Rookie of the Year
April 21: Most Valuable Player

Photo courtesy of USA Today Sports Images.