With the 2016/17 NBA regular season in the books, we're making our picks for the year's major awards. The Hoops Rumors writing team has weighed in with our selections below, but we also want to know which players, coaches, and executives you think are most deserving of the hardware this season, so jump into the comments section below to share your thoughts.
We're keeping things going today with the award for Most Improved Player. Here are our picks:
Arthur Hill: Giannis Antetokounmpo (Bucks)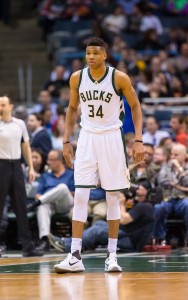 Antetokounmpo showed the nation on Saturday what Bucks fans have been watching all season. His 28 points and eight rebounds only told part of the story of his Game 1 dominance against Toronto. Already pegged as a future star before the season began, Antetokounmpo increased his scoring average by six points per game to 22.9 and raised his rebound (8.7) and assist (5.4) averages significantly over last year. He was also the Bucks' leader in steals and blocks, making him the only player this season to lead his team in all five categories. Antetokounmpo may be a future MVP and is a clear choice for Most Improved.
Luke Adams: Nikola Jokic (Nuggets)
While Antetokounmpo's leap from star to superstar was thrilling to watch and Rudy Gobert's improved offensive play took his game to another level, Jokic is my pick for making the jump from solid rotation player to one of the NBA's best big men. After being inserted into the starting lineup permanently in mid-December, Jokic averaged an eye-popping 19.2 PPG, 10.9 RPG, and 5.8 APG in 51 games. And this wasn't just a case of increased minutes resulting in increased production — his field goal percentage and his per-minute numbers across the board improved significantly this season.
Dana Gauruder: Nikola Jokic (Nuggets)
Who knew this guy would turn into a triple-double threat every night? Certainly not many NBA scouts, as he lasted until the 41st pick in 2014. He'll provide the Nuggets with a unique weapon in the post for years to come.
Chris Crouse: Giannis Antetokounmpo (Bucks)
The Greek Freak became a star during the 2016/17 campaign, averaging career-highs in points, assists, rebounds, steals, and blocks per game. As noted above, he led the Bucks in all those categories and he helped them secure a playoff berth after missing the postseason last year. Going from good to great is the hardest step a player can make, and Antetokounmpo deserves credit for making that improvement.
Austin Kent: Isaiah Thomas (Celtics)
There are a number of players who went from good to great this year, but Thomas has been the most improved player in the traditional sense that I'm choosing to base my vote on. This season, Thomas evolved from an opportunistic volume scorer into an outright star, raising his point production (28.9 PPG) and shooting percentages (.464/.380/.909) across the board.
Despite his small stature, Thomas can be a primary offensive weapon for an elite team and not just in a quirky, forced way because he's the only option. As Boston has grown into a contender, Thomas has developed into a reliable cornerstone and actually answered a lot of the organization's needs from within.
Who is your pick for Most Improved Player? Share your choices and your thoughts in the comments section below!
Previously:
April 13: Executive of the Year
April 14: Coach of the Year
Still to come:
April 18: Sixth Man of the Year
April 19: Defensive Player of the Year
April 20: Rookie of the Year
April 21: Most Valuable Player

Photo courtesy of USA Today Sports Images.