With their offseason now underway, the Magic have started making changes in their front office, firing general manager Rob Hennigan, reports Adrian Wojnarowski of The Vertical (via Twitter). The team also dismissed assistant GM Scott Perry, according to Josh Robbins of The Orlando Sentinel (Twitter link).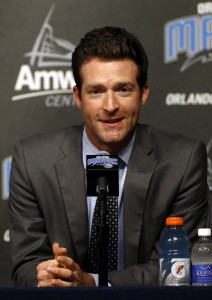 "We appreciate Rob's efforts to rebuild the team, but feel we have not made any discernible improvement over the last few years specifically," Magic CEO Alex Martins said in a statement. "It's time for different leadership in basketball operations.  We certainly wish Rob and his family well."
Hennigan was considered to be on the hot seat for much of this season, as his flurry of moves a year ago failed to lead to tangible on-court improvement for the Magic. An eventful 2016 offseason saw Orlando trade for Serge Ibaka, then sign Bismack Biyombo, D.J. Augustin, and Jeff Green in free agency.
The franchise had playoff aspirations to start the year, but lost its opener to the Heat, and never got back above .500. Orlando's spot in the standings prompted the team to flip Ibaka to the Raptors before February's trade deadline, and Hennigan and the front office were widely criticized for giving up far more for Ibaka last summer than they got back for him at the deadline.
Hennigan's seat likely became hotter in recent weeks after a photo taken by Patricio Garino's agent that showed an apparent list of Orlando's offseason targets on a dry-erase board went viral. Hennigan insisted that the leaked white board wasn't indicative of the Magic's summer plans, and that it was just a list of possible options for the team, but it wasn't a great look for a management group that was already under fire.
2016/17 was the fifth straight season that the Magic finished with a losing record, dating back to 2012/13, Hennigan's first year at the helm. During Hennigan's five years as Orlando's GM, the team posted a 132-278 record (.322). The club has employed four different head coaches during that time, never winning more than 35 games in a season or earning a spot in the playoffs.
With Hennigan no longer in the mix in Orlando, the Magic have named Matt Lloyd as the interim general manager, the club confirmed (via Twitter). Lloyd will be in the mix for the permanent job, though he won't be the only candidate considered.
According to Robbins, Magic officials have interest in Grant Hill as a potential president of basketball operations. Robbins adds that Pistons associate GM Pat Garrity and Warriors assistant GM Travis Schlenk could also be among the executives targeted by Orlando.
There were rumblings earlier this year that Doc Rivers could consider jumping to the Magic in a head coach/president of basketball operations role, but that seems like a long shot — Rivers dismissed the idea at the time. For now, Frank Vogel remains the head coach in Orlando, and he just finished the first year of a four-year contract, so a new GM may be reluctant to make a change unless the Magic are willing to eat a significant chunk of money.
Photo courtesy of USA Today Sports Images.