It was an up-and-down season for the Hawks, who kicked off the post-Al Horford era last fall by winning nine of their first 11 games, then losing 10 of their next 11. The team went through several more swings throughout the season, including dropping seven straight games in March while battling for playoff position, and ultimately fell to the Wizards in the first round of the playoffs.
There were some positive signs worth taking away from the 2016/17 campaign, including the development of Dennis Schroder, who improved many of his per-minute averages and his field goal percentage while taking on a significantly larger role. However, Kent Bazemore failed to make similar strides after inking a lucrative four-year deal, and notable free agent addition Dwight Howard grew frustrated with his role down the stretch.
Here are five questions facing the Hawks as they enter the offseason…
1. Which direction are the Hawks headed?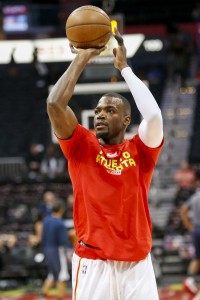 Back in January, Atlanta sent Kyle Korver to the Cavaliers for a future first-round pick and appeared ready to continue to trade players in contract years, including Paul Millsap. However, just days after moving Korver, the Hawks pulled Millsap off the trade market, telling him he wouldn't be going anywhere.
Korver, a free-agent-to-be in his mid-30s, wasn't a core piece for the Hawks, but he was still the sort of player who could have helped the team in a playoff series. As such, it was odd that Atlanta would deal him for a future piece and then decide to take a win-now approach anyway.
Coming off a two-year stretch in which its regular-season win total has dipped from 60 to 48 to 43, the franchise will have to be more decisive in determining which direction it wants to go this summer. Is this still a win-now roster, or is it time to take a step back and retool? Front office changes may help in that regard, as there were reports that GM Wes Wilcox and president Mike Budenholzer didn't see eye-to-eye on the Hawks' direction. They've both been re-assigned and won't have as much say in personnel decisions, which raises a new question…
2. Who will be making decisions in the front office?
The Hawks' search for a new head of basketball operations is said to still be in the "infancy stage," though names like Joe Dumars, David Griffin, and Troy Weaver have been mentioned as possible candidates.
Unlike the Magic, who dismissed their top two decision-makers and installed an assistant GM in the interim role, the Hawks didn't fire anyone — they simply re-assigned Wilcox, removed Budenholzer's president title, and kept the rest of their front office staff in place, as far as we know.
That will create an interesting dynamic for the executive the Hawks eventually hire. Will he be able to bring in his own people, or will club ownership expect him to keep the current front office group relatively intact? The Hawks have also said Budenholzer will still have a voice in basketball operations — how loud will that voice be, and will it undercut the new exec's authority?
3. Will Paul Millsap be back?
A year after losing Horford to the Celtics, the Hawks have another All-Star big man set to hit the open market, and Millsap's decision will play a large part in determining Atlanta's approach to the rest of the offseason.
The former second-round pick is coming off another strong season, having averaged a career-best 18.1 PPG, and the Hawks can't really afford to lose another All-Star for nothing. But the team will have to very careful about investing heavily in Millsap, who is 32 years old and will be eligible for a maximum salary of about $35MM in 2017/18.
The moving pieces in the front office shouldn't impact the Millsap negotiations significantly, since he's expected to negotiate directly with owner Tony Ressler anyway, according to one recent report. That's not all that uncommon for a player of Millsap's caliber, who will likely be in line for a maximum salary deal or something close to it, but it will create a somewhat unusual situation as the Hawks seek out a GM/president. Rather than Atlanta's head of basketball ops negotiating with the team's top free agent and going to ownership for approval, the new hire will likely have to be on board with Ressler's decision on Millsap.
4. Will the Hawks try to re-sign their other free agents besides Millsap?
Millsap isn't the only key player eligible for free agency this summer in Atlanta. Ersan Ilyasova, Kris Humphries, Mike Muscala, Jose Calderon, and Thabo Sefolosha will be unrestricted free agents, while Tim Hardaway will be eligible for restricted free agency. Not all those players will be in the Hawks' plans going forward, but I'd expect the team to make an effort to bring back at least a couple of them.
Hardaway, in particular, was an important piece for the 2016/17 team, averaging a career-high 14.5 PPG and making 35.7% of his three-point attempts. Outside of Korver, no Hawk made more outside shots per game than Hardaway (1.9 3PG), so the club will need to find a way to add an outside threat if he doesn't return.
5. Does Dwight Howard remain in Atlanta's long-term plans?
Howard's Hawks homecoming was a nice story last year, but the glow wore off as the season progressed, with the eight-time All-Star complaining in his exit interview about his reduced role.
It will be interesting to see how the Hawks' new head of basketball operations views Howard, who is under contract for two more guaranteed years at a rate of nearly $24MM per season. The veteran center remains a useful rebounder and defender, but his salary and his desire to be more of an offensive threat complicate his value. If Atlanta doesn't move Howard this summer, the team will have to find a way to keep him happy going forward, since he's eating up a sizable chunk of cap room for the next couple years.
Here's where things currently stand for the Hawks financially:
Guaranteed Salary
Dwight Howard ($23,500,000)
Kent Bazemore ($16,910,113)
Dennis Schroder ($15,500,000)
Malcolm Delaney ($2,500,000)
Taurean Prince ($2,422,560)
Mike Dunleavy Jr. ($1,662,500) — Partial guarantee. Non-guaranteed portion noted below.1
DeAndre' Bembry ($1,567,200)
Total: $64,062,373
Player Options
Team Options
Non-Guaranteed Salary
Mike Dunleavy Jr. ($3,512,500) — Partial guarantee. Guaranteed portion noted above.1
Ryan Kelly ($1,577,230)2
Total: $5,089,730

Restricted Free Agents
Tim Hardaway Jr. ($4,588,840 qualifying offer / $5,704,013 cap hold)
Total: $5,704,013
Cap Holds
Paul Millsap ($30,108,050) — If player option is declined
Ersan Ilyasova ($12,600,000)
Thabo Sefolosha ($7,315,000)
Kris Humphries ($5,200,000)
No. 19 overall pick ($1,936,920)
Jose Calderon ($1,471,382)
Mike Muscala ($1,471,382)
Total: $60,102,734
Trade Exceptions
Projected Salary Cap: $101,000,000
Maximum Cap Room: $30,922,632

By waiving their players without fully guaranteed contracts and renouncing all their exceptions and free agents (including Millsap), the Hawks would be left with six players on guaranteed deals, a cap hold for their first-round pick, and cap charges for empty roster spots totaling $70,077,368. That would give the club nearly $31MM in cap room, but if Atlanta wants to make an effort to re-sign Millsap, that space would go away — Millsap's cap hold exceeds $30MM on its own.
Footnotes:
Dunleavy's salary becomes fully guaranteed after July 1.
Kelly's salary becomes fully guaranteed after July 7.
Salary information from Basketball Insiders and The Vertical was used in the creation of this post. Photo courtesy of USA Today Sports Images.