Whether "Three Alphas" were too many or too few, this season didn't turn out the way the Bulls hoped when they signed Dwyane Wade and Rajon Rondo to team with Jimmy Butler. After spending much of the year teetering on the edge of disaster, Chicago put together a late-season surge to claim the East's final playoff spot.
Now the Bulls have to decide if they want to go through it all again. There's no guarantee that Wade, Rondo or Butler will still be in Chicago next season, but there's also a decent chance that they might all come back. If they do return, the Bulls need to spend the summer finding the right pieces to put around them, something that never happened this season. The other option is a complete rebuilding project, which some in the front office reportedly favor, but which Bulls fans may not be ready to accept.
Here are five key questions as Chicago embarks on an unpredictable offseason:
1. Is Butler a franchise player?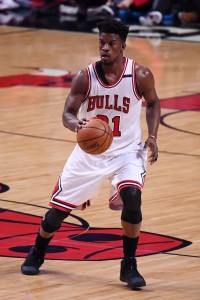 It's not often you hear an All-Star-level professional athlete get upset about a preposition, but Butler reportedly become angry when VP of basketball operations John Paxson said, "We are building with Jimmy right now." Butler planned to make it clear in a post-season meeting with management that he is the type of player to build around, not just with.
Regardless of the wording, Butler is the key to Chicago's future. He is under contract for the next two seasons at nearly $18.7MM and $19.9MM before entering an option year in 2019/20. So the Bulls can try to piece together a title contender, or they can trade him and start rebuilding. The Celtics, who may own the top pick in this year's draft, were very interested last summer, as were the Timberwolves, who are run by Butler's former Chicago coach, Tom Thibodeau.
The Bulls have a lot of dominoes that could fall in a lot of different directions this offseason, but the decision that will affect all others is whether to blow up the current team and take the best deal for Butler or keep him as the centerpiece to build around (or with).
2. What could be better than $23.8MM?
That's the question facing Wade, who will make that salary from the Bulls next season if he doesn't opt out. The dilemma facing Wade is where else could he go and would anybody be willing to pay him more? He was one of the beneficiaries of last summer's league-wide spending spree, which might continue this year as the salary cap rises another $7MM. But Wade turned 35 in January and has the wear and tear of 14 NBA seasons. He played just 60 games this year and his scoring average of 18.3 points per game was the lowest since he was a rookie.
Taking his talents back to South Beach might make for a touching story, but it would force the Heat to either give up on signing free agents Dion Waiters and James Johnson or find a way to trade some other salary. We can assume that Wade would only want to join a contending team, but there are few contenders with the cap space to offer a near-max deal to a 35-year-old who may not be a difference maker any more.
3. Rondo: Another year, another team?
After spending nearly the first decade of his career in Boston, Rondo has become an NBA journeyman. He was traded to Dallas midway through the 2014/15 season, then spent one season in Sacramento and another in Chicago. He could be on the move again if the Bulls don't want to cough up $13.397MM on a contract that only has a $3MM guarantee through June 30th.
It seemed like an obvious decision back in January when Rondo was pulled from the rotation and had to work out at a local school to stay in shape. However, that benching experience lasted just five games and Rondo became a productive player again before a playoff wrist injury finished his season. The Bulls appear to have completely changed their stance on Rondo, with Paxson saying in a postseason media session that there's a "really good chance" he will be kept for another year.
In addition to Rondo's performance, the Bulls were probably influenced by the failure of several young point guards who were acquired over the past year. Chicago traded for Jerian Grant, Michael Carter-Williams and Cameron Payne, none of whom handled the job better than Rondo.
4. Fire Hoiberg?
That was the demand from the fans at the United Center who hung around for the final minutes of the Game 6 loss to Boston. Head coach Fred Hoiberg has been an embattled figure almost from the time he left Iowa State two summers ahead to take the reins of the Bulls. Butler fired the first salvo in December of 2015, suggesting that Hoiberg wasn't coaching the team hard enough. Since then, there has been a steady stream of dirty laundry being aired in public, giving the impression that Hoiberg doesn't have control of his locker room.
On the other hand, the Bulls' front office still loves Hoiberg, with Paxson saying last week that he will definitely return to coach another season. A rebuilding project could be the best move for Hoiberg's job security, as he would probably be given time to develop the type of up-tempo, floor-spacing team he envisions. If all the veterans return next season and the Bulls aren't winning, Hoiberg's coaching seat could get very hot very quickly.
5. Are two Paxsons better than one?
"Subtle" front office changes are reportedly being considered in Chicago, which could result in more power for Paxson, along with a role for his brother Jim, a former GM with the Cavaliers. John Paxson and GM Gar Forman are both believed to be safe, as the Reinsdorf family still has faith in them, even if many Bulls fans do not after winning 42 and 41 games in successive seasons.
No matter who gets to make the decisions, there are a lot of them to be faced. Without counting Wade, Chicago has five significant free agents in Carter-Williams, Nikola Mirotic, Cristiano Felicio, Anthony Morrow and Joffrey Lauvergne. Wade's fate may be out of the hands of the front office, but the choices on Butler and Rondo aren't. The wind could blow either way this summer in the Windy City. It's time to choose a direction.
Here's where things currently stand for the Bulls financially:
Guaranteed Salary
Jimmy Butler ($18,696,918)
Robin Lopez ($13,788,500)
Rajon Rondo ($3,000,000) — Partial guarantee. Non-guaranteed portion noted below.1
Cameron Payne ($2,203,440)
Denzel Valentine ($2,186,400)
Jerian Grant ($1,713,840)
Bobby Portis ($1,516,320)
Paul Zipser ($1,312,611)
Isaiah Canaan ($200,000) — Partial guarantee. Non-guaranteed portion noted below.2
Total: $44,618,029
Player Options
Team Options
Non-Guaranteed Salary
Rajon Rondo ($10,397,000) — Partial guarantee. Guaranteed portion noted above.1
Isaiah Canaan ($1,377,230) — Partial guarantee. Guaranteed portion noted above.2
Total: $11,774,230

Restricted Free Agents
Nikola Mirotic ($7,228,063 qualifying offer / $10,986,655 cap hold)
Michael Carter-Williams ($4,187,598 qualifying offer / $7,958,815 cap hold)
Joffrey Lauvergne ($2,137,149 qualifying offer / $3,248,466 cap hold)
Cristiano Felicio ($1,671,382 qualifying offer / $1,671,382 cap hold)
Total: $23,865,318
Cap Holds
Dwyane Wade ($27,840,000) — If player option is declined
Anthony Morrow ($6,627,200)
No. 16 overall pick ($2,247,480)
Total: $36,714,680
Trade Exceptions
Projected Salary Cap: $101,000,000
Maximum Cap Room: $50,872,031

With only two sizable guaranteed contracts on their books for next season, the Bulls could clear a significant chunk of cap room. However, it would require waiving Rondo and Canaan, not to mention renouncing all their exceptions and free agents, including Wade (assuming he turns down his player option). In that scenario, the Bulls' remaining guaranteed salary, the cap hold for their first-round pick, and a few cap charges for empty roster spots would total $50,127,969.
Footnotes:
Rondo's salary becomes fully guaranteed after June 30.
Canaan's salary becomes fully guaranteed after June 30.
Salary information from Basketball Insiders and The Vertical was used in the creation of this post. Photo courtesy of USA Today Sports Images.