The 2017 NBA draft is about a month and a half away, and once teams make those picks, they'll have to account for how to fit their newly-drafted rookies into their salary cap for next season. Even before teams officially sign their first-round picks, those players will count against their cap, eating into the cap room available this summer.
In every NBA league year, rookie scale amounts are assigned to each first-round slot, from No. 1 through No. 30. Teams can sign their first-rounders to as little as 80% of that rookie scale amount, or up to 120% of that figure. While that rule affords teams some flexibility, first-rounders virtually always sign contracts worth 120% of their rookie scale amount.
Under the previous Collective Bargaining Agreement, cap holds for first-round picks counted for 100% of their rookie scale amount, so teams would often wait a little longer to officially sign their rookies to contracts in order to maximize their available cap room. However, because 120% contracts are the norm, the new CBA increases those cap holds for first-round picks to 120%, slightly reducing teams' cap flexibility.
For instance, in 2017/18, the rookie scale amount for the No. 1 overall pick is $5,855,200. Under the previous CBA, that figure would have represented the player's cap hold. Under the new CBA, the cap hold for the No. 1 pick will be $7,026,240 — 120% of the rookie scale amount, and his probable salary.
With the value of rookie contracts set to increase by 45% within the next three years, salaries are on the rise for 2017 draftees. In 2016, 120% of the rookie scale amount for the top pick worked out to about $5.9MM in year one, with raises up to $8.11MM by year four. For 2017's No. 1 overall pick, year one will be worth $7.03MM, and year four will get all the way up to $12.29MM.
Listed below are the rookie scale amounts for 2017 draftees. Rookie scale contracts are guaranteed for the first two years, with team options on the third and fourth years.
Rookie scale amounts (100%):
(Click for full size)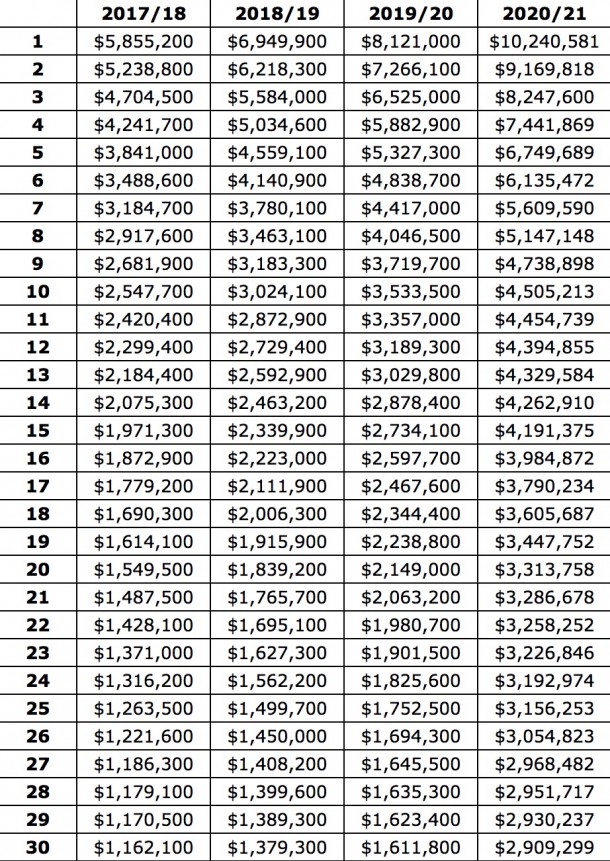 Probable salaries for 2017 first-rounders (120% of rookie scale):
(Click for full size)