After three straight seasons with win totals in the 30s, the Nuggets took a modest step forward in 2016/17, battling for a playoff spot in the Western Conference and ultimately falling just short of the postseason – and of .500 – at 40-42.
While the end result was somewhat disappointing, the Nuggets can view the season as an overall success, since it saw the emergence of a potential franchise player. Nikola Jokic, a second-round pick in 2014, entered Denver's starting lineup for good on December 15, and from that point on, he averaged an eye-popping 19.2 PPG, 10.9 RPG, and 5.8 APG to go along with a shooting line of .587/.342/.825. The Joker is still only 22 years old, and looks like a tremendous building block for a Nuggets team that has lacked star power since trading Carmelo Anthony.
Still, while Jokic's breakout season was encouraging, the team has several key questions to answer as the offseason gets underway. Here are five:
1. Will Danilo Gallinari be back?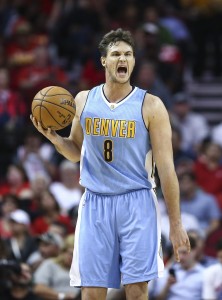 Gallinari, a key piece in that aforementioned Carmelo trade, has been a Nugget since 2011, but will be eligible for unrestricted free agency this July after turning down his player option with the team. Gallinari has been one of the league's more underrated scorers in recent years, and is coming off the best shooting season of his career (.447/.389/.902). The Nuggets also have more than enough cap flexibility to bring him back.
On the other hand, Gallinari has a lengthy history of injuries, having failed to play more than 63 games in a season since 2012/13. Furthermore, Denver has a crowded rotation at the forward position, with Kenneth Faried, Juan Hernangomez, Wilson Chandler, and Darrell Arthur among the players who would be vying with Gallinari for minutes at the three and four. If the Nuggets trade one or two of those forwards, re-signing Gallinari makes a little more sense, but it's not hard to imagine him ending up elsewhere this summer.
2. How can the Nuggets acquire another star to pair with Jokic?
If Gallinari doesn't return, the Nuggets could create more than $35MM in cap room, which would be enough to make a maximum salary contract offer to a free agent. Perhaps we shouldn't be surprised then that Denver has been mentioned as one of the teams that Chris Paul intends to talk to if he explores leaving the Clippers this offseason.
Still, while newly-promoted president of basketball operations Tim Connelly says agents have told him their clients want to play with Jokic, Denver hasn't historically been a top destination for elite free agents. The Nuggets made an unsuccessful push for Dwyane Wade last summer, and Connelly has talked about being wary of free agents using Denver for leverage. Jokic's presence and a solid core makes the Nuggets a more appealing landing spot, but it's still hard to believe that a player of Paul's caliber would choose Denver over teams closer to contending or over more glamorous cities.
While it doesn't hurt to go after a marquee free agent, the Nuggets may have more luck pursuing a top player via trade. The team holds all its future first-round picks and has a handful of young players of various appeal on cheap contracts, including Will Barton, Jamal Murray, Emmanuel Mudiay, and Malik Beasley. Denver could put together a tantalizing trade package, but once again, the team would have to be careful about targeting a player who could depart in free agency in the near future. There's probably no sense giving up several assets for Paul George if you're concerned he'll head to the Lakers in 2018.
3. How will the Nuggets address the point guard spot?
On paper, the Nuggets' point guard duo of Mudiay and Jameer Nelson seems somewhat promising — the former seventh overall pick heading into his third year paired with the reliable veteran backup. However, Mudiay's development in his first two NBA seasons has been slow, and Nelson will turn 36 years old during the 2017/18 season. For a team with an All-Star caliber center and solid performers on the wing, there's a real risk that the point guard spot will be the lineup's weak link.
The handling of Mudiay is perhaps the trickiest decision for the Nuggets going forward. He's still only 21 years old, and the club certainly shouldn't give up on him yet. But Denver is getting to the point in its rebuild where annual postseason contention is expected, and it's not clear that Mudiay is capable of leading a playoff team.
This year's class of free agent point guards is a strong one, and while the Nuggets probably won't land Paul, it will be interesting to see whether the team shows serious interest in any other top FAs at the position. A veteran point guard like George Hill, Jeff Teague, Jrue Holiday, or even Kyle Lowry would look good in Denver's lineup, though adding a player of that caliber would create uncertainty about Mudiay's future with the franchise. Will he continue to get significant minutes, or will he become a potential trade chip this offseason?
4. What will the Nuggets do with their lottery pick?
Although they won't pick as high as they have in the last couple years, the Nuggets should be able to land a talented prospect with the No. 13 pick. Chad Ford's tiers at ESPN.com (Insider link) suggest that a few players out of a third tier that includes OG Anunoby, Zach Collins, Harry Giles, Luke Kennard, and Donovan Mitchell should be available for Denver.
I'd expect Kennard and perhaps Mitchell to be off the board by No. 13, but players like Anunoby and Giles would present the Nuggets with an interesting choice. Denver already has a fairly deep roster and doesn't need to draft someone who can step into the rotation immediately. As such, it might make sense for the Nuggets to roll the dice on a player like Anunoby or Giles.
Both players are risks because of their injury histories, but would likely be top-10 selections based on talent alone. Denver is in a spot where it can afford to take a chance on a prospect with major upside — and potential downside.
5. What will Mason Plumlee's new deal look like?
The Nuggets would have had a second first-round pick in this year's draft if not for a February deal with Portland. That trade looks like a heist for the Trail Blazers, who not only landed Jusuf Nurkic, but also picked up a first-round pick, which will be the No. 20 overall selection.
Nurkic likely wouldn't have blossomed in Denver like he did in Portland, so the Nuggets shouldn't feel too disheartened, but in order to salvage some value from the move, the team will need to get good production out of Plumlee in the coming years. The only problem? Plumlee is already eligible to hit the market as a restricted free agent this offseason.
Connelly has said that the team views Plumlee as a key part of its core, so it doesn't sound like the Nuggets will let him get away. But if a team makes an aggressive offer like the Nets did to multiple RFAs last year, keeping him could get pricey. Plumlee is a solid player, but as a backup center, his role won't necessarily be substantial unless Jokic gets hurt. The Nuggets will have to be determine how high they're willing to go if Plumlee gets a big offer sheet.
Here's where things currently stand for the Nuggets financially:
Guaranteed Salary
Kenneth Faried ($12,921,348)
Wilson Chandler ($12,016,854)
Darrell Arthur ($7,464,912)
Jameer Nelson ($4,736,050)
Will Barton ($3,533,333)
Emmanuel Mudiay ($3,381,480)
Jamal Murray ($3,355,320)
Gary Harris ($2,550,055)
Juan Hernangomez ($2,076,840)
Malik Beasley ($1,700,640)
Nikola Jokic ($1,471,382)
Total: $55,208,214
Player Options
Team Options
Non-Guaranteed Salary
Restricted Free Agents
Mason Plumlee ($4,588,840 qualifying offer / $5,821,325 cap hold)
Total: $5,821,325
Cap Holds
Projected Salary Cap: $101,000,000
Maximum Cap Room: $43,170,506

With 11 guaranteed salaries on their books and a cap hold for their first-round pick, the Nuggets have a modest team salary of $57,829,494. If the club intends to make a serious effort to re-sign Gallinari, that figure will grow, reducing cap flexibility. But if Gallinari departs and Denver makes a trade or two, the team could create even more cap room.
Footnotes:
Miller's salary becomes fully guaranteed after July 12.
Salary information from Basketball Insiders and The Vertical was used in the creation of this post. Photo courtesy of USA Today Sports Images.