The Knicks aggressively pursued win-now roster upgrades in the summer of 2016, acquiring Derrick Rose in a trade with the Bulls and signing Joakim Noah and Courtney Lee a couple weeks later in free agency. Rose was so bullish on the new-look Knicks that he optimistically referred to them as a "super-team" alongside the Warriors last offseason, an assertion that looks even more misguided now than it did at the time.
Not only did the Knicks miss the playoffs for a fourth straight season, but the team actually won fewer games (31) than it did in 2015/16 (32). The 2016/17 campaign was filled with indignities for the storied franchise, ranging from Charles Oakley being ejected and banned from Madison Square Garden to Phil Jackson publicly criticizing his highest-paid player and top scorer, Carmelo Anthony.
With the offseason underway in New York, the Knicks will be looking to repair their image off the court in addition to finding ways to improve the product on the court. Here are five key questions facing the club:
1. What will happen with Carmelo Anthony?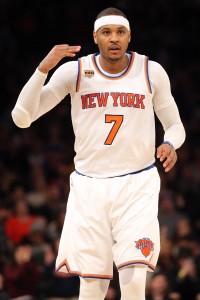 Having tired of subtlety, Phil Jackson suggested outright at season's end that Anthony, the face of the franchise for the last several years, might be better off with another team. He's not necessarily wrong — the relationship between Anthony and the Knicks seems to have run its course, and if the club is prepared to acknowledge that a rebuild is necessary, it makes sense for Carmelo to pursue a championship elsewhere. Still, it's the sort of comment rarely made publicly by a team executive, particularly since it could negatively impact his player's trade value.
Despite the fact that he's still a reliable scorer, Anthony's value wasn't overly high even before Jackson torpedoed it, since his contract is an onerous one, and his 15% trade kicker only makes his salary more difficult to move around. Carmelo also holds a no-trade clause, meaning that his future is ultimately in his own hands, but he appears to be increasingly open to a move, perhaps to a team like the Clippers or Cavaliers.
The Knicks are unlikely to receive too appealing a package in any Anthony deal, and trading with an over-the-cap team like L.A. and Cleveland would mean taking back a sizable chunk of salary to meet the CBA's trade rules. But at this point, both sides could use a fresh start, and it would be somewhat surprising to see Carmelo still wearing a Knicks uniform next fall.
2. What about the Knicks' other big contracts?
Anthony's $26.24MM cap hit is easily the highest on the Knicks' books for 2017/18, but the team also has two more players earning eight-digit salaries whose long-term futures in New York are uncertain.
Joakim Noah ($17.765MM in 2017/18, plus two more years) had a disastrous first year with the Knicks after signing a $72MM pact with the team. He struggled to produce during the first half of the season, battled injuries in the second half, and capped off the year by receiving a 20-game suspension for violating the NBA's anti-drug program. Noah has negative trade value, and now is not the time to stretch his contract to gain cap room, so the Knicks' best bet is to hope he bounces back when he returns from his suspension in the fall and rebuilds his value.
Unlike Noah, Courtney Lee ($11.75MM in '17/18, plus two more years) would have some value on the trade market as a three-and-D wing veteran who converted more than 40% of his long-distance attempts in 2016/17. New York won't trade Lee just to trade him, but he made more sense as a complementary piece on a win-now roster than he does for the current iteration of the Knicks, so the club will likely consider moving him for the right offer in the coming weeks.
3. Is everything okay with Kristaps Porzingis?
With Anthony on the trade block and the Knicks apparently – and reluctantly – ready to embrace a rebuild, it seems logical that the team would be focused on keeping Porzingis happy. The former fourth overall pick, who is still just 21 years old, looks like a franchise cornerstone, and a player worth building around.
The Knicks' dysfunction didn't sit well with Porzingis though, prompting the Latvian big man to skip his exit meeting with the franchise and head back to his home country for the summer. The Knicks are extremely unlikely to trade Porzingis – or even to seriously consider it – but if he's going to be a key piece of the franchise for the next five to 10 years, fence-mending may be required. The Knicks' front office needs to prove that the Carmelo situation was an aberration, and not a preview of how the team will treat its stars going forward.
4. How will the Knicks address the point guard spot?
The 2016/17 season was Derrick Rose's best as a scorer since his All-Star days from 2009-12, but his three-point shot was worse than ever – in the rare instances he shot from deep – and he wasn't a great facilitator during his first, and possibly only, season in New York. Rose's agent has suggested his client wants to re-sign with the Knicks, but if he wants anything close to the $21MM+ he earned this past season, the team would probably be wise to move on.
Reports in recent months have suggested that there's some support within the Knicks' organization for pursuing a veteran free agent point guard, with Jrue Holiday among the players mentioned. But if the Knicks are serious about running the triangle in 2017/18, it's not clear how much interest they'll get from those top free agents. It may make more sense to draft a point guard prospect and teach that player the triangle from the get-go.
5. How will the Knicks use their lottery pick?
That brings us to the Knicks' lottery pick, which landed at No. 8. This year's draft class has a strong group of 10 to 12 players at the top, so New York should land a promising prospect, and there's a good chance that prospect will be a point guard.
Depending on how the first seven picks play out, it's possible that the Knicks will have their pick of Dennis Smith Jr., Frank Ntilikina, and Malik Monk at No. 8. Smith and Ntilikina are more traditional point guards, while Monk is a combo guard who can handle the ball, but is more of a scorer and shooter than a facilitator.
There's no guarantee that Smith, Ntilikina, and Monk will all be available when the Knicks are on the clock, but at least one or two should be. New York would do well to walk away with any of those three players, adding a building block in the backcourt to pair with Porzingis for the long term.
Here's where things currently stand for the Knicks financially:
Guaranteed Salary
Carmelo Anthony ($26,243,760)
Joakim Noah ($17,765,000)
Courtney Lee ($11,747,890)
Lance Thomas ($6,655,325)
Kristaps Porzingis ($4,503,600)
Kyle O'Quinn ($4,087,500)
Mindaugas Kuzminskas ($3,025,035)
Willy Hernangomez ($1,435,750)
Total: $75,463,860
Player Options
Team Options
Non-Guaranteed Salary
Restricted Free Agents
Ron Baker ($1,512,611 qualifying offer / $1,512,611 cap hold)
Total: $1,512,611

Cap Holds
Derrick Rose ($30,300,000)3
No. 8 overall pick ($3,501,120)
Justin Holiday ($1,471,382)
Sasha Vujacic ($1,471,382)
Total: $36,743,884
Projected Salary Cap: $101,000,000
Maximum Cap Room: $19,588,175

Adding the Knicks' eight guaranteed salaries to cap holds for their first-round pick and three empty roster spots, the team's salary totals $81,411,825. Even after waiving their three non-guaranteed players and renouncing free agents like Rose, Holiday, and Baker, that wouldn't be nearly enough for a maximum salary contract, so the Knicks will have to get creative – or dump salary in a Carmelo trade – if they want to make a splash in free agency.
Footnotes:
Ndour's salary becomes fully guaranteed after June 30.
Plumlee's salary becomes partially guaranteed ($100,000) after June 30.
Rose's cap hold is his maximum salary, based on a $101MM cap projection. If the salary cap is higher than $101MM, Rose's cap hold would increase along with it, up to a maximum of $31,984,878.
Salary information from Basketball Insiders and The Vertical was used in the creation of this post. Photo courtesy of USA Today Sports Images.