Tired of mock drafts yet? I didn't think so. Still, it's important to pace one's self on a fine day such as this. Before the day is done there will be 60 new NBA players and half that many Woj bombs (we hope), so take a fleeting moment to read about the NBA landscape in general before zeroing in on obscure international sleeper picks and combine results.
To be featured in next week's Hoops Links (where we prance about telling everybody on the internet why we love the NBA blogosphere so much), submit your favorite articles for nomination. Connect with Austin Kent on Twitter (@AustinKent) as our Thursday publication date approaches and tell us why you think your content deserves a shout out in this most heralded of link dumps.
---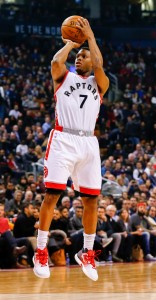 The offseason is a trying time for sports fans as the balance between passion and rationality can be difficult to strike. For South of the 6ix, Adam Corsair used recent confusion surrounding Kyle Lowry and the Raptors as a telltale example of why fans should be leery of unsubstantiated rumors. Until a decision is made and deal is done, there are too many variables at play for fans to take things at face value all the time.
Author: Adam Corsair – @ACorsair21
Rating: 8 out of 10 Grains of Salt
Link: Kyle Lowry free agent rumors.
---
A pair of news reports that came out this week suggest that the Spurs could be considering a home run swing in free agency this summer, and Jesus Gomez of Pounding the Rock has broken down exactly what that might look like. The combination of Pau Gasol opting out and the club supposedly shopping Danny Green frees up cap space, and a few other moves could get the Spurs into a scenario where they could offer max money.
Author: Jesus Gomez – @JejeGomez_PtR
Rating: 8 out of 10 Pennies Pinched
Link: Spurs could make big free agent pitch.
---
Around this time five years ago, the Sixers swung a deal for Andrew Bynum. This, Michael Levin of Liberty Ballers writes, was the true start of "The Process." In the years since, Sam Hinkie has come and gone, assets have come and gone, and now the franchise approaches the NBA Draft with more optimism than they've had since the Allen Iverson Era. Here's a a celebratory reminder of all that Philly fans have been through and why it was worth it.
Author: Michael Levin – @Michael_Levin
Rating: 8 out of 10 Bowling Injuries
Link: The Process, in summary.
---
The Suns were wise to turn down an offer for DeAndre Jordan this week, but only because the price was too high. Given more reasonable terms, an acquisition of the three-time All-NBA big man could be wise. For Valley of the Suns, Lucas McLean breaks down scenarios in which Phoenix could make a play for the center and what that could mean.
Author: Lucas McLean – @LucasMcLean
Rating: 7 out of 10 Airplane Emojis
Link: DeAndre Jordan could fit with Suns.
---
Hockey fans saw an expansion draft unfold in Las Vegas last night, prompting Shameek Mohile of Piston Powered to think about what the Pistons might do in a similar situation. Notably unprotected throughout the hypothetical exercise were Reggie Jackson and Jon Leuer, while the prioritization of those protected was telling in and of itself.
Author: Shameek Mohile – @ShamShammgod
Rating: 8 out of 10 Marc-Andre Fleury Knights Jerseys
Link: The Pistons in an expansion draft.
---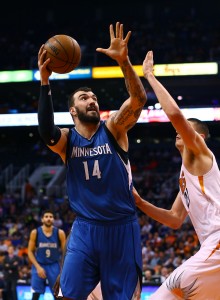 When the Timberwolves waived Nikola Pekovic this week it brought an official end to an era. In honor of the hulking big man, John Meyer of Canis Hoopus published a streamable video-filled recap of the Godfather's NBA tenure. It wasn't always graceful, but that doesn't mean Pek's stint in Minnesota didn't have its fair share of highlights and laughs.
Author: John Meyer – @TheDailyWolf
Rating: 9 out of 10 Brandon Knight Body Slams
Link: Celebrating Nikola Pekovic's career.
---
The Nets were wise to capitalize on their valuable cap space and land D'Angelo Russell, who has the sort of potential star power that Brooklyn's roster lacked. Ti Windisch of The Step Back writes that the 2015 second overall pick will be given every opportunity to succeed with the new club, and that the organization finally appears to have a plan.
Author: Ti Windisch – @TiWindisch
Rating: 8 out of 10 Inappropriate Ravens
Link: D'Angelo Russell could thrive with Nets.
---
The staff at Mavs Moneyball is well aware that LeBron James could hit the open market next offseason and isn't wasting any time brainstorming potential ways to lure the biggest of fish to the Mavs. Consider the plethora of "Dear LeBron James" letters penned by the blog and let us know which you think would be the most effective.
Author: Rebecca Lawson – @BeccaAfterSix
Rating: 8 out of 10 Elevator Pitches
Link: Mavericks writers recruit LeBron James.
---
I'll admit, it's easy to pile on the Warriors these days, but that doesn't mean there's any logic behind it. Count Ron Moskovitz of Golden State of Mind the latest to be offended by the lack of respect Stephen Curry gets from a significant portion of the basketball community. The scribe puts a Dave McMenamin tweet on blast while reminding us all that the back-to-back Warriors MVP is a genuine "bet-the-house franchise changing solo talent." Y'know, he's not wrong.
Author: Ron Moskovitz – @Hotspurrrr
Rating: 9 out of 10 Supervillains
Link: Steph Curry disrespected, again.
---
Until Paul George is formally traded away from the Pacers or he officially signs with the Lakers next summer, there will be a whirlwind of speculation about possible trade suitors. Minh Dao of Rip City Project has capitalized on the growing notion that the All-Star will be on the move sooner rather than later, making the case for the Trail Blazers as a viable option.
Author: Minh Dao – @BeyondTheArcBTA
Rating: 8 out of 10 ESPN Trade Machines
Link: Blazers should trade for Paul George
Photos courtesy of USA Today Sports Images.