Pau Gasol will turn down his player option for the 2017/18 season, reports Adrian Wojnarowski of The Vertical (via Twitter). However, Gasol intends to work out a new deal with the Spurs that will allow him to continue his career in San Antonio, Wojnarowski adds.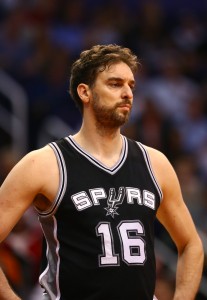 Gasol's decision could have significant implications for the Spurs' offseason and the club's pursuit of free agents. The veteran big man would have earned about $16.2MM if he had exercised his option, but it sounds as if he's willing to accept at a lesser rate to remain with the Spurs. The team will likely tack on a second or third guaranteed year to repay Gasol for taking a pay cut in 2017/18.
[RELATED: Five Key Offseason Questions: San Antonio Spurs]
Depending on how much Gasol's salary is reduced, the Spurs could open up an extra chunk of cap room that will allow the team to be players in free agency. Without taking Gasol into consideration, San Antonio already has nearly $73.5MM in guaranteed salaries on its books for 2017/18. That doesn't include possible deals for Manu Ginobili, Patty Mills, and Jonathon Simmons, and still wouldn't leave enough room to sign a veteran to a maximum salary contract, but removing Gasol's option from the equation is the first step toward creating some flexibility.
Gasol saw his numbers drop off substantially during his first season with the Spurs, as he played a lesser role for the team than he had for other clubs. However, he remained efficient when he did play. Averaging a career-low 25.4 minutes per game, the Spaniard chipped in 12.4 PPG, 7.8 RPG, and 1.1 BPG. He also developed into a three-point shot, shooting an eye-popping 53.8% from outside, with 0.9 threes per game.
As our player option decision tracker shows, the Spurs are also waiting to hear from David Lee about his minimum salary player option for 2017/18.
Photo courtesy of USA Today Sports Images.